Young boxers enter the ring in Philippi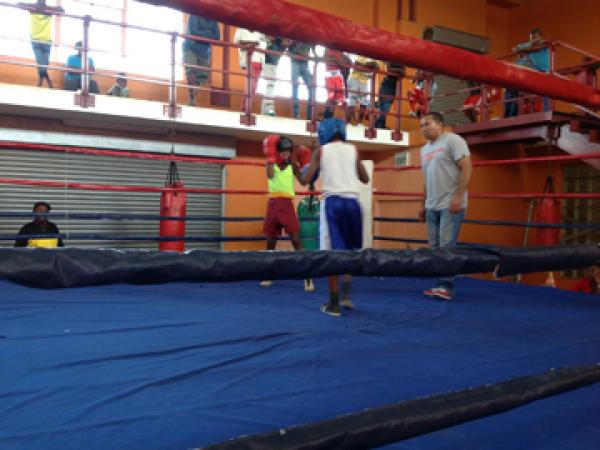 Young boxers from Khayelitsha, Philippi and Du Noon faced up to each other at the Battle of the Amateurs organised by Umanyano Boxing Club in Philippi at the weekend.
The boxers were between the ages of 9 years and 18 years.
There has been talk about the sport of boxing being dead in the Western Cape. The last international champion from the Cape was Mzonke Fana from Khayelitsha, who won the IBF junior lightweight championship in 2010.
The manager of Umanyano Boxing Club, Thembelani Lingani, said: "The reason people say boxing is dying in the province is we don't get support from the provincial government and from businesses unlike other provinces. We want to expose boxers so they can get a chance to turn pro and bring titles to the province."
He said another reason for the tournaments was to keep the children off the street. "That way they will be away from drugs and gangsterism."
Judging by the talent on offer at the tournament, the future of boxing looks bright in the province. Ncubeko Jacob, 12, came up against Mava Speelman, 12, and though the two young boys both showed great skill for their age, Ncubeko was judged to have won the fight after 4 rounds. Whenever the young boys would get instructions on how to be better than their opponents from their corners they would execute these exactly.
Ncubeko said afterwards: "I love boxing. I've been boxing since 2011. My mom said I should join and not play in the streets. I want to be a champion one day."
Mava said he had got involved in boxing after following his brother to the gym. He too hopes to be a world champion one day.
The fans that came to support the tournament seemed to be enjoying themselves as they cheered and shouted for their favourite boxers on the day.
Mfuneko Dingiswayo from Langa said: "I'm happy to be here today to come and watch boxing. It is a good sport because it gives discipline to the boxers. I wish more children could join in; we wouldn't have so much gangsterism."
A mother who came to watch the boxers said she was enjoying herself."Boxing is not such a bad sport. I would encourage my son to take it up."
© 2016 GroundUp.
This article is licensed under a
Creative Commons Attribution-NoDerivatives 4.0 International License
.