Who is funding our political parties?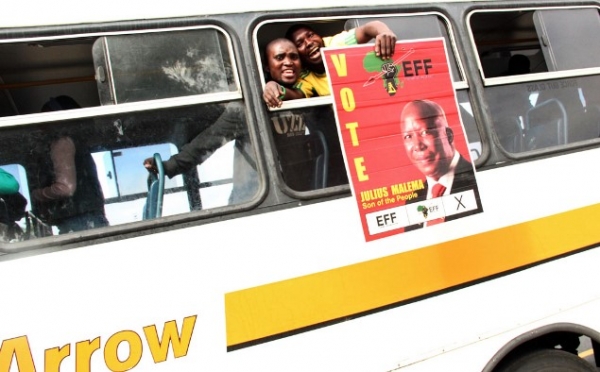 The 2016 local government elections will be surely be heavily contested. Already in Johannesburg, Cape Town and Nelson Mandela Bay, the ANC, DA and EFF are gearing up for tough electoral battles. No doubt too, all the political parties will pour large sums of money into these areas. But quite how much political parties will spend on campaigning, no one knows, because of a complete lack of transparency in the funding of political parties.
All political parties seem to agree that transparency is a good thing but appear to lose their appetite for it when it comes to disclosing their sources of funding. Just as the ANC has displayed coyness about its sources of donations in the past, so the opposition Democratic Alliance has been reticent to disclose its sources of funding.
So, the question remains, who will lead the way in changing this? Logically, it would have to be the ruling party, with its overwhelming majority within Parliament.
The ANC's commitment to transparency in relation to party funding was articulated in its Polokwane resolutions. Though Polokwane seems a lifetime away, the ANC has a mandate from its members to legislate on this issue. Yet there has been little movement on the matter since Polokwane. The ANC treasurer-general, Zweli Mkhize, has made some useful suggestions regarding the establishment of a Democracy Fund through which donations can be filtered.
It is clear that political parties need money to operate. But knowing where the money comes from is crucial if political parties, and in particular the ruling party, are serious about stated commitments to transparency in tender processes and conflicts of interest.
Without transparency in relation to political donations there can be no way of knowing whether tenders are being allocated because of what companies or individuals have donated to the ANC, for instance.
What is the quid pro quo being offered to those who donate? In the City of Cape Town, for instance, the proposed Maiden's Cove development has raised eyebrows simply because the developer is alleged to be a businessman with close ties to DA mayor Patricia De Lille.
In the absence of regulation, can we be certain that policy, environmental and development decisions that have been made or are going to be made will be in the best interests of the country or the narrow interests of the ruling party- be it the DA or the ANC?
Strong democracies require healthy political parties. In turn, political parties require resources to sustain and operate a basic party structure, to contest elections and to contribute to policy debate. And it is probably unrealistic to outlaw private donations.
Moreover, it is clear that the more than R100 million a year of public money that the political parties currently receive is not enough to finance the myriad activities political parties need to undertake. South Africa is a particularly challenging country within which to contest an election – a sprawling land mass, large rural areas, eleven languages and a low literacy rate.
But what is also clear is that reform and regulation now represents mainstream modern democratic thinking, though the detail of the regulation varies and must take the context into account. In Britain, public disclosure of contributions is required only of corporations and unions. Parties are required to submit quarterly reports detailing the name and address of the donor and the nature of the donation to the Electoral Commission. German law entitles parties to receive donations, but donations that exceed a value of 10,000 Euro a year must be publicly disclosed by giving the name and address of the donor as well as the total amount in the annual report. Donations that exceed 50,000 Euro have to be reported immediately.
Whatever the shortcomings of regulating private funding to political parties (and as has been seen in the UK, Germany and the United States there have been problems with the implementation of regulations) the advantages of transparency seem to far outweigh complete secrecy. Increasing public funding might only be part of the solution, because public money will never be enough and will not do away with political parties' need to raise private money. So, in a sense, requesting greater amounts of public money is only one aspect of this challenge because the nub of the problem lies in the millions of rands raised in secret and the accountability deficit that has been created in our political processes.
Advocacy group My Vote Counts has brought a Constitutional court case in order to compel Parliament to pass legislation regulating private funding to political parties. The judgment remains outstanding.
Perhaps Parliament and by implication, the ANC, should take the bull by the horns and fill the gap in South Africa's anti-corruption apparatus by initiating legislation to ensure that political parties are transparent about their sources of funding? The public has the right to know who is funding our political parties. Secrecy only breeds mistrust and an environment that is ripe for corruption.
Judith February is campaign coordinator for My Vote Counts. Views expressed are not necessarily those of GroundUp.
My Vote Counts, together with UCT's Public Law and Politics departments will be co-hosting a seminar on Friday, 28 August entitled, 'Political parties in South Africa: the interface between law and politics'. Judge Kate O' Regan will be the keynote speaker on Thursday, 27 August at 6pm. More details at My Vote Counts
© 2016 GroundUp.
This article is licensed under a
Creative Commons Attribution-NoDerivatives 4.0 International License
.