Where are the cops, ask Masiphumelele residents
|
Bernard Chiguvare and Pasqua Heard
News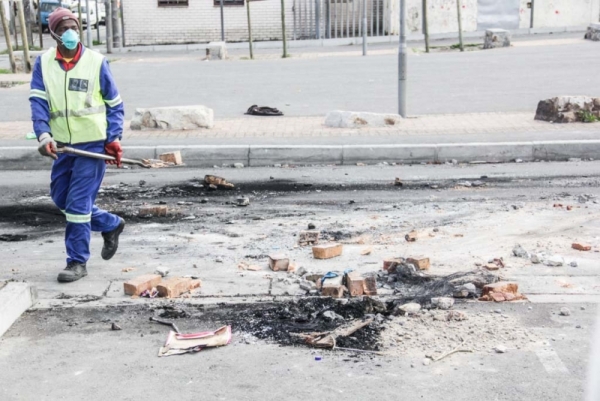 Masiphumelele residents gathered in shock today around the ashes of a young man killed in a mob justice attack in Myeza Road last night. Residents have been complaining about inadequate policing in the township, which does not have its own police station.
The dead man had allegedly raped a 24- year-old woman.
Residents were also angered by the rape and murder of a 14- year-old boy who was found by his uncle, Monde Pula, yesterday morning.
Several residents said there should be better policing in the township. Police should be more visible and response times should be better, they said.
Mbu Maloli, 22, said: "I've never seen the police patrolling properly. They always come too late, after the incident has already happened. We need a police station in Masiphumelele or they at least need to patrol every night."
But Pula, 40, said the police were "always visible". "The problem is that the criminals plan a time when the police are in another part of the area, so they don't get caught."
Masiphumelele, Ocean View, and Kommetijie are served by one police station, in Ocean View.
Last month, residents marched to the police station demanding better crime prevention. Accepting a memorandum from the marchers, the newly-appointed head of the station, Lieutenant Masiza Ponco, acknowledged that the station was understaffed. Nine more police officers were to join the force by the end of August and for five more constable posts would be advertised, he said.
But yesterday he was unavailable to confirm whether or not the additional staff had joined the station.
Constable Noloyiso Rwexana of SAPS Western Cape media centre was not able to comment on the staffing.

Miriam Xabendlini got no satisfaction when she complained to the police after she was robbed. Photo by Masixole Feni.
Miriam Xabendlini, 43, said she had been robbed last year of her sound system. She said she had phoned the police station several times but no-one had come. In the end she and her husband had gone by taxi to the station but police had told her that her fingerprints were on the crime scene and nothing could be done.
Xabendlini said residents resorted to mob justice because police failed to respond to cases in time.
Abdis Kalili, 26, who runs a spaza shop on the corner of Myeza and Tandla Roads, said that in the past he had not had problems with policing.
But when his shop was robbed two weeks ago, he did not get any help from the police, he said.

Abdis Kalili's spaza shop was robbed two weeks ago. Photo by Masixole Feni.
"Seven armed men stormed into my shop around 7.30pm and went away with money, cigarettes and four mobile phones."
His brother, Abbuljebaar Mohammed Tiyeb, was present at the time of robbery.
"I reported to the police the same day but up to now police have not made themselves available for this case." He said he had reported three other cases but has not had any response from the police.
"SAPS can not perform their duty in the way expected by the community because some of the members live in the area, and are friends to some of the criminals," said Maloli.
He said sometimes perpetrators were arrested and let loose the following day, and then the community felt justified in doing justice itself.
Maloli and other residents said this was the first incident of mob justice they had seen in Masiphumelele.
Following the findings of the Commission of Inquiry into policing in Khayelitsha, the Social Justice Coalition (SJC) has been campaigning for fairer police staffing across the city. "We want the Minister of Police to ensure that police resources are redistributed to communities where they are needed. Currently the ratio of police in white to black communities is disproportionate," said Chumile Sali, Head of the Safety and Justice Programme at the SJC.
Rwexana said, "The police are monitoring the situation closely. No one has been arrested at this stage. We appeal to the community: anyone with information that can assist with the investigation should contact Crime Stop 0860010111."
Masiphumelele streets were back to normal this afternoon. Photo by Masixole Feni.
Dodgy people are suing us. Please support us by contributing to our legal costs and helping us to publish news that matters.
© 2016 GroundUp.
This article is licensed under a
Creative Commons Attribution-NoDerivatives 4.0 International License
.