NEWS
The week in political activism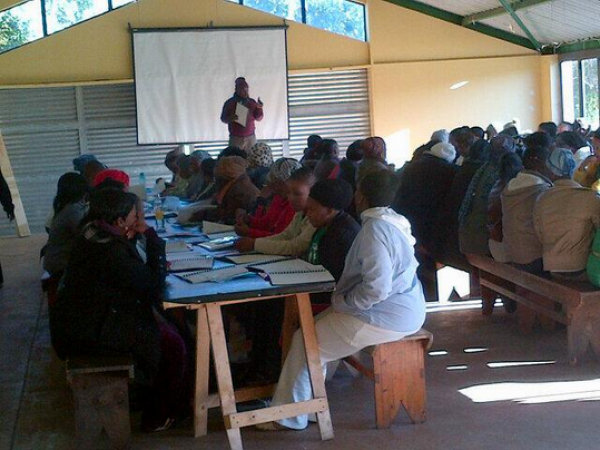 This week we cover the availability of generic drug-resistant tuberculosis medication in Khayelitsha, a worldwide anti-corruption campaign taken up by Corruption Watch, a parents' camp hosted by Equal Education, and an upcoming school infrastructure reform conference.
MSF to import generic medication for Khayelitsha TB patients
TheMedicines Control Council (MCC) has at last granted permission for Médecins Sans Frontières (MSF) to import a generic version of linezolid for use in Khayelitsha. Linezolid is an antibiotic used to treat drug-resistant tuberculosis, and MSF has been using it in Khayelitsha since 2011.
The MCC decision will allow for expanded treatment access at an 88% price reduction. Previously, MSF had been purchasing linezolid at a private sector price of over R700 per tablet. Now the quality assured generic version would be available at approximately R85 per tablet.
This generic linezolid will only be available to MSF patients in Khayelitsha. It has not yet been registered in South Africa, but MSF may now import it after applying to the MCC under section 21 of the Medicines and Related Substances Control Act 101 of 1965.
Amid the country's struggle to amend intellectual property laws for increased access to generic drugs, MSF hails this recent decision as an important first step. MSF is hopeful that the MCC will prioritize registering the generic linezolid for more affordable use throughout South Africa.
Unmask the Corrupt – Corruption Watch takes part in global campaign
On 19 June, Transparency International (TI) launched a global anti-corruption campaign titled Unmask the Corrupt (UtC). Corruption Watch, a TI national contact, is one of 13 chapters piloting this campaign before it extends globally in September.
UtC focuses on illicit financial flows, namely when people hide "dirty money" by channelling it into offshore bank accounts or buying luxury goods. The campaign urges governments to recognize and stop such channelling of funds, as perpetrators often go unpunished.
Executive director David Lewis says that Corruption Watch is determined to make a positive impact to the UtC campaign. "While South Africa's financial system is sophisticated and relatively well regulated, because it is so deeply inserted into the global financial system, it is also an attractive place to launder the proceeds of corruption and organised crime," he says. Corruption Watch is planning activities to engage with the government and encourage greater conversation about corruption in South Africa.
Goals of the UtC campaign include policy reforms to expose ownership of secret companies and trusts; tighter regulation over the trade in luxury assets; and more transparent processes at the border for denying entry to corruption suspects. The intention is to discourage the theft of public money and solicitation of bribes by making it difficult to hide crime proceeds.
Parents' camp promotes education
Equal Education hosted a parents' camp last weekend, 27-29 June, to discuss the role of schools, parents, and the law in children's education. The annual event was held at a campsite in Hermanus and attracted 142 attendees from three townships.
According to Lumkile Zani of Equal Education, the camp was a success. It included discussions and activities led by the Equal Education Law Centre and Equal Education. Zani said parents were excited to learn about the South African Schools Act. "It a law that is important for every citizen," he said. "It's a law we need to push."
Conference to tackle school infrastructure reform
On 14 and 15 July SECTION27, the Equal Education Law Centre, Equal Education, and Legal Resources Centre will host a conference in Johannesburg to discuss implementation of the Norms and Standards for School Infrastructure, released in November 2013. The event will inform participants of the Norms and Standards contents and achievement benchmarks.
"This conference is vital to ensuring that this important new law translates into real schools with classrooms, water, electricity, sanitation, libraries, computer centres, and all the facilities they need," SECTION27 said in a press statement.
The Norms and Standards preamble acknowledges the country's uneven development of public school infrastructure as a "painful legacy of Apartheid." It targets investment in education as a government responsibility.
The conference has no registration fee but a R150 donation is suggested. It will be held at the Wits Education Campus in Parktown. Attendance is capped at 200.
For more information please contact Kimber van Valkenburg. (vanvalkenburg [at] section27.org.za)
© 2016 GroundUp.
This article is licensed under a
Creative Commons Attribution-NoDerivatives 4.0 International License
.