We want service delivery, say Marikana residents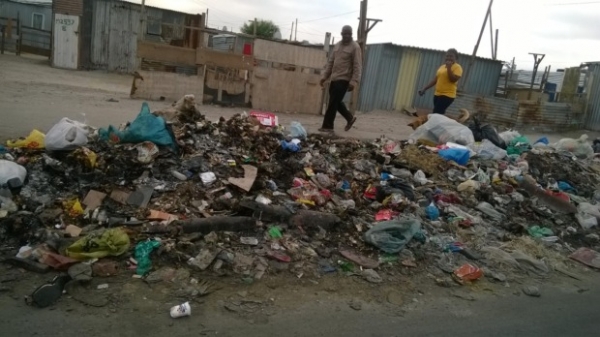 Garbage is piling up in Marikana informal settlement. Residents, concerned about their health and the squalor in which they are living, are calling on the City of Cape Town to begin providing services.
The Philippi East settlement named after the massacre in Marikana was started by Lower Crossroad backyarders. The occupied the private land where it is located between 2013 and 2015.
After a number of clashes with police and the Anti-Land Invasion Unit, thousands of new residents have managed to build their shacks.
Residents walk long distances to get water. There are no toilets. Some residents relieve themselves in plastic bags which are then disposed of, sometimes on the road, while others use a dangerous field. Garbage is piling up next to the shacks. Sometimes residents burn it because no-one collects it. They are using illegal connections to get electricity.
Community acting chairperson Joseph Makeleni says they fear their children becoming ill because of the build-up of garbage.
Makeleni said community leaders wrote a letter to Mayor Patricia de Lille on Monday, hoping that she will help them.
"If we can have a meeting with the mayor we would appreciate that. What we want is water, toilets and electricity," said Makeleni.
He said that residents have won the battle for land. Now the City must service them.
"We have been in and out of court for this land. Now that we have a right to stay, the City of Cape Town must give us basic service delivery," he said.
Resident Bongiwe Novoyi said, "There are no taps here. We have to go to the temporary houses. I walk three kilometers to get there. Imagine walking this far with a 20 litre bucket full of water on your head."
Novoyi says the smell of garbage comes into her house, and it also is attractive to "big rats".
"This is bad. We going to get sick because of this garbage," she said.
When this reporter took photos, residents asked me to send them to the City of Cape Town.
One man said, "Please sisi. Help us. Maybe if they [City of Cape Town] see these pictures they will know what conditions we are living in."
City Mayoral Committee Member for Human Settlements, Councillor Benedicta van Minnen, said the City is currently in the process of conducting a survey in Marikana as a result of a court process.
She said this will help to determine the extent of the occupation of the private land by unlawful occupiers and determine an appropriate way forward to meet the needs of the broader community.
Van Minnen told GroundUp that the City condemns land occupations, as it results in poor access to services, constant flooding and high crime. "If land is illegally occupied, the economic and job creation opportunities that would be created if industry could be established there are lost and it condemns these residents to live in areas with little access to jobs and economic opportunities," she said.
She urged landowners to act immediately when land is occupied by reporting the occupation to the City.
Dodgy people are suing us. Please support us by contributing to our legal costs and helping us to publish news that matters.
© 2016 GroundUp.
This article is licensed under a
Creative Commons Attribution-NoDerivatives 4.0 International License
.