Sheriff demolishes Walmer Estate shacks, then cancels eviction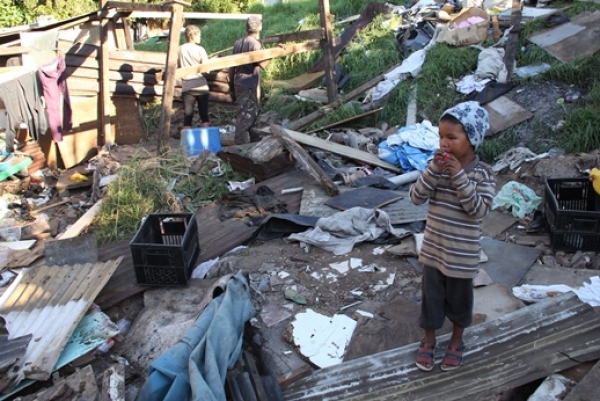 After demolishing three structures, the sheriff of the court aborted the eviction of fourteen shack dwellers in Walmer Estate late on Thursday afternoon. As the sun was setting, the households who had lost their homes were hastily erecting temporary shelter.
During the course of the afternoon, the sheriff and four labourers started dismantling and emptying shacks at 3B Cambridge Street where some of Walmer Estate's last remaining shack dwellers live. Eleven adults and three children were to be evicted onto the street and left homeless.
But, a last minute concession was granted by land owner Ismail Ryklief, after he apparently saw a commitment in writing from the City of Cape Town to repatriate the occupiers to Blikkiesdorp. The sheriff has scheduled to return in two weeks, if the families are not relocated.
Neighbours around the property, a residential plot, rallied in support of the shack dwellers, directing insults at police officers and questioning the sheriff's right to evict the families. The sheriff pointed to the fact that he was enforcing an eviction order handed down in the Cape Town Magistrates' Court.
Earlier this week, GroundUp published an analysis of that eviction order and the City of Cape Town's initial refusal to provide alternative accommodation. Referencing a Constitutional Court precedent, and with the consensus of Stellenbosch University human rights law expert Sandra Liebenberg, it concluded that the order and the City's refusal were unconstitutional.
GroundUp subsequently requested a response from the City. Siyabulela Mamkeli, Mayco Member for Human Settlements, confirmed that alternative accommodation had been offered on "humanitarian grounds" due to spaces opening up in Blikkiesdorp recently.
Queries about the constitutionality of the City's emergency housing programme, which does not make allotments for people evicted into homelessness, and about the details and timeframe for relocating the families went unanswered.
No City officials were on the scene of the eviction when GroundUp called there shortly after the sheriff started demolishing the homes.
"This is a disgrace," said neighbour and local community policing forum chairman Rashied Amien.
"There is a lot of suspicion surrounding the processes by which this land was transferred to private investors by the community development board (an institution with roots in the apartheid regime). Apart from that we feel for these neighbours and friends of ours. They are poor, yes. But, they are decent, respectable people."
Another neighbour, 61-year-old Marilyn Julius, has lived alongside Michael Simmery, the longest occupier at 3B Cambridge, since 1976.
"What of their children," she asked. Seven-year-old Xavier, Simmery's grandson, is set to finish grade one at the nearby Rahmaniyeh Primary.
"These people have known no other home, they are like family to us. How can they live in Blikkiesdorp, where they do not know anything or anyone? This is heartbreaking for us to see."
As their possessions were being carried off the property, Xavier's father, Michael Pedro, looked on helplessly. His partner, Janine Michaels, wept as she lay on a suitcase with her face buried in her arms.
Both Amien and Julius partially directed their anger at land owner Ryklief, who sought and secured the eviction order in June this year.
But Ryklief, who was calmly observing the sheriff at work from a shady spot on the opposite pavement, says that he has given the occupiers ample opportunity to find alternative accommodation.
"For years I have been engaging with them," he said, around an hour before giving the occupiers a two week grace period. "They can all confirm that. Today is the end of the line."
Ryklief claims that he needs the property to build a house for his two sons, both of whom are married but still staying with him in University Estate nearby.
This story has been updated as events have unfolded.
Dodgy people are suing us. Please support us by contributing to our legal costs and helping us to publish news that matters.
© 2016 GroundUp.
This article is licensed under a
Creative Commons Attribution-NoDerivatives 4.0 International License
.