Twenty-one deaths in 13 months at Glebelands Hostel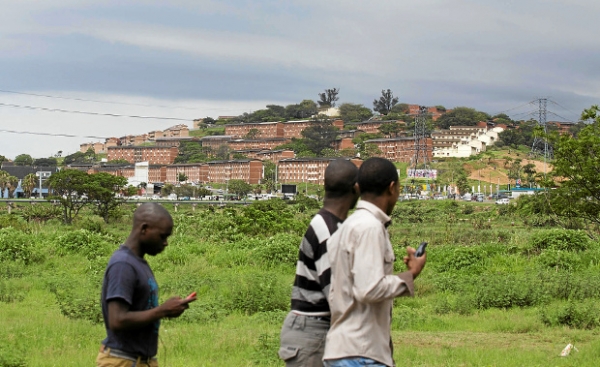 Four months after KwaZulu-Natal Premier Senzo Mchunu's high-profile announcement of a peace deal and R10-million security plan at the violence-torn Glebelands hostel in Umlazi, Durban, two more hostel residents have been murdered.
Sources say the hostel is still divided between two camps centred on the newly built Block R and an old-established area known as "the Madala stairs", and that the conflict continues to revolve around control of the rooms and beds.
Phumlani Ndlovu and Fikile Siyephu were gunned down at the hostel on 16 January and 15 February this year respectively, bringing to 21 the number of violent deaths at Glebelands in the past 13 months.
No one has been arrested in connection with Ndlovu's death. According to the KwaZulu-Natal police, four suspects – Thembiso Mbanjwa (37), Mandla Mncaka (35), Mongezi Mtolo (21) and Luvuyo Ntulo (37) – have been arrested in connection with Siyephu's murder. All four are residents at the hostel.
They appeared in the Umlazi Magistrate's Court on murder and attempted murder charges last Thursday and were remanded in custody.
Bongani Mthembu, chairperson of the hostel movement Ubunye Bama Hostela Nezakhiwo Zawo, said these were the only arrests to date in connection with the violence. An Ubunye statement claimed that a few days before Siyephu was killed, he was seen in an argument with a policeman who threatened him.
Members of the movement also claimed that police deployed to bring peace in the hostel were torturing residents. They said that residents "are still tortured by gangs and there are still housebreakings and killings, so they want to know where is the peace that the premier declared".
Provincial police spokesperson Major Thulani Zwane defended the police conduct of the cases and strongly denied that the local policemen took sides in the violence. "It is important to mention that Glebelands community members are reluctant to work hand in hand with the police to resolve these criminal investigations," Zwane said.
He added that detectives assigned to the Glebelands murders were directly under the Umlazi station commander, and "as a result these cases are highly prioritised". Zwane was asked about alleged police torture, but did not specifically respond to the allegation.
On 28 September last year premier Mchunu made a personal appearance at a mass meeting at a football field near Glebelands to announce details of a government-driven peace plan. A statement by the eThekwini metro council said that he had "brokered a peace deal between warring factions among residents". The plan included the installation of perimeter fencing, CCTV cameras, high-mast lighting and control gates at a cost of R10-million. Metro police would maintain a visible 24-hour presence at the hostel. eThekwini mayor James Nxumalo applauded more than 2 000 residents who had registered on a new database "and the municipality has seen the bullying of other residents abate".
Controversially, the plan also involved the scrapping of block committees, accused of fuelling conflict by selling hostel beds. Residents complained that the committees were the only forum for the voicing of their views and complaints.
Sibusiso Hluthwa confirmed that cameras had been installed, but said it was unclear whether they were working. Hluthwa said he did not recall seeing police patrol the area. Mthembu, who is a hostel dweller, said no fencing had been erected. High-mast lights were in place, but did not always work.
An Economic Freedom Fighters' representative in the KwaZulu-Natal legislature, Vusi Khoza, said that the peace initiative had not worked "because the premier did not address the root cause of the problem, which is corruption. There is a group of hooligans who want to take hostel administration into their own hands. … If the premier was genuine, the perpetrators would have been arrested."
Asked about the continuing violence, Mchunu's office said that the peace effort is ongoing but that the community safety and liaison department monitors progress. A senior manager in the department, Khaladi Mbongwe, insisted Glebelands is now safer than before. Mbongwe promised to send a detailed email about the department's assessment of the peace process, but failed to do so.
There is consensus that control over the allocation of rooms and beds lies at the root of the conflict, but divergent views about who is trying to exercise it.
KwaZulu-Natal violence monitor Mary de Haas pointed a finger at local ward councillor Robert Mzobe, saying it was alleged that he "interferes in the bed and room allocation at the hostel", which should be controlled by the hostel manager in collaboration with elected structures. "The link between beds and the councillor and his associates seems clear. There are council elections coming up next year, and he may be trying to [move] his supporters in to the hostel. So his removal of the block chairman would weaken those who do not support them," De Haas said.
Asked to comment, Mzobe said he would not bother with lies about himself. "I'm not going to defend myself about something that is not true," he said. The violence was a police issue, "and the police should do their job to deal with crime".
"Yes, I am the councillor, but that doesn't mean I know everything that is happening at the hostel. Glebelands is big.
"There are so many people dying in KwaZulu-Natal every day; Glebelands is not the only place that experiences death."
A hostel-dweller seen as Mzobe's associate, Sibusiso Ntlophe, denied any relationship and said that the hostel is safer than it had been in the past. In a long telephone interview, Ntlophe said the violence had stopped after Mchunu had called for block committee chairpersons to step down. He pointed a finger at the former chairpersons, accusing them of continuing to sell beds.
Asserting that the municipality and police "are doing good work at the hostel", he said that those who accused him of committing crimes should provide evidence and lay charges against him with the police. "I went to all 21 funerals of the deceased and yet those accusing me were not there. Countless times the police came to search my house for weapons and they did not find any."
Pharie Sefali is a GroundUp reporter currently doing a three month internship at the Mail & Guardian's investigative reporting centre AmaBhungane.
© 2016 GroundUp.
This article is licensed under a
Creative Commons Attribution-NoDerivatives 4.0 International License
.