Top dancers show Gugulethu kids their moves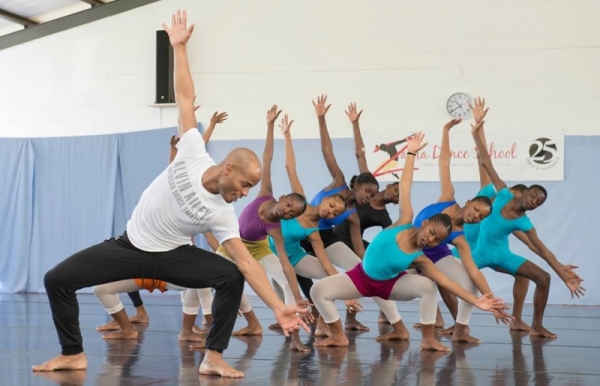 A group of 11 dancers from the Zama Dance School in Gugulethu had a once-in-a-lifetime opportunity to participate in a workshop with members of the critically-acclaimed Alvin Ailey American Dance Theatre on Saturday.
"Your core is your powerhouse and needs to be strong…musicality and learning to work as a team is very important for any dancer," said Ailey company member Vernard J. Gilmore on Saturday.
The Alvin Ailey American Dance Theatre was founded by African-American choreographer and activist, Alvin Ailey, in New York in 1958. The company is known for its unique celebration of African-American culture by using the blues and gospel music at the time as inspiration to create his most popular work called Revelations. It is made up of some of the best modern dancers from across the planet.
Ailey died in 1989. This unique company, currently directed by choreographer Robert Battle, has grown over the years. It has incorporated a variety of dance styles — as well as acting through dance — in its more recent works.
Some members of the company have been performing and participating in outreach workshops in Johannesburg and Cape Town since 3 September.
On Saturday, the Zama dance studio in Gugulethu was packed with dozens of spectators of all ages. They watched attentively as Gilmore taught the group of 11 students several class exercises as well as an abstract from Revelations. This was followed by two short performances by three other company members.
The company members were also treated to a taste of local talent with a unique tap dance to the popular "Pata pata" song performed by Zama students and a gumboot dance by local group Better Choice Gumboot Dancers.
Dancer Marcus Jarrell Willis, who has been with the Ailey company for eight years, said their aim was to interact with as many young dancers from impoverished communities across the city. "It was a wonderful experience to work with the children. There is an eagerness in the children to learn more about what we do which is great. We have a few more outreach projects planned before we return to New York," he said.
Nonthuzelo Sitokisi said it was a "proud moment" to watch her 15-year-old nephew, Thimna Sitokisi who has been dancing since the age of nine, being taught by Gilmore on Saturday.
"It was amazing to watch my nephew do a class with an amazing dancer. He is going to go far. We as a family really support him with his dancing," she said.
The Ailey company members are expected to return to New York this week.
A future dancer watches the proceedings. Photo by Barbara Maregele.
Correction: The main photo was initially credited to the wrong person. Our apologies.
Dodgy people are suing us. Please support us by contributing to our legal costs and helping us to publish news that matters.
© 2016 GroundUp.
This article is licensed under a
Creative Commons Attribution-NoDerivatives 4.0 International License
.