Tokolos collective graffiti bomb Sea Point Ray-Bans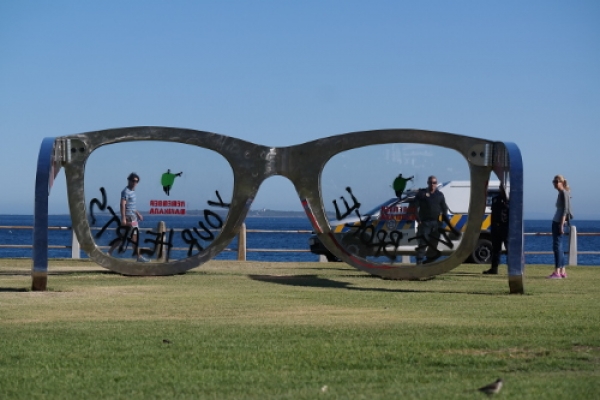 Guerrilla graffiti artist group Tokolos Stencil Collective struck again on Monday night, this time targeting Michael Elion's controversial giant Ray-Ban sunglasses on Sea Point promenade.
The spectacles entitled Perceiving Freedom face Robben Island and were ostensibly meant to focus attention on Nelson Mandela's legacy, but several commentators found the work disingenuous, not much more than an opportunistic marketing ploy for a luxury brand.
The 1.2 ton, stainless steel work, part of World Design Capital 2014, certainly seems to have ticked off the Tokoloses.
The centre of the lenses now sport a stencil of a miner with "Remember Marikana", the collective's signature calling card. On the lenses is written "We broke your hearts".
On the arms of the spectacles, written in red, stands: "Open graffiti zone", "Myopic society", "Myopic art", and "Thy art" with a graphic of a skull.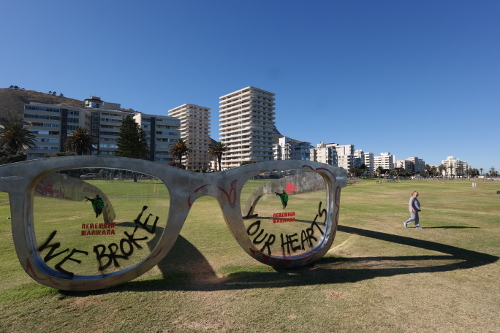 Photo by Brent Meersman.

Please note: this article was modified after publication. Reference to how the spectacles were funded has been deleted as it could not be satisfactorily established as to what and how much money was actually exchanged for the work.
© 2016 GroundUp.
This article is licensed under a
Creative Commons Attribution-NoDerivatives 4.0 International License
.