Student protests hit UNISA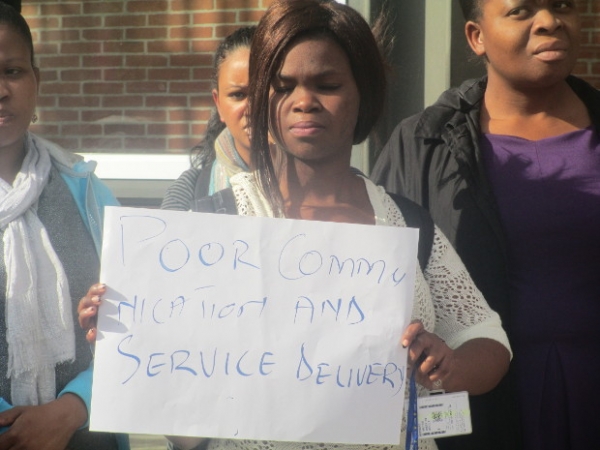 Yesterday about 100 University of South Africa (UNISA) students protested at the main entrance to the Parow premises of the university for about an hour.
The students protested about accessibility to places of study, and the racial composition of exam invigilators. The students' memorandum demanded "immediate accessibility of all classrooms without unnecessary restrictions". It further said, "classrooms should be provided with air-conditioning, be cleaned on a constant and consistent basis without inconveniencing students during their time of study."
The memorandum also stated, "An amicable and viable solution should be sought to end the dominance of one race in the position of chief examination officers. Approximately 95% of UNISA invigilators are white. There are only two African invigilators out of 44."
The memorandum complained about the use of temporary workers instead of permanent ones. It called for more employees to be hired, particularly in the section dealing with student funding. It also demanded that UNISA find a courier company that will deliver study materials on time. It also complained about lack of access to a computer lab and its slow wifi connection. "We demand that the old, outdated books be removed from the library to create space for up-to-date and prescribed books." it read.
The students also demanded that a water dispenser be made available and that more classrooms and bathrooms should be made available during weekends and holidays.
Before he handed the memorandum to UNISA representative Dr Johan Jacobs, the Regional Chairperson of the Student Representative Council (SRC), who is also a third year BCom Accounting student, Sello Nkhatho said, "These are demands. They are not recommendations or suggestions and if they are not implemented we will demonstrate again next week and it will not be as peaceful as this one."
Nkatho later told GroundUp "management always agrees in our meetings to meet our expectations but they do not implement them. They do not engage us in important matters such as hiring student workers." Jenipher Mudenda, 27 a law student said, "The University wants us to fail. They keep old books in the library and there is only one prescribed book meant to be used by thousands of students. The classrooms are filthy; they are rarely cleaned. Toilets are also locked and we are forced to share one toilet during weekends or public holidays."
UNISA Spokesperson, Martin Ramotshela in an email responding to the grievances from the students said, "It should always be remembered that UNISA is a distance education institution. However, given the context where many students study full-time at our institution and also in the Western Cape, the region has, after consultation with the regional SRC, made four venues available where students can study from 6am until 10pm seven days a week (excluding three computer labs also available to students during office hours) with a total seating capacity of just under 200. The agreement also makes provision for the use of two additional venues which are made available to students when the number of students in the original four venues exceeds 70%. The additional venues raise the capacity to over 400 seats. From one month before exams start the 10pm curfew is extended until midnight, the only region in the country where this is allowed. We regularly monitor the use of the study venues."
In response to the demands about staffing, he wrote, "The appointment of staff at any organisation, whether permanent or non-permanent, is the domain and prerogative of management. UNISA processes are also in line with this principle and do not make provision for the SRC to be part of the selection committees.
"Indeed, the Regional SRC has previously engaged regional management on these matters. Where an intervention was immediately possible, this was duly done. As a matter of fact, our regional management has monthly engagement meetings with the regional SRC. However, where the issues required engagement and or determination at national level, they were duly advised to channel these through the National SRC."
Dodgy people are suing us. Please support us by contributing to our legal costs and helping us to publish news that matters.
© 2016 GroundUp.
This article is licensed under a
Creative Commons Attribution-NoDerivatives 4.0 International License
.