NEWS
|
EASTERN CAPE
The small town whose residents live in fear for their lives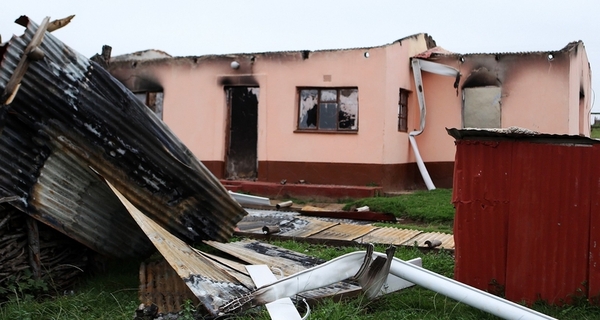 Residents of Busila near Gatyana (Willowvale) say they have lost faith in the police after two houses were set alight by unknown men in the early hours, Tuesday. Since July, four people have been killed and five houses set alight. Residents say police are failing to protect them.
In the latest incident, three families were left homeless, while a further five families have abandoned their homes in fear for their lives. Residents say they always look for cover when they see a car they do not recognise.
Police spokesperson Captain Jackson Manatha confirmed the Tuesday morning attacks. He said a case of arson and a case of malicious damage to property have been opened.
"The estimated damaged value in the arson case is believed to be R40,000, while the value of the malicious damage to property is around R18,000," he said.
Manatha said "no arrests so far [have been made], but a strong team of Butterworth cluster police detectives is investigating the cases".
Busila is a small rural area 32km by gravel road from Willowvale. According to the 2011 census, it has 109 households and a population of 412. The area has no police station of its own. Gatyana police station serves at least 15 other locations. To report a case, Busila residents have to wait until the morning when there are buses and bakkies going to town. Typically, they will leave around 8am and return around 3pm. If the police are phoned, residents say they will wait at least five hours before the police arrive if they arrive at all.
GroundUp spoke to a number of residents who asked not to be identified as they feared for their lives. A woman said she was woken by barking dogs in the early hours on Tuesday. "I heard gunshots," she said. "They were shooting at my neighbour's house … within minutes they came here, started shooting at my windows and burning my house."
The neighbour said he is lucky to be alive. He was present during the attack. He managed to hide in his garden. He called the police station and the person who answered the phone said they did not have petrol.
"I was in the garden when I called the police. Imagine if those killers found me there," he said. "Maybe if police came on time, we were going to try to save some of our clothes, but I guess they could not do anything if they didn't have petrol," he said.
The victims said they could do nothing to save their belongings. They were left watching the flames.
Another resident said she was one of several people sleeping in the bush because she feared for her life.
"My brother was killed last month. Last week, we were burying his friend; he was attacked on his way from my brother's funeral. My sister in-law is also living in fear. My brother reported to the police that his life was in danger when he was first attacked. Instead of protecting him, police took his licensed firearm. The same day he was shot in his house," said the woman.
Vigilante incidents in 2013
A number of residents believe the attacks are connected to an incident in 2013. One 50-year-old man said that back then five men were caught attacking Somali traders in their area.
"We called the police. After we realised that police were not coming, we chased them [the attackers]. This is a rural area so it is hard to hide here; we got them after six hours. We called the police again. We told them about the incident … Two investigative officers came. We told them everything, but they told us that they did not have pen and papers to take the statement; we must wait for the police van," said the man.
He told GroundUp the residents were fed up and started beating the suspects.
"Police came after eight hours. At that time, residents had already taken the law into their own hands," he said.
The man said even though they handed the suspects to the police, they were never arrested.
"Now we are paying for doing the police's job; the job they failed to do," he said.
© 2016 GroundUp.

This article is licensed under a Creative Commons Attribution-NoDerivatives 4.0 International License.