Shack demolished because of an unauthorised extension - says family
|
Mary-Anne Gontsana
News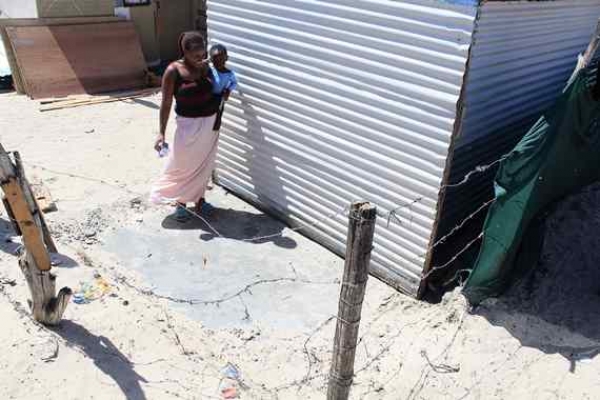 A family of six say they were left scrambling for material to rebuild their shack after it was demolished on Wednesday morning.
Mlondolozi Madlingozi, who lives with his three children, wife and wife's sister in Mfuleni's Garden City, an informal settlement, says the incident happened around 9am.
"I extended my shack on Saturday because I wanted to make more room for my family because we were cramped in my small shack. I just extended it a bit on the side. Yesterday [Tuesday] at around 2pm, two men, who claimed to be from the City law enforcement, came to my house while I was at work and they left a note with my wife which read that I should demolish my extension because it was illegal. And it also said that I was given three hours to do this and they would be back the following morning at 9am.
"Indeed they came around 9am; it was a bunch of people, some in bakkies and others in private cars … They weren't wearing uniform. While my family was still inside, they started breaking down my shack. Some were using crowbars while others were kicking the zinc down. When I arrived at the scene, I stood next to my family who had run outside, and we watched as our home was being torn down. I did nothing to stop them. I think someone from the community must have tipped them off regarding the extension. I was going to tear it down after receiving the note, but because I could not find anyone to help me in the community, I lost time and couldn't remove the extension in time," said Mlondolozi.

Mlondolozi Madlingozi rebuilding his shack. Picture by Masixole Feni.
Mlondolozi, who is an expectant father and also father to children aged six, four and two, said his television and wall clock were damaged during the demolition and his wife also lost her cellphone in the chaos.
He said he was saddened by the way his situation was handled. He has since applied at the Kuilsriver Municipality offices for permission to extend.
"I will have to wait three months till I get a letter of permission, but I don't have a choice. Right now, I am rebuilding my shack with what's left from the demolition … Obviously, it will be smaller than before the extension, because some of the zinc is damaged," he said.
Community leader, Thembile George said the situation was handled very poorly for an extension that was not even that large.
"It was just a small extension, about a metre big. And why did they have to demolish the whole house? Why didn't they just demolish the extension, since that is where the problem was? These are the kinds of situations that we are living under in the Western Cape," said George.
Priya Reddy, the City of Cape Town's media manager, flatly denied that the main structure was demolished, stating in an email: "Please note that two illegal extensions, and not the main structure, were removed today. Residents must obtain permission from the City's Human Settlements Directorate to build extensions."
Dodgy people are suing us. Please support us by contributing to our legal costs and helping us to publish news that matters.
© 2016 GroundUp.
This article is licensed under a
Creative Commons Attribution-NoDerivatives 4.0 International License
.