Ses'khona and ANC councillor accused of hijacking City disaster relief
|
Pharie Sefali and Alide Dasnois
News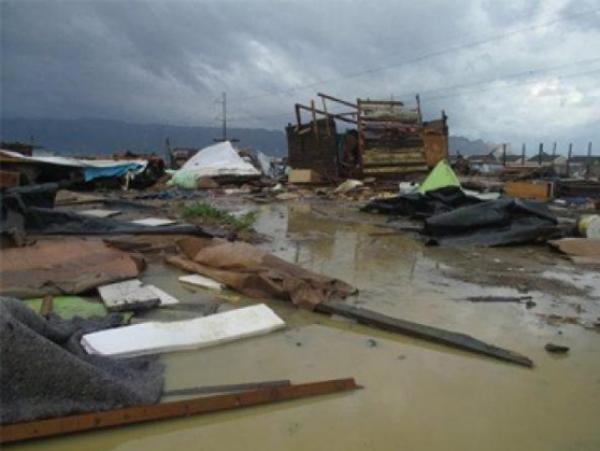 Some Lwandle residents have accused Ses'khona and ANC city councillor JJ Maxheke of keeping food and other disaster relief material supplied by the City of Cape Town for Ses'khona members.
In affidavits collected by the DA, residents of Pholile Park in Lwandle, Strand, complain that food and other supplies provided by the City for flood victims on 3 and 4 June were held back for Ses'khona members and supporters.
Ses'khona leader Andile Lili and Maxheke have both denied the claims.
In her newsletter last week, DA leader Helen Zille described Ses'khona as the ANC's "political vampire squad", accusing Maxheke of diverting resources from the City's disaster management office to the home of a Ses'khona committee member in Pholile Park.
She referred to affidavits from "desperate community members" who protested against the unfair distribution of the resources.
In the affidavits, which GroundUp has seen, residents said that on 3 June they had been called by loudhailer to collect emergency supplies and blankets at the home of one of the residents, but that only people wearing Ses'khona T-shirts or "willing to join Ses'khona" had been given help.
The following day, emergency provisions had been delivered by truck to the home of the same resident but had not been distributed, though a crowd of some 100 people had gathered outside.
Maxheke had been present but had not resolved the problem.
The emergency material had only been distributed when Ses'khona leaders present and members of the crowd agreed to share the food and other supplies equally, the residents said.
One resident claimed plastic sheeting supplied by the City had also been held back at Maxheke's office for Ses'khona members only.
Another Lwandle resident said that on July 7 Maxheke had called Ses'khona members to collect food supplied by the disaster management office and that those who were not Ses'khona members had been "chased away".
Zille accused Ses'khona of "literally taking food out of evicted residents' mouths to coerce them into joining their vampire organisation".
"People just want to blame Ses'khona for all the wrong things that happen in Lwandle", said Lili.
He and Maxheke said there had been confusion over whether the food was intended for people evicted from SA National Roads Agency (Sanral) land at Lwandle or for all victims of flooding in the area.
"People misunderstood who the food from the truck was meant for," said Lili.
"In fact the truck was mugged by the people," said Lili.
Maxheke said the claims in the affidavits were "not true" and that the food had been "stored" for "the people entitled to it."
He said he had been asked by the truck drivers to direct them to other areas affected by flooding.
"When I was showing the truck drivers around people thought that I was taking the food away. Obviously there was a misunderstanding," he said.
Maxheke is councillor in ward 86. At the time, he said, the councillor for ward 85, Mbuyiselo Mbatha, had been busy at the Nomzamo community hall where the evicted Lwandle residents were housed.
Dodgy people are suing us. Please support us by contributing to our legal costs and helping us to publish news that matters.
© 2016 GroundUp.
This article is licensed under a
Creative Commons Attribution-NoDerivatives 4.0 International License
.