School transport a nightmare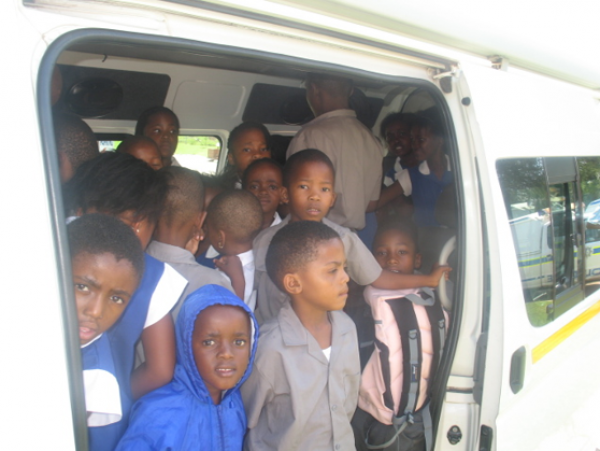 Every day hundreds of parents depend on private transport operators to get their children to school and back home. The quality of service varies. GroundUp found some disturbing stories.
Every morning at about 7:30am, a maroon minibus parks on the pavement of one of the busiest roads of Gugulethu. It is packed with schoolchildren. Some of the schoolkids are taken from the minibus and put into a waiting car, a Polo sedan, which is also full. The two vehicles then drive off to deliver the children to school.
The school children, as young as four, are transferred to a different car from the one that fetched them from home on NY108, which is one of the main roads of Gugulethu and it is extremely busy with cars heading into and out of the township.
Opposite the drop-off point is a petrol station and to the left one of the township's busiest intersections. In July, a 10-year-old schoolgirl was run over by a car after being dropped off by her school transport on NY108. She died on her way to the hospital due to head injuries.
In Montana, just outside Gugulethu, a mother returns from work at 6pm to find that her two children who came out of school at 2.30pm, are still not back home. Panic sets in and she dials the school transport owner to find out where her children are.
On the first attempt, the phone is not answered; the driver picks up the phone the second time. He tells the mother, 30-year-old Michelle Mabandla, that he is not the one driving the transport that day and he doesn't know where the transport is.
"He told me that they are probably stuck and the driver's phone is off," said Mabandla. "My children must have arrived home at around 6.30pm. The driver dropped them outside the gate and drove off, no explanation. I found out from my children aged six and eight, that the transport had stuck somewhere and they had to wait for another car to pick them up."
A former transporter, who did not want to be named, said he started transporting children in 2013 and he used a Volkswagen Caravelle which was a 10-seater, but according to him it could easily fit about 20 children.
"Five children can fit in each seat at the back; two can sit in front, and the car has a spacious boot which can hold about five or six children"
"Five children can fit in each seat at the back; two can sit in front, and the car has a spacious boot which can hold about five or six children," he said.
He said his fee was R350 per child and he did not go through any process to start transporting. All he did was make it known around the community that if parents needed transport for their children, he was available. He only had to make sure that the children more or less lived in the same area and went to the same school. He had a valid driver's licence and said he did not know about the operating licence. He stopped transporting this year in March after he found a job.
Unlike other parents who depend solely on transport providers, Mabandla takes her children to school, but they are brought back by transport. She pays R250 monthly for each child, with the usual fee being R500 per child to and from school. She said, if she could, she would transport her children herself because she didn't think that currently they were safe.
"The incident where my children were stuck somewhere and I did not know their whereabouts is not the first time; this has happened before and each time the owner never knows what is happening. Sometimes he will purposely ignore my phone calls; when I bring it up when I see him again, he tells me that I like shouting at him or that he had been getting too many calls from parents," said Mabandla. "I have tried to change and use other people's transport service but it's difficult. I am not happy at all with this service. What if one day they get stuck in a dangerous place? What will happen to our children then?"
Another parent, Nonqaba Nokhele, who lives in Gugulethu's Steve Biko Drive, formerly known as NY1, says among the many problems she has with her nine year old daughter's transport, the one that troubled her the most was the driver dropping her child off opposite the street and her daughter having to cross the busy road on her own.
"We all know what a dangerous road NY1 one is, but the driver insists on dropping my daughter off on the opposite side of the house and letting her cross by herself. The biggest problem is the poor communication these drivers have with parents. We are not told when drivers are changed or when transport is changed, you are told nothing. If you want to know something, then you have to ask or you are told by your child," said Nokhele.
New policies
Speaking at the third Africa Road Safety Seminar, transport minister Dipuo Peters said her department was in the process of finalising a new policy on scholar transport aimed at improving road safety for vulnerable pupils.
Sanele Nyoka, head of transport and public works in the Western Cape, said the National Land Transport Act required that all operators undertaking scholar service must hold a valid operating licence authorising such services for the specific school or schools.
"The department has undertaken various educational drives and road shows to inform operators of the need to become compliant and hold the necessary operating licence to undertake such services. Operators will submit a new application for an operating licence, where the department has specific submission requirements in order for the application to be accepted. The application is scrutinised, the applicant is screened and the support documentation verified with the school principal or education department," said Nyoka.
Nyoka said many "clean up" operations had been held in conjunction with law enforcement to lessen the "illegal" operators and assist with the process of compliance. Disregard for the law could result in the vehicle being impounded.
Dodgy people are suing us. Please support us by contributing to our legal costs and helping us to publish news that matters.
© 2016 GroundUp.
This article is licensed under a
Creative Commons Attribution-NoDerivatives 4.0 International License
.