Scam exposes township title deed confusion
| Nombulelo Damba-Hendrik and Siphesihle Matyila
News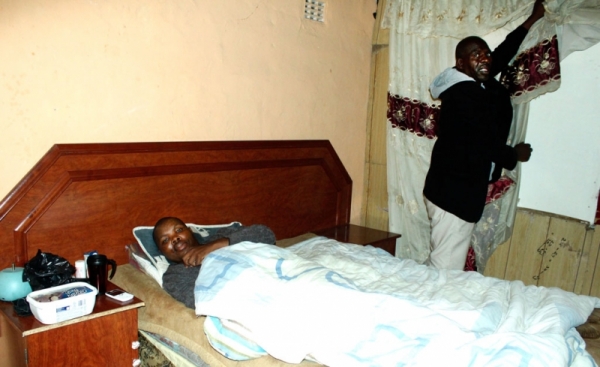 A housing dispute in Mfuleni demonstrates how the informal process of transferring title deeds for RDP houses can lead to people losing their money and their homes.
Mfuleni community leaders are furious with a woman who keeps on selling her RDP house to different people. Yoliswa Jack, they allege, targets desperate people who are looking for a place to stay.
Jack sells the house, but then when another good offer comes along, she sells it again. She is accused by community members of pushing out the family currently occupying the house — even though they believe they still own it.
The latest victim of this alleged scam is Mncedisi Malgas, who bought the house for R20,000. He and his wife paid the full amount in 2004.
Community leader Silvester Moloi said he knows at least three different people who bought the same house from Jack.
He said community leaders like himself didn't have details on how Jack repeatedly manages to sell her house. But a GroundUp investigation has uncovered what has happened.
After Jack took the money, she did not hand over the title deed of her house, or organise for it to be transferred. We went to the Deeds Office, and found that the house is still in Jack's name.
Moloi said this issue came to the attention of community leaders when Mncedisi's brother, Edmund, came from the Eastern Cape seeking their help.
Mncedi has lived in the house for the past 12 years. Unfortunately he was involved in a car accident that left him and his wife Vuyokazi wheelchair bound, and with brain injuries.
GroundUp visited the Malgas family last Wednesday. Mncedi was laying on a bed, chatting with Edmund. We were then joined by more than ten community leaders, who described themselves as "gatvol" with Jack's actions.
Edmund said that he came from the Eastern Cape after he heard Jack threatening his brother (Mncedi), because he refused to sell the house.
According to Edmund the house has been sold to another buyer for R100,000 and the new buyer, who only identified himself as Jimmy, gave them 30 days to vacant the house.
Mncedi struggles to speak in full sentences, but he was clear that he did not want to leave his house.
Edmund showed GroundUp an affidavit signed by Vuyokazi (Mncedi's wife) and Jack. It confirms that Jack has sold her house to Vuyokazi.
A neighbour who did not give her name, said that her friend also bought the house for R15,000. However the friend found out that Mncedi was living in the house before she moved in.
"We felt sorry for Mncedi because he was a very humble person and he paid more than us. We decided to confiscate some of Jack's belongings because she was refusing to pay back the money," said the neighbour.
The neighbour said she has known at least two people who bought the Jack's RDP house, but were forced to leave. Among these was Thembi Bangiso. But unfortunately we could not speak to her as she's not well.
GroundUp contacted the new buyer, Jimmy. At first he refused to comment, but later contacted the journalist to ask to comment. It was clear from his voice that he was angry and confused about the matter.
"If you want to send your lawyers do that, I bought that house," he said.
He told GroundUp that he heard from a woman called Khaya, who lives in the area, that Jack was selling her house.
"Khaya put me in touch with Jack, I paid all the money to Jack. They told me that the person living in that house was going to move, but as time went by I went to the house to tell the person inside that I want to move. That was when I met the community leaders," he said.
When GroundUp reporters confronted Khaya in her home, she asked to be given time to speak to Jack before she comments.
Khaya confirmed selling the house to Jimmy for R100,000, "Please don't drag my name in your paper. I did nothing wrong. Jack asked me to sell her house," she said.
Khaya said she did her research and found out that the house's title deed was still under Jack's name, after Jack refused to give her a title deed.
Moloi said the community leaders tried to arrange a meeting with Jack but she is refusing to meet with them.
Another community leader, Mzwandile Ntsodo, said Mncedi lived in the house for years and they won't allow anyone to kick him out.
Ntsodo said they are tired of Jack's action. He said they feared she would continue selling the house, and most people fell for her scam.
Edmund said Mncedi extended the house. That is why Jack is now selling at a higher price.
GroundUp contacted Jack. "This is my house, I can not talk to you about it," she shouted.
Asked if it is true that she sold the house to different people, Jack said she needs to speak with her children regarding the matter. "I'm too old to talk about this to you. That house is still mine," she said before she dropped the call and switched her cell phone to voicemail.
Zalisile Mbali, spokesman for MEC of Human Settlement Bonginkosi Madikizela, said selling an RDP house is illegal, unless the owner has had the house for over eight years and has a valid title deed. He said that when people buy and sell RDP houses, the title deed transfers should be done by a lawyer.
Jack received the house in 1997. When she sold it to Mncedi, she had owned it for fewer than eight years.

Affidavit signed by Jack confirming the sale of her house to the Malgas family.
Letters
Dear Editor
i bought an RDP house in Muvhagho Extention 15, Bophelong. the original.owner had passed on already but i bought the house from the deceased man's mother and sister. i paid R20,000 to them and i was given the title deed and an affidavit was signed at Bophelong police station. The sister asked for the document that empowered her to be the administrator of the estate claiming that she would return it after making a copy. When i approached her for us to proceed with the transfer, she started playing hide and seek. From then a number of people have been coming forward claiming to have also bought the property and she also has made several threats against me but i refused to vacate since i have all the documents proving that i bought the property, including the original death certificate of the owner, the original title deed and the copies of her mother's identity document as well as her own.
Now i need an advice on what i should do to get this property transfered to my name. i have been on the property for the past eight years already.
© 2016 GroundUp.
This article is licensed under a
Creative Commons Attribution-NoDerivatives 4.0 International License
.