SANCO chairperson asks foreigners for protection money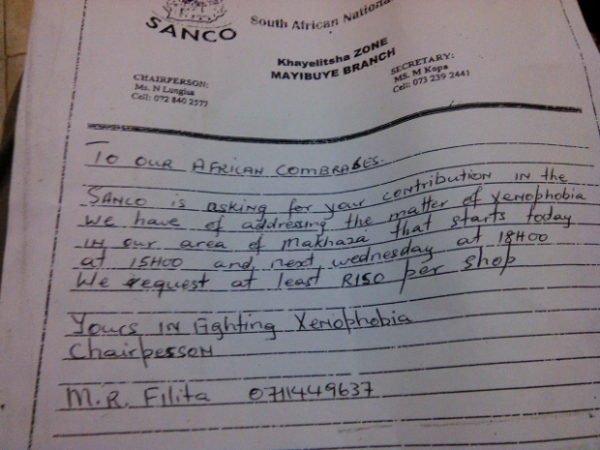 Mthethwa Filita, chairperson of the South African National Civic Organisation in Mayibuye, Makhaza, has been asking for protection money from shops owned by foreign nationals.
Filita was elected chairperson of ward 95 in Mayibuye (actual new name: Monwabisi Ngantolo) yesterday.
According to a source, the letter (see image) was distributed on 1 May to all Somali owned shops in his area stating, "We request at least R150 per shop".
The letter indicates that on 1 and 6 May "xenophobia in our area of Makhaza … starts".
A Somali shopkeeper in Makhaza who asked not to be named because he is afraid of victimization said that he had personally paid an amount of R150 to Filita.
"I do not want to speak to the media because I do not want to be in trouble with the community. I am scared now and I thought the R150 will bring me protection but now it seems like it will cause trouble for me and others who paid," the shopkeeper said.
The provincial secretary of SANCO, Ryder Mkhutswana, said that he was not aware of the letter and its demand. After the contents of the letter were read to him, he said, "I am very shocked by this and I believe that SANCO will never write such letter to the community. This letter is nonsense and is a threat to people. Just because foreigners are in fear of xenophobic attacks that does not give anyone a right to exploit this. And we need to protect them," said Mkhutswana.
Several attempts were made to get hold of Filita. Earlier today he answered his cell phone and said he couldn't talk because he was at the police station. A few minutes ago he told GroundUp that he did write the letter but that it was being misinterpreted. "Maybe it's the wording and structure of the letter. But what I was intending to say in the letter was that there would be meetings on 1 and 7 May. The intention of the meetings was to talk to Somalis and the people in the community about xenophobic attacks and how to prevent them." He said they collected money from "only six" shopkeepers. He said the money was used to buy airtime, petrol, make calls and pay for the venue. He said that there will be another meeting tomorrow to explain to the community and shopkeepers what happened.
Lumkile Sizila who is a SANCO organizer in the Makhaza area said that he is very disappointed at Filita since he regarded him as a good community leader. "We as SANCO are fighting corruption, not condoning it. There is no xenophobia in the Western Cape. And it is disappointing that a leader in the community would do such thing."
Dodgy people are suing us. Please support us by contributing to our legal costs and helping us to publish news that matters.
© 2016 GroundUp.
This article is licensed under a
Creative Commons Attribution-NoDerivatives 4.0 International License
.