NEWS
Rwandans remain divided - even in South Africa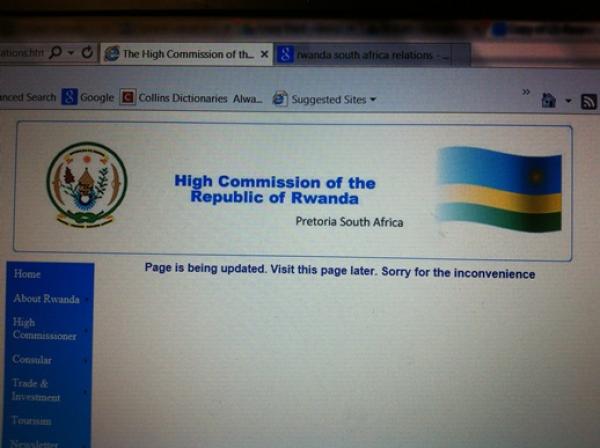 20 years after the Rwandan genocide, the political intrigues and legal ambiguities of its aftermath are still being played out in South Africa among the expat community. Requests from Kigali for the extradition of several Rwandans living in South Africa heightened diplomatic tensions between the two nations.
General Kayumba Nyamwasa, a high-ranking Tutsi official under President Paul Kagame's government, fled the country in 2010 when he fell out of favor with Kagame. He joined Patrick Karegeya in South Africa, where Karegeya had been living in exile since 2007.
Karegeya, once Chief of the Rwandan External Intelligence, founded the Rwandan National Congress (RNC) in opposition to Kagame when he arrived in South Africa. Nyamwasa headed the party alongside Karegeya following his 2010 arrival.
On 1 January 2014, Karegeya was found strangled to death in the Michelangelo Towers in Johannesburg.
Nyamwasa has survived three assassination attempts, twice in 2010 shortly after his arrival in South Africa, and again in March 2014, three months after Karegeya's murder.
Kigali has denied involvement, but in an interview with the Wall Street Journal, Kagame is quoted saying he "wished" he had ordered the assassination.
The 2010 assassination attempt resulted in mutual expulsion of Rwandan and South African diplomats from Kigali and Pretoria. Then in March 2014, three Rwandan diplomats were expelled from Pretoria following the third assassination attempt. Rwanda responded by expelling six South Africans. In late March, President Jacob Zuma and President Paul Kagame tried to repair relations at a peace summit in Luanda.
Nyamwasa is currently living in Johannesburg as a refugee. He faces criminal charges relating to corruption, embezzlement, and terrorism, and is wanted in France and Spain, in addition to Rwanda, for murdering French and Spanish nationals.
The Consortium for Refugees and Migrants in South Africa (CoRMSA) and the South African Litigation Centre (SALC) have taken up the case against Nyamwasa to strip him of his refugee status. The case focuses exclusively on his refugee status, which falls under the Department of Home Affairs, but does not call for his extradition, which is handled by the Department of Justice. The case, which was argued in May 2013, has yet to receive a verdict.
Advocate Anton Katz SC, who argued for CoRMSA and SALC, said they did not know why they had yet to receive a verdict. Nyamwasa continues to legally reside in Johannesburg as a refugee.
South Africa is also home to other Rwandans accused of horrific crimes. One, a professor of pharmacology at UWC, was convicted in absentia by Gacaca courts in Rwanda and given the maximum sentence of 30 years. Extradition attempts by Kigali have failed. The man's wife is also accused of being a genocidaire.
Launched in 2001, the Gacaca Court system is a community justice system instituted to handle the hundreds of thousands suspected of involvement in the genocide. The massive number of genocide suspects was too great for the United Nation's International Criminal Tribunal for Rwanda (ICTR) to handle. The Gacaca courts were meant to facilitate reconciliation between genocide perpetrators and families of genocide victims.
According to Howard Varney, who works as a senior program adviser at the International Centre for Transitional Justice in Johannesburg, the Gacaca court system was initially praised as an innovative method to employ traditional methods as a form of justice.
"As time went on, the shine wore off," Varney said. "It would seem that, certainly when it comes to protecting the rights of the accused and reaching just decisions, some pretty serious question marks were left to hang over the process."
Both the ICTR and the Gacaca system have come under scrutiny for administering heavily one-sided justice — both systems have almost exclusively prosecuted Hutu perpetrators, and have effectively ignored the crimes committed by Tutsis in the immediate aftermath of the 1994 genocide.
"Serious crimes, most likely crimes against humanity, were committed against Hutus during the backlash," Varney said. "It was really regrettable and unforgivable that those cases have not been tried through any of the courts. It certainly has been a case of one-sided, typical victors' justice."
The Gacaca ceased operation in 2012, after they had heard over two million cases. Its legacy, however, is mixed, with uncertainty as to how effectively and fairly justice was administered. And this distrust, Varney said, extends to the Rwandan justice system more broadly.
"I feel safer being treated as an alien in South Africa with no rights than going home to Rwanda," said Jae Imuri, 26, who emigrated to South Africa from Rwanda just before the 1994 genocide.
Imuri described the Rwanda courts as a "failed system".
Epiphanie Mukasano, who also fled Rwanda in 1994, believes that as long as the current political system in Rwanda remains entrenched, she will not consider returning to her home country.
Since Kagame took power in 2000, a clean, economically viable, theoretically politically stable country has emerged out of the ruins of genocide. Kigali is a bustling metropolis.
But Mukasano and Imuri claim that this is only half of the story, that Kagame's democracy is really a dictatorial regime.
"There are people who disappear every day," alleges Mukasano. "People are imprisoned for speaking their mind."
Mukasano said that since 2000, the Rwandan community in Cape Town has steadily risen. Why are people still fleeing Rwanda if the country is functioning as well as Kagame claims, he asks.
© 2016 GroundUp.
This article is licensed under a
Creative Commons Attribution-NoDerivatives 4.0 International License
.