NEWS
Rugby: Blue Jets of Khayelitsha play MIT Rangers from Manenberg at Khayelitsha Stadium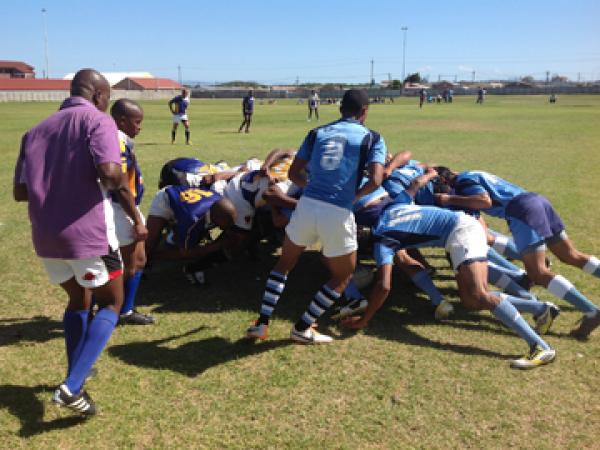 With the Western Cape Club rugby season only a few weeks away, some teams are using the time to test their skills. Blue Jets of Khayelitsha hosted the MIT Rangers from Manenberg at Khayelitsha Stadium.
MIT were the stronger of the two second teams playing most of the first half in the Jets' half. They scored the first try which was converted, taking the score to 7-0. The first half ended with the score even at 7-7.
The few supporters that were at the stadium did seem to be enjoying the game, and you could hear them screaming at players when they make mistakes.
Blue Jets' supporter Lawrence Mpikeleli said at halftime, "Blue Jets thought it was going to be an easy game but it is not. The players of MIT are very quick. Let us wait and see what the second half will bring us."
MIT started the second half strong, getting yet another try and a conversion. Again Blue Jets had to come from behind and after putting pressure they were awarded a try towards the end of the game, but were unable to convert. The game finished at 14-12 with MIT the winners.
MIT coach Amin Dollie said, "It was a nice game. But it is difficult at the moment in my team because we are still trying to get players to come to training. We are not playing our game just yet, but with more friendly games, we'll get there."
Ghoosain Ismail, 21, the outside centre of the MIT, said, "It was a good game; very fast paced; the Blues played very well. My team still has some handling errors, but we'll work on them, because we want to finish in the top 5 by the end of the season."
Some might see the game as a friendly but there was nothing friendly on the field of play as both teams gave it their all.

Blue Jets of Khayelitsha win opposition lineout. Photo by Siyabonga Kalipa.
The home advantage didn't help the Jets. Blue Jets coach Yanga Sawula said, "It is our first friendly, our first competitive game. We tried defending in the first half but the wind wasn't helping. We will get better with more games we play and our aim this season is to be in the play-offs."
Samkelo Malashe, 20, Blue Jets captain, said, "MIT gave us a good game. The mistakes we made cost us. But we'll be better by the time the league starts. It was our first game and you could tell because our level of fitness is not there yet."
The Blue Jets will play at Elsies River against Police Vikings on 22 March.
MIT Rangers will play again on 30 March against Wastonias at Ohio Avenue in Primrose Park.
© 2016 GroundUp.
This article is licensed under a
Creative Commons Attribution-NoDerivatives 4.0 International License
.