Rocking the Daisies puts township artists on the map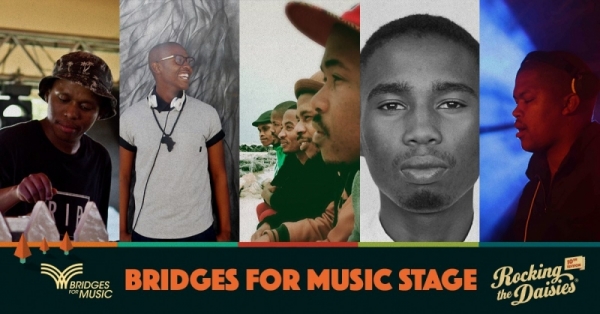 This year for the first time the celebrated Rocking the Daisies festival will showcase DJs from Khayelitsha, Langa and Gugulethu on a new stage, adding colour to what has seemed in the past to be a mostly 'white' lineup.
This year will mark ten years of Rocking the Daisies, and marks the launch of a new stage on the opening night (Thursday 1 October), where Bridges for Music will showcase the finest talent from the townships of Cape Town.
For most of these artists this will be their biggest stage performance to date, exposing them to a 'white' market for the first time.
"Seeing so many township artists finally incorporated into the Rocking the Daisies lineup really shows that music has no colour or race but it is a form of unity and indeed a universal language. It's an opportunity and platform for growth for artists to fuse their sounds and show their versatility and appeal to a broader market," says Khayelitsha's Lunga Jelwana, who goes by the alias DJ Kop.
"A lot of us were introduced to Bridges for Music by friends and later attended the workshops in Langa township. Being a part of this year's Rocking the Daisies is really amazing for us", says DJ Fosta, who is now a board member of the non-profit organisation.
"A lot of us have never attended the show before. We have only heard about it and watched the videos and after-movies. Playing there is really an honour. We are so excited to show the masses what we can offer."
"Getting in the white market is always a challenge for DJs playing in the township. This will be an opportunity for everyone to market themselves. It will also help us see if our performance can really work for the white market as it always does elsewhere. In short, we will do our best to make sure no one forgets us after the night," he adds.
The inclusion of the Bridges for Music stage at Rocking the Daisies will provide a platform for previously unknown artists to tap into a different market, help unify the Cape Town music scene and assist these artists in networking. With a lot of the DJs on the lineup planning to attend the whole festival from 1 to 4 October, they will have ample time to explore a different world and do market research.
"I have cancelled some gigs just to be free for that weekend. I want to learn more from other performers and how they manage to give a good performance to the people and supporters of Daisies," says Gugulethu's Masixole Dunjana aka DJ Dada Dunjana. "The Bridges For Music stage will help township artists gain more experience playing at big festivals and to a white crowd. It's going to give us a lot of exposure as we will be playing for a diverse range of cultures around the country and also visitors from other countries. It's a huge market and a big opportunity not to be wasted. I also think that it will help us to change issues of race that we face in the local music scene," he says.
Coming with a completely different genre and set-list to the other DJs who will be on stage is Lebohang Letsimo, aka S2 lEbz DJ from Khayelitsha.
"I started playing in 2013 under the guidance of one of Cape Town's most successful [white] DJs, Simon Ringrose (DJ Sibot), and have since been working harder to pull in the white market. As township DJs, we are trying by all means to play at big festivals," says Letsimo.
The announcement of the second stage on the opening night of the festival has sparked considerable interest.
Perhaps other festivals, as big as Rocking the Daisies, can learn from this great step in our local music industry, and also incorporate township artists in their lineups. And not just one or two, but across all stages at the events.
© 2016 GroundUp.
This article is licensed under a
Creative Commons Attribution-NoDerivatives 4.0 International License
.