Robertson abattoir workers have their day in court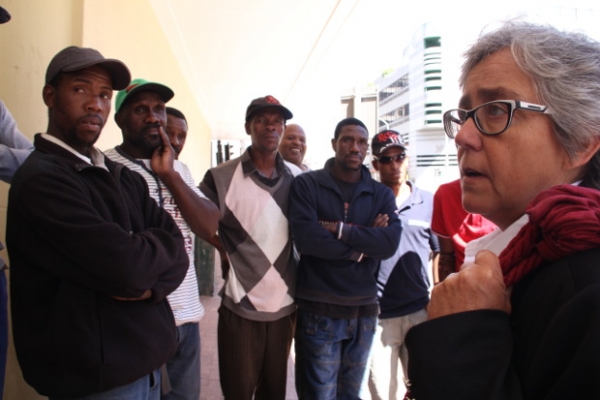 After a four year delay, the hearing in the case of 39 workers dismissed from Robertson Abattoir started in the Cape Town Labour Court this week.
"The wheels of justice turn slowly if you are poor in this country," said Karel Swart, deputy general secretary of the Commercial, Stevedoring, Agricultural and Allied Workers' Union (Csaawu) outside the court during a break in proceedings on Tuesday, addressing a contingent of workers who had travelled from Robertson.
"These have been four hard years for you. Many of you have not had jobs and have families to care for. All the while [the abattoir's owner] has been able to grow his business and his wealth. That is why it is important for us to stand together and to see this through to the end, so that we can see justice done finally."
The workers, all Csaawu members and represented in court by the Socio-Economic Rights Institute (SERI), allege that they were locked out and eventually dismissed for protesting over long working hours in November 2010.
SERI lawyer Tashwill Esterhuizen said Csaawu had been in negotiations with the abattoir's management when the company unilaterally increased the quotas for number of animals slaughtered per day from 600 to 850 for the 2010 festive season. This had meant longer and harder working days for no extra payment and undermined negotiations with the union, he said.
After calling union general secretary Trevor Christians and four workers to the stand, lawyers acting for the workers closed their case on Wednesday.
Before commencing with their case, lawyers for the abattoir have applied for an "absolution from the instance" - essentially asking Judge Anton Steenkamp to dismiss the case because of what they see as the weakness of the workers' evidence that they were unlawfully dismissed. A decision is expected on Friday.
Meanwhile, shortly after preparing one of the workers to take the stand for testimony and cross-examination, Esterhuizen spoke of a general frustration with the Labour Court when hearing cases involving poor and often uneducated workers.
"The court is a stressful environment for such workers. They get very nervous and are not as articulate and confident as their employers, so the odds are already stacked against them," he said.
"I only wish the court would take this into account when dealing with farmworker cases - that a person's background can heavily influence the way a person gives testimony. It is depressing when this consideration is not given to poor workers."
The abattoir's lawyers did not want to comment to GroundUp, asking for queries to be emailed to them. They promised to respond later.
Dodgy people are suing us. Please support us by contributing to our legal costs and helping us to publish news that matters.
© 2016 GroundUp.
This article is licensed under a
Creative Commons Attribution-NoDerivatives 4.0 International License
.