Rights organisations contest reasons for Home Affairs directive
|
Tariro Washinyira and GroundUp staff
News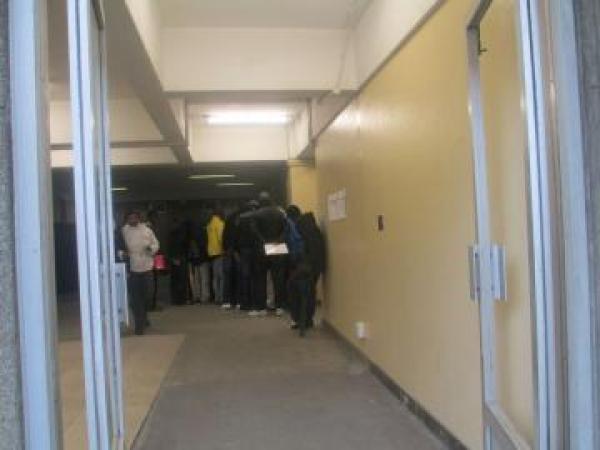 Director General of Home Affairs, Mkuseli Apleni, has given reasons why no new asylum seekers will be accepted at the Refugee Reception Office (RRO) in Cape Town.
GroundUp reported on 4 February that Apleni had directed that no new asylum seekers could be processed at the Cape Town centre. He said that he would give reasons in seven days. He has now done so. The main reason he cites is that the majority of asylum seekers who previously applied at the Cape Town centre were not genuine asylum seekers.
According to a statement issued by Apleni, most applicants were actually economic immigrants who came to Cape Town in search of work. He cites as evidence the audit of the files at the Cape Town office. The audit from 2012 found that approximately 77% of the applicants adjudicated from 2008 to the date of the audit were rejected as either manifestly unfounded (73%) or unfounded (27%).
"Economic migrants are exploiting South Africa's legislative framework and refugee services. Historically, they have been able to move to Cape Town and obtain work while the asylum application process has taken its course," Apleni's statement reads.
But William Kerfoot, a lawyer who specialises in refugee rights for the Legal Resources Centre, disputes Apleni's reasoning. "We are very sceptical that people are not genuine asylum seekers," Kerfoot said.
Kerfoot said that the quality of adjudication of asylum applications was often poor. Many adjudicators did not have the necessary knowledge of the problems in the countries where the asylum seekers come from. He said the process was often unfair. He explained that there are over 80,000 rejections that have been appealed and many thousands of applications awaiting review by the Standing Committee for Refugee Affairs (a Home Affairs body).
"A rejection does not mean that the application was unfounded," said Kerfoot.
Apleni wrote, "Government is entitled to take steps … to restrict access to RROs in urban areas where RROs [have] historically been abused by economic migrants."
Apleni said the proposals by civil society advocates to re-open the Cape Town centre had legal and practical difficulties. The department has been threatened with litigation concerning the Cape Town Temporary Refugee Facility (CTTRF). If a fully functional RRO were opened, the neighbours and businesses in the area would institute legal proceedings. The Director-General also claimed that the available space at Customs House cannot accommodate large numbers of people, and that there were also occupational health, safety and security concerns.
In reply to other proposals made by civil society, Apleni said that according to the Refugee Act, Home Affairs is not allowed to split the services of a RRO and so cannot operate a RRO through a number of satellite offices. Establishing a satellite office would also require the Department of Public Works to identify suitable premises which would be time consuming, he claimed.
According to the department, very few asylum seekers that utilised the services of the CTRRO entered South Africa through Cape Town's two ports of entry (Cape Town Harbour and Cape Town International airport).
However, Bernard Toyambi of PASSOP responded, "It is disappointing that it turned out this way. Foreigners are no longer welcome in South Africa and Home Affairs does not want them to stay in Cape Town. Deporting foreigners from Cape Town is costly … They want people to stay by the borders because it is easy to deport them by road."
© 2016 GroundUp.
This article is licensed under a
Creative Commons Attribution-NoDerivatives 4.0 International License
.