Returning Zimbabweans battle with bureaucracy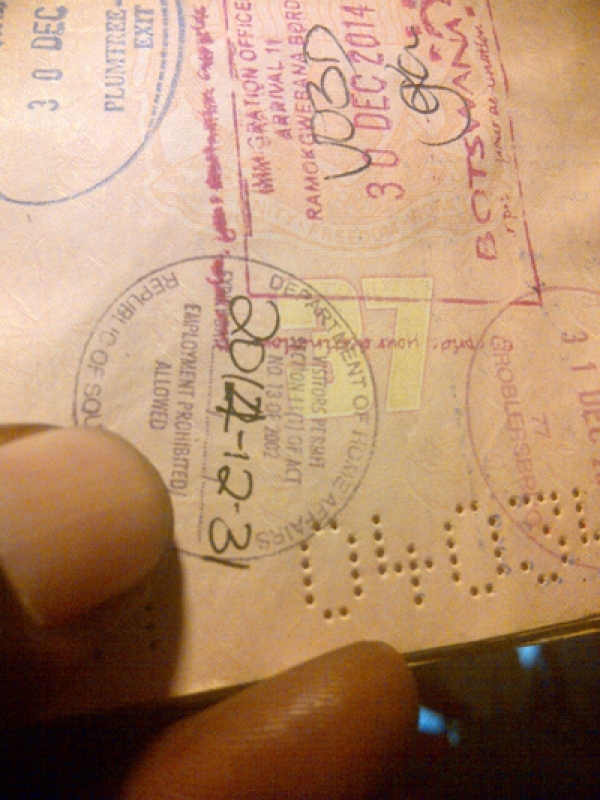 Zimbabweans who travelled to Zimbabwe before their Special Dispensation Permits were issued have complained of problems on their return to South Africa after the holidays.
In November, Minister of Home Affairs Malusi Gigaba said Zimbabweans can travel freely during the festive season. See article here.
But some returning Zimbabweans have complained that their passports have been stamped with permission to stay for only three to five days.
On 12 August 2014, Gigaba changed the Zimbabwe Dispensation Programme (ZDP) which was launched in 2009 to the Zimbabwean Special Dispensation Permit of 2014 (ZSP). ZSP online applications started on 1 October 2014 and closed on 31 December 2014. The department opened Visa Facilitation Services centres in Gauteng, Western Cape, Limpopo and Mpumalanga to administer the ZSPs. R870 is charged per applicant and the permits are supposed to take eight weeks to be issued. First applications were submitted on 1 November 2014.
Dickson Dlamini, 52, originally from Gokwe North, Midlands province in Zimbabwe, went home in December and returned on 31 December 2014 through Martin's Drift border post. He was shocked when his passport and that of his travelling companion, which should only be stamped once since they are ZSP holders, was stamped twice. On the second stamp, the official wrote "expired 2014". This has left Dlamini confused about how long he can stay in the country, and whether or not he can enter and exit multiple times.
Dlamini said, "I queried the immigration official decision twice and she told me that she is following instructions from her superiors. To me it is absurd, because only visitors should get two stamps. This will affect my truck business as I have to be in and out of South Africa."
His brother wanted to withdraw money at the bank but was told he could only do it at the ATM because his permit, submitted in November last year, was still pending. This is inconvenient to him because of the ATM cash withdrawal limit; he needed a bigger amount to cover the day to day activities of his business.
Taurai Dira (not his real name) crossed to Zimbabwe on 20 December 2014 via Beitbridge border post . On his return on 1 January 2015, he and other Zimbabweans with ZSP applications pending were told they should have returned before 31 December 2014 and were sent back to Zimbabwe.
When Dira returned to Beit bridge on 9 January 2015, he and his fellow Zimbabweans were about to be sent back by the immigration official, but a senior Home Affairs official directed her to let them go.
He said, "The official who served me then stamped my passport and gave me 90 days temporary residence expiring on 9 April 2015 while my application is pending. I do not understand why they are confused because they have all the information in their system."
Home Affairs did not respond to GroundUp's queries.
But the chairperson of Zimbabwe Community South Africa, Ngqabutho Mabhena, said he had been in contact with the Department of Home Affairs.
"The former DZP holders who were given less than 90 days (3 or 5 days) at Beitbridge when they returned for Christmas should not panic. No one will be charged for overstaying in the country. This has been communicated to the management at the port of entry. There is no need to rush to any Home Affairs office or to the border to get the passport stamped."
Several people have complained on the Facebook page of the Migrant Workers' Association SA (MWASA) that their bank accounts have been frozen because of problems with their permits.
MWASA's Butholezwe Nyathi said he had emailed the Home Affairs ZSP project manager Gerson Muti about the problem. "He asked us to email the names of the people with frozen bank accounts and the names of the banks that are freezing accounts so that he engages them."
"We can't gather all the names but we feel it is crucial that we have this issue addressed now because 31 December 2014, which was set as the expiry date for DZP, has passed. If the banks do not get another direct memorandum from Home Affairs, come end of January people's salaries will be locked up."
Nyathi said that last year the Department of Home Affairs had promised to send a memorandum to the banks about applicants whose ZSPs were being processed. He said he hoped to meet representatives of the banks soon to resolve the confusion.
Dodgy people are suing us. Please support us by contributing to our legal costs and helping us to publish news that matters.
© 2016 GroundUp.
This article is licensed under a
Creative Commons Attribution-NoDerivatives 4.0 International License
.