BRIEF
|
EASTERN CAPE
Protesters at Walter Sisulu University demand reinstatement of expelled students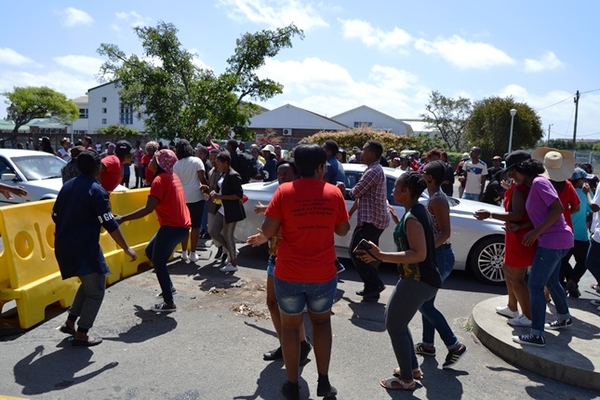 Police used stun grenade and spray guns to disperse a group of about 300 Walter Sisulu University (WSU) students who intended to block Oxford Road with burning tyres.
The protest started in the morning with students closing WSU campus and preventing other students from attending. This comes after the university's vice chancellor, Khaya Mfenyana, announced on Facebook on Wednesday that the university will be open today.
After closing the campus, students gathered at a park in Southernwood, East London, where they were addressed by their leaders.
Student leader Inga Hlazo said there was a misunderstanding on Wednesday. He said Mfenyana saw the students were not protesting and assumed the shutdown of the university was over.
"We failed ourselves yesterday; there was no chaos. Now the management thought we are happy, which is not true," said Hlazo.
He said the university management did not want to meet with the newly elected task team to represent students after a number of students and SRC members were unhappy with how the SRC president handled the Tuesday meeting.
Hlazo said among their demands was to see six students reinstated after they were expelled for their involvement in the recent protests.
He said, "We are in crisis. We demand students who are still in debt because of insufficient funds, to register next year for free. They should not pay for the registration .. our leaders were expelled because they were fighting for our rights, but the university accused us of harassing people."
Hlazo also complained that the university's health facility was only open from 8am to 4pm.
Following the meeting, the protesters marched to residences demanding students join them. The march then proceeded to Frere Hospital where it was believed that the university management was having a meeting.
Students forced their way into the hospital demanding to be party to the meeting and sang songs. They blocked the hospital gates. After an hour, the student task team addressed the students saying the university meeting had adjourned shortly before the protesting students arrived.
Students said they will continue with the protest until the university management agrees to have a meeting with their task team.
© 2016 GroundUp.

This article is licensed under a Creative Commons Attribution-NoDerivatives 4.0 International License.