Police use live ammunition on shackdwellers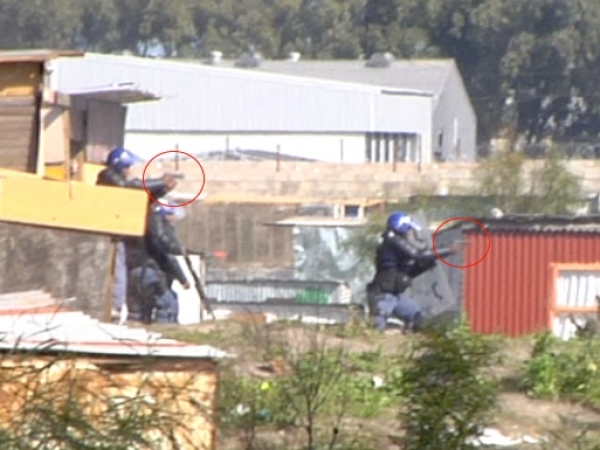 Police used live ammunition against unarmed shackdwellers who fiercely resisted eviction in Philippi East today. It was the most violent day of clashes between police, City of Cape Town Law Enforcement and shackdwellers since forcible evictions started off Symphony Way, in response to a land invasion, two weeks ago. At least one person was shot with live ammunition from, according to eyewitnesses, a police service pistol.
GroundUp tracked the victim, 31-year-old Patrick Sobutyu, to Delft Day Hospital. He was in the trauma unit, seated in a wheelchair, and awaiting transfer to Tygerberg Hospital. He had been shot in both legs. The paramedic who treated Sobutyu's wounds confirmed to GroundUp that they were from a bullet.
"We were resisting, because our neighbours' homes were being destroyed," Sobutyu explained. "We were throwing stones. I saw a police officer, the tall one, lift his service pistol. He was standing around ten metres away. He aimed at me and shot. I tried to run, but I collapsed two metres away."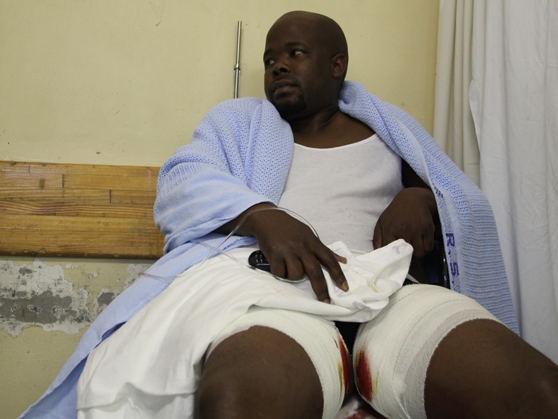 Patrick Sobutyu in Delft day hospital trauma unit. Photo by Daneel Knoetze.
Four men carried a bleeding Sobutyu 200 metres through the shacks to get him to the bakkie that transported him to hospital.
"I am shocked that they can shoot us with bullets, when we are not armed," said Sobutyu, who earns R400 a week as a taxi driver.
A quarter of his income used to go to renting a backyard dwelling in Delft. That is why he moved to Philippi East, two weeks ago.
"Now I worry for my wife, because she has no one to protect her when the police [and the City] come for our shack. She is all alone. And I will not be able to walk or work for some time. That worries me, because in the taxi industry there is no such thing as paid sick leave."
While Sobutyu was being treated, running battles between police and residents in the informal settlement dubbed Rolihlahla Park continued.
The protesters gave no quarter, charging at police and using the remnants of shack walls as shields. Riot police responded with a barrage of rubber bullets, stun grenades and tear gas canisters. A police helicopter patrolled. These battles were fought amongst the collapsed shacks and possessions – refrigerators, beds, toys, televisions – of dozens of families.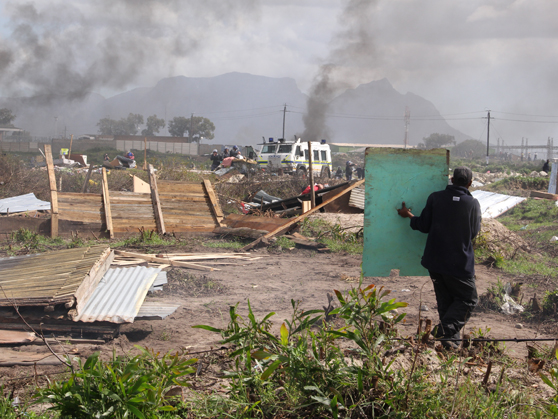 Evicted shackdwellers confront police in Philippi East, Cape Town. 22 August 2014. Picture by Daneel Knoetze.
During lulls in the fighting, residents would scramble back to their sites from which they were evicted earlier in the day to retrieve their personal effects.
Others opted to demolish their own shacks, so as to save the building material, ahead of the slowly advancing line of the City's Anti-Land Invasion Unit (ALIU).
Some residents, however, remained defiant. GroundUp found Nomandla Benyane, 24, sitting on a bed next to a collapsed shack where she had lived with her two year old son for two weeks. She was anticipating that the City officials would return to remove her building material.
"I will resist them. They will have to tie me up and throw me in the van. I will never let them take my material, because that is all I have to shelter my child with."
As men huddled behind barricades, they taunted the police in defiance.
A number of main roads around the informal settlement were closed off by traffic services due to the conflict. The N2 was closed in both directions shortly before noon. At the time of publishing, calm had been temporarily restored and the N2 had been reopened.
"But, this is not the end," said Vusumzi Mpama, who had carried Sobutyu to safety before continuing to fight the police.
"We are defending our homes. This land has been empty for decades and we are establishing a community here. We will not be deterred, even if they want to shoot us. We are poor people, but we deserve to have our dignity protected. Not to be shot at like dogs by our own government."
GroundUp reported on numerous occasions last week that the evictions were being conducted on the basis of court interdicts and not eviction orders.
This is against the law and section 26 of the Constitution. As such, the City has denied that any "evictions" were taking place. The City claims that only vacant and unoccupied structures are being demolished.
The City today refused to respond to GroundUp's queries. It asked that queries be directed to the police, who were the "lead agency in this case".
Police spokesman Captain FC Van Wyk said that two officers were injured by stone throwing, and that eleven protesters were arrested for public violence. The police did not respond to queries about the use of live ammunition.
22 August 2014 Eviction at Marikana from Pablo Pinedo Bóveda on Vimeo.
Dodgy people are suing us. Please support us by contributing to our legal costs and helping us to publish news that matters.
© 2016 GroundUp.
This article is licensed under a
Creative Commons Attribution-NoDerivatives 4.0 International License
.