Police don't give us back our goods after a raid, say traders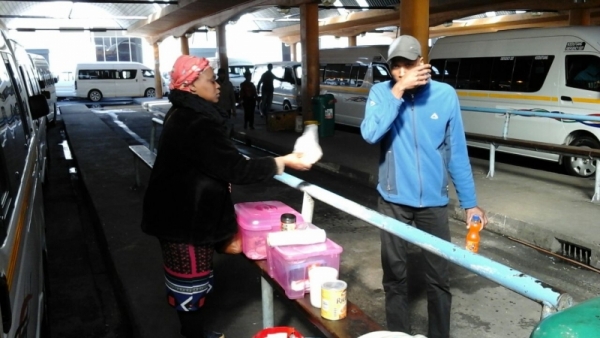 Vendors at the Cape Town taxi rank complain that they do not get their goods back after a police raid.
Last Monday evening GroundUp saw police raid traders selling on the street at the taxi rank. Vendors scattered in all directions as about half a dozen police officers, in three cars, confiscated their goods.
At peak hour at the terminus, with many commuters waiting for a taxi, there was chaos, as goods were thrown all over the pavement where people rushing to the taxis stepped on them.
Sibulele Bhenja from Langa who sells mielies at the rank, said that he dropped his bucket full of corn as he was running away from the police. He said sometimes police took away vendors' goods and did not return them and at times they issued fines.
"This is the third time in two weeks police came and distracted us from making money. I know that the law does not allow us to sell things like this on the street. But this is the only way to make a living and if I do not come here everyday to sell then I will not have money to support my family."
Bhenja said on a good day he sold about 30 mielies at R9 each. "But now all my corn is full of sand and I won't be able to sell, and it's a loss to me," said Bhenja. "Last week my bucket of corn was taken from me and since then I have not got it back."
He said the police did not tell vendors where the goods were being taken. "Instead they say we should get papers to sell legally. I am uneducated, I do not know much about procedures and laws. I just wish they could actually sit down with us and tell us how to do business legally," said Bhenja.
Some of the goods confiscated were illegal CDs and DVDs, sold mainly by foreigners.
One trader said he was used to being raided. Sometimes police did not take vendors' goods but chased them away, he said. But when police did take their belongings, he said, they did not return the goods.
Vuyiswa Damane from Philippi sells drinks, coffee, and roasted bread at the taxi rank. She said she had been trading there since 2011. She said Law Enforcement had confiscated her goods and she had to pay a fine of R500.
"When I asked where I can claim my goods I was told they are being taken to charity," said Damane. "We aren't allowed to sell here but I do it anyway. I have to look after my kids who are 14, 11 and seven and I'm a single mom."
Asked what happened to goods which were confiscated, Captain Frederick Van Wyk, the communication officer for SAPS, sent the following email to GroundUp: "Kindly be advised that you can forward your enquiry to the Spokespersons of City of Cape Town Law Enforcement and PRASA Railway for a response."
Janine Willemans from the City of Cape Town Law Enforcement's department of Integrated Strategic Communication, Branding and Marketing said, "The operation you're enquiring about was conducted by the South African Railway Police, focusing on traders' kiosks managed by PRASA. You would therefore have to contact either of these parties for comment."
Lesedi Mapheto, who is the spokesperson for PRASA, said, "As PRASA we were not involved in the raid and also we do not operate in the taxi rank."
"PRASA operates trains and a bus company Autopax which runs City to City and Translux," said Mapheto.
Dodgy people are suing us. Please support us by contributing to our legal costs and helping us to publish news that matters.
© 2016 GroundUp.
This article is licensed under a
Creative Commons Attribution-NoDerivatives 4.0 International License
.