Police clash with high-school students in Cape Town - province agrees to demands
|
Sibusiso Tshabalala
News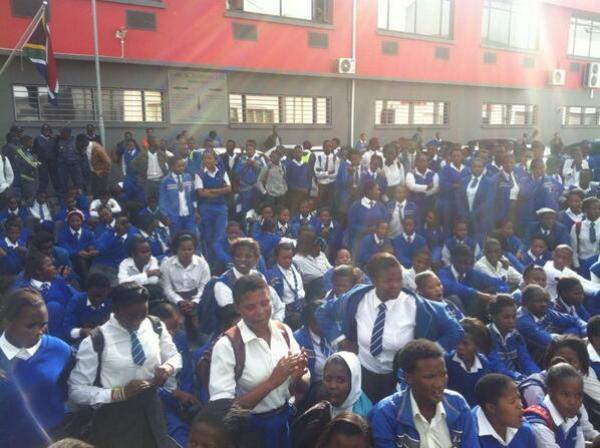 Education authorities have agreed to address students' demands after about 300 students from Sizimisele Technical High School in Khayelitsha tried to protest yesterday in the city centre, complaining of a lack of teachers. The protest was blocked by a heavy police presence.
The students arrived at the Cape Town train station at lunchtime with the intention of protesting outside the Western Cape Provincial legislature. Adanele Mvendaba, a grade 12 student at the school explains, "We got to the station and found the police waiting for us. We told them that we wanted to protest peacefully but they refused to listen."
At Sizimisele, students in grades 10 to 12 have been without teachers for maths, physical science, mechanical technology and civil technology for a month. The school's focus on technology and design related subjects means that specialized teachers have to be employed.
After being stopped at Cape Town station, the students decided to take a train to Woodstock, hoping that they could walk from there to the provincial legislature. When they arrived at Woodstock station, an increased police contingent was waiting for them. According to witnesses, this contingent consisted of SAPS and Metro police.
"We wanted to protest because we believed that our right to a decent education was being violated. We have received no progress reports since the start of this year and we have had no teachers for technical subjects for a month now", said Kedebonele Legoale, a grade 11 student at the school.
"The police told us to go back home because we have no permit for our protest. They told us that we were disturbing the businesses in the area. We refused to leave. We sat down and started singing instead," said Mvendaba.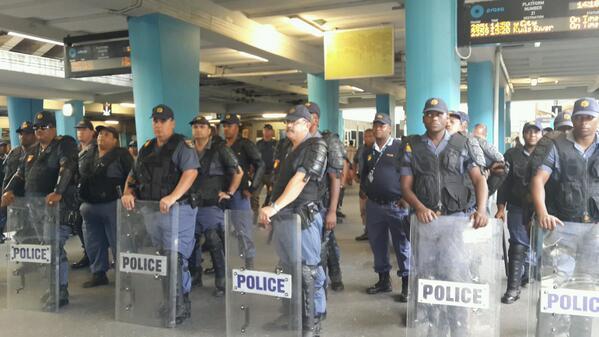 Police presence at one of the train stations yesterday. Photo courtesy of Equal Education.
Province agrees to address school's problems
John Lyners, Deputy-Director General at the Western Cape Education Department (WCED) arrived to meet with the students. The students voiced their concerns and, according to them, Lyners promised that there would be teachers on Thursday 8 May.
According to Kedebonele Legoale, "the four of us, the representatives of the learners, as well as two members of the Equal Education Law Centre met with Mr Lyners. He promised that we would get teachers and that a catch-up plan would be put into place."
A statement by the students reads:
Sizimisele Technical School, in Makhaya, Khayelitsha, was established in 2002. It became a technical school in 2009. As explained in a statement by the students, "this has meant that engineering and design subjects have been introduced, and subjects like accounting, history and geography are being phased out. The school has dropped from 1,300 learners to 915 learners."
The student statement further explains:
As a result of the change of subjects, and the reduction of students, the [Western Cape Education Department] says that we had 9 teachers on permanent contracts who were in excess. However the problem was that these were not in the right subjects – they were not technical subject teachers. The school therefore arranged six extra teachers on contracts to teach the technical subjects. The problem is that for the past four months these teachers have not been paid.

Therefore these five teachers stopped working a month ago. The School Governing Body was able to pay the teachers R4,000 each to cover the past few months, but this only brought them back for a few days. There seems to be a disagreement between the WCED and the principal, Mr Maruping. The WCED says that he should not have hired these additional teachers. But how else were we supposed to be taught?
In a letter dated 6 May that GroundUp received last night, Lyners on behalf of the province said the teachers would be paid for January to March and that the department would continue paying for four of the additional teachers from the second term. The province has committed to implementing a catch-up plan for lost teaching time, sorting out the teaching posts and meeting the school on 8 May to ensure implementation. Equal Education, who have been working with the school, have described this as a "hard-fought victory."
Alleged police violence
After meeting with Lyners, the students walked towards the train station. According to a statement issued by the students and distributed by Equal Education, Captain Fred Prins of the SAPS, instructed the police to push the students as they were walking slowly towards the train station. The statement alleges that the police charged with shields and began kicking and pushing the students down the train station stairs.
"We were slapped, kicked and pushed … some of us were fearful. You know what the police can do," said Mvendaba.
Mvendaba is one of many matric students who have not received their progress reports for the first term. "I would like to study further, but I can't apply for bursaries or tertiary study placements without a progress report. I'm hoping that this gets sorted soon."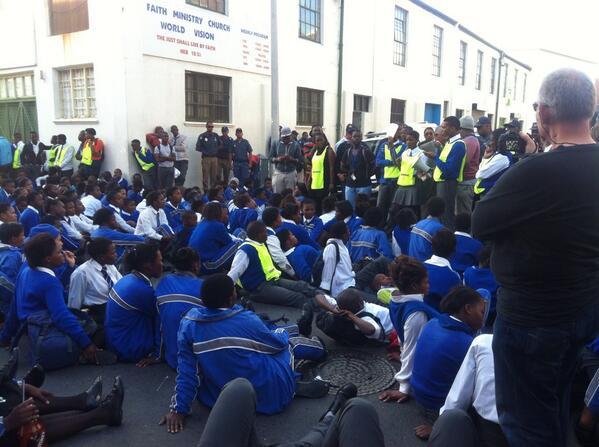 Students sit down and refuse to move at Woodstock train station. Photo courtesy of Equal Education.
In last year's National Senior Certificate results, 61% of the learners at Sizimisele Technical High School passed. In 2012, the school was once one of the 30 most underperforming schools in the Western Cape. It has since improved its results marginally.
Speaking to GroundUp last night, Lieutenant Colonel Tembinkosi Kinana, spokesperson for SAPS in the Western Cape, said that he was aware of the incident but was not privy to the details. "I was in meetings for most of the day. I heard that something happened, but I have not engaged with any of my colleagues," said Kinana. He referred GroundUp to Lieutenant Colonel André Traut who had not responded by the time of publication.
Did you witness yesterday's events? Let us know, by commenting on this article, info [at] groundup.org.za (emailing GroundUp), tagging us on Twitter or writing on our Facebook wall.
GroundUp uses the term students to refer to what others often call learners. Let us know what you think by commenting on this article, info [at] groundup.org.za (emailing GroundUp), tagging us on Twitter or writing on our Facebook wall.
The introduction to this article was rewritten after it was published.
Dodgy people are suing us. Please support us by contributing to our legal costs and helping us to publish news that matters.
© 2016 GroundUp.
This article is licensed under a
Creative Commons Attribution-NoDerivatives 4.0 International License
.