Phillipi settlement battle highlights housing problems
On 7 and 8 January, the City of Cape Town's Anti-Land Invasion Unit demolished more than 40 homes at the Marikana settlement in Philippi East. There has been ongoing conflict between the City and the residents who have settled on this plot of privately owned land just off Symphony Way.
The City's lawyers argued in the Cape High Court on Friday that the City has a general duty "to act proactively and take measures to prevent unlawful land invasions." The City was granted an urgent interdict to prevent further occupation of the Marikana settlement.
GroundUp visited Marikana — named so by the residents in solidarity with the North West Province platinum miners — on Saturday. There was a legal team from the Legal Resources Centre to take statements from the residents in preparation for an application for a spoliation order to the Cape High Court yesterday. The court postponed the matter till today. If granted, the City will be compelled to reconstruct the homes they demolished.
"They first came and marked some of our houses with an 'X'. They say it's a warning that they are going to demolish."
Sheldon Magardie, Director of the Cape Town LRC office, is representing the residents. He says that the eviction by the City of Cape Town's Anti-Eviction Land Invasion Unit (ALIU) was unlawful. The Prevention of Illegal Eviction from and Unlawful Occupation of Land Act of 1998, commonly known as PIE, requires a court order to be presented when evicting unlawful occupants. The act protects the rights of occupants who occupy both land and homes, even if unlawfully.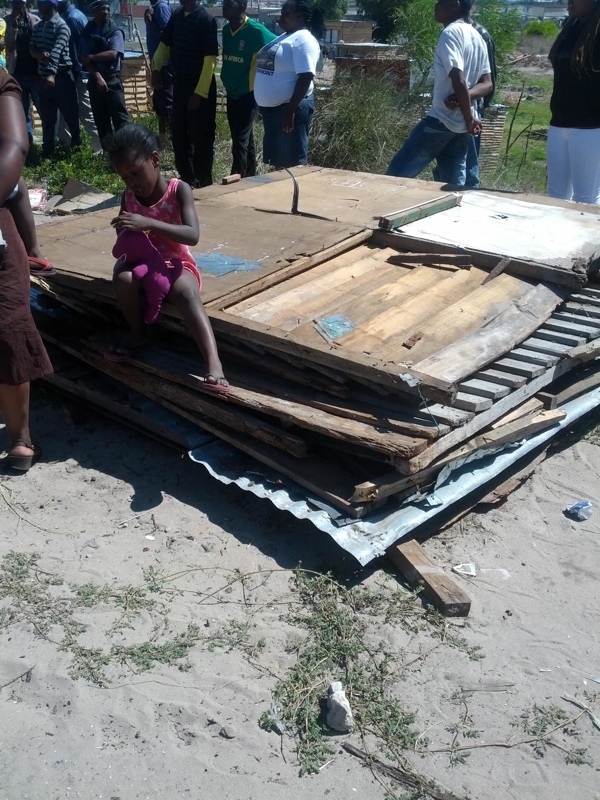 Photo: The remains of a home at the Marikana Settlement. Photo by Sibusiso Tshabalala.
Judith Sikade, an elderly resident, says this is not the first time their homes have been demolished. "After they [Anti Land Invasion Unit] demolished our homes during May last year, we lived in tents for a while. We would put the tent up every evening and put it down again every morning. We rebuilt our homes and now they have come back in the new year to harass us."
The City is arguing that it does not require a court order to remove the structures since these were not occupied.
Monde Matushe, an activist and resident, says that the Anti Land Invasion Unit had marked some structures for demolition "randomly" on 7 January.
"They first came and marked some of our houses with an 'X'. They say it's a warning that they are going to demolish," he said. The residents are convinced that the process of demolishing is not consistent as some of the homes that were demolished were occupied.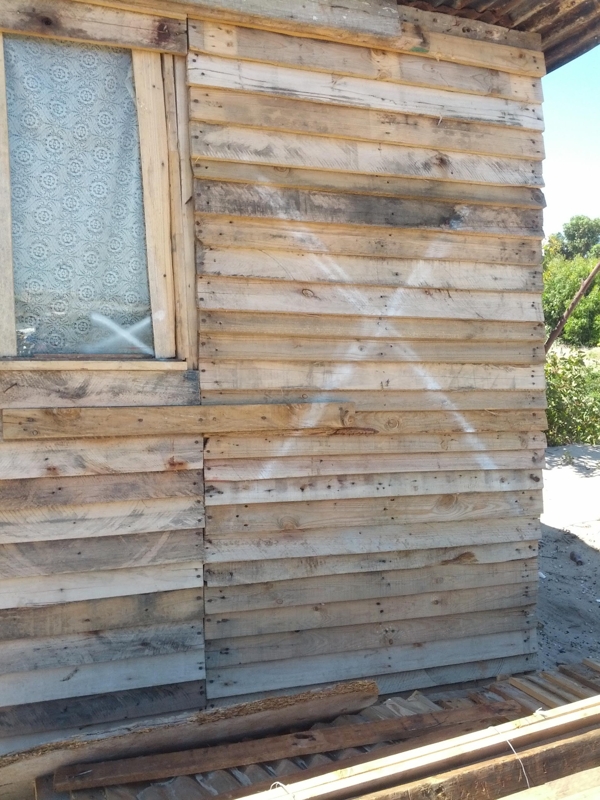 Photo: An occupied home marked with an "X" by the Anti Invasion Land Unit.
"When the Anti Invasion Land Unit started demolishing homes [on 7 January], I decided to take my youngest daughter [who is five years old] to my brother's house in Delft. I did not want her to see this happen," says Zolani Ntshanta, a young activist and resident.
Residents whose homes were demolished are now destitute. Some have opted to stay with other residents' whose homes weren't demolished.
Ntshanta's house is one of the homes that was not demolished last week. He says: "We are a family here. We are sharing with some of the residents while we wait for the court to make a ruling."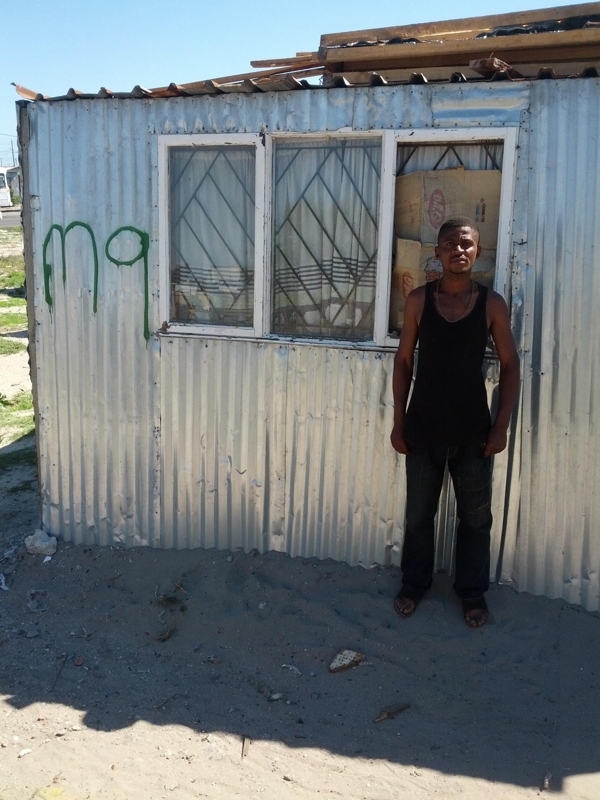 Photo: Zolani Ntshanta stands next to his home.
Ntshanta moved to the Marikana settlement last year as he could not afford a place to stay for him and his family. He has two daughters and a wife. Seven years ago, he was a student at what was then Port Elizabeth Technikon (now merged with the former University of Port Elizabeth).
"I finished only one semester in my first year of studies in Electrical Engineering at PE Tech. My mother passed away, and I then had to look after my siblings and the household in King Williams' Town," says Ntshanta.
Ntshanta, previously employed at different firms in Cape Town, now hopes to continue his studies this year, but he has no funding.
The land on which the settlement is situated will be part of a new retail center and industrial park.
The Fischer family owns the largest portion of the land on which the settlement is situated. A smaller part of the settlement land is owned by NTWA Dumela Investments, a property development and investment company. It says that the land next to the settlement will be part of a new retail centre and industrial park. It is expected that this development may only start in the next two to three years.
Mayoral Committee Member for Human Settlements, Councillor Tandeka Gqada told GroundUp, "The unlawful spread of informal settlements had an impact on the City's ability to maintain its high levels of service delivery." Gqada added that while the City would like to provide housing opportunities for all of its citizens, increased urbanization has made the provision of housing a challenge.
A correction was made to this article. The original version said that NTWA Dumela Investments owned most of the settlement land. The Fischer family does, as explained in the latest version of the article.
© 2016 GroundUp.
This article is licensed under a
Creative Commons Attribution-NoDerivatives 4.0 International License
.