Pensioners march for R5,000 per month
|
Mary-Anne Gontsana
News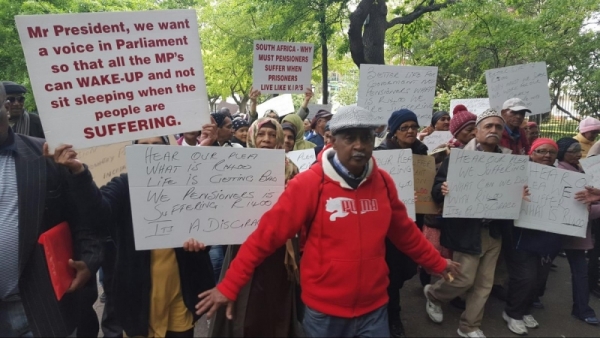 Hundreds of pensioners marched from the Company's Garden to Parliament on Tuesday to demand a "decent living wage" of R5,000 from the current R1,410 state pension.
As of 30 June, 3.1 million people received the older person's grant of R1,410 per month. The 2015/16 budget sets aside R53.5 billion for this grant, about 4% of state expenditure this year. If the pensioners' demand is met, this would increase to about 9% of state expenditure.
The march follows a similar one that the pensioners held in April but the protesters said that since the march in April, nothing has changed.
Starting with a prayer before moving through the gardens to parliament, one of the pensioners, Christine Finch, said it was a daily struggle and no one could survive on R1,400. "That money is not enough for me to take care of my two children and husband. Then I still have to use the money to buy food and electricity. If we could get R5,000 we would be better off. We can't cope and we are living off loans, loans that we have to pay back with interest," she said.
Group leader Ursula Schenker said the seniors felt that they couldn't survive on that money. "Some of the seniors are not even getting their pension. In 2013 then minister Pravin Gordhan said all elderly people would be eligible for an old age grant regardless of income or assets. So since Pravin Gordhan is not the minister anymore, we want to know whether what he said has been implemented. We want to know whether it still applies. We are all out here in our numbers to make a difference. This is a continuation of our march in April. We want to make government aware that we haven't forgotten. There are people here from Bonteheuwel, Retreat, Mitchells Plain, Nyanga, Delft, Ocean View, all over, everyone has the same problem," said Schenker.
A placard read, "We can't cope, what is R1 400, we suffer". The pensioners marched to the gates of parliament and started chanting, "We want more".
Mathi Fante from Philippi, who travelled to the march by train, said it was a big struggle for him to take care of his family on the amount that they were getting. "You get the R1,400, then you have to spend R367 to buy a food voucher. Then you get home and you have to buy electricity and it is expensive. You buy R50 electricity and it doesn't even last you three days. Then you have children that need to be sent to school. School transport costs up to R200. So we are asking government to give us at least R5,000 a month. That will make a world of difference. R1,400 is nothing. That is pocket money for our kids that go to university."
Assistant coordinator Graham Sheldon said "That money is too little. If you look at the cost of living and the price of food and electricity, R1,400 is not money. That amount only lasts for one day then the next you don't have money anymore. We deserve better. It is unfair that we are living below the breadline. We contributed to this country in so many ways, so the government needs to come up with a plan to give us more money."
After much chanting from the elderly crowd, the memorandum was accepted by a member of parliament. The memorandum, addressed to the portfolio committee on social development, said the pensioners were "appalled by the total and utter disregard displayed by your non response to the elderly of this country….. In the absence of a platform to interactively engage with the representatives, we are forced to put pen to paper once again to bring our message across … .We would like to request a decent living wage of R5,000 per month … We will appreciate it if our demand can be considered."
© 2016 GroundUp.
This article is licensed under a
Creative Commons Attribution-NoDerivatives 4.0 International License
.