Pastor leads march through "hell"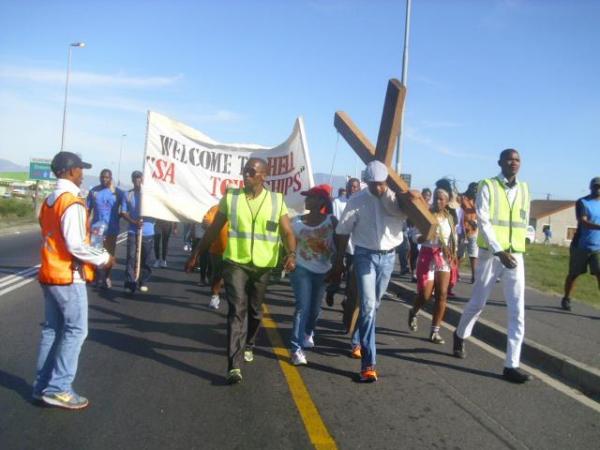 Under a banner that read "Welcome to Hell - SA Townships" Pastor Xola Skosana of the Way of Life Church led a march through Khayelitsha on Easter weekend. For the fourth year, the pastor carried a wooden cross.
About 70 marchers set off from Uluntu Centre in Gugulethu at 9:30am on 19 April and proceeded to Mandela Park in Khayelitsha.
The marchers included members of the Way of Life Church as well as political parties and social organisations such as Seskhona People's Rights Movement and the Agrarian Revolutionary Congress.
Skosana said the march was to highlight the social ills and the inequality suffered by people in the townships.
"Townships represent a history of forced removals and forced settlements. They represent a historic evil intent that has not been amicably dealt with," said Skosana. "We have not seen enough political will in 20 years that sought to reverse the effect this kind of settlement has had on the black people."
"Until government programs of upgrading the lives of our people deal with the question of access to the land and integration, separate development will continue to be the order of the day, and that will continue to have adverse effects on the quality of life led by black people in general."
The march came about after a vision he had five years ago.
"In November 2010, in a sort of out of body type of experience, God gave me a vision of myself standing on the N2 at the Khayelitsha off-ramp with a banner reading: Welcome to Hell-SA Townships. I knew it right there and then that this was a message that needed to be heard by South Africa."
He spent 25 December 2010 standing on the spot he saw in the vision with the banner, reminding people who were passing by on their way to their holiday homes along the coast that others are spending Christmas in Hell.
"I still remember that day vividly. I stood there with my brother-in-law carrying the banner. I had to remind those people that our people in the township are suffering."
"It is fitting, exactly on this day [Easter], that South Africans be reminded of the gruesome violence of township life, and they be made to understand that God identifies with their suffering," said Skosana.
Andile Lili, chairperson of the Seskhona People's Rights Movement, says his party joined the march because its cause is in line with what they advocate.
"This march sympathises with what we are fighting for, like service delivery. Therefore we want to remind Hellen Zille and the national government that while other people enjoy good life there are those who live in poverty. Hence we decided to take part in this march. This is a human rights issue," said Lili.
Chloe Menteeth of the Agrarian Revolutionary Congress, who is also a Pan Africanist Congress activist, said, "South African townships are nothing but concentration camps. People are living in hazardous conditions. We need to acknowledge the fact that we're in deep hell, and we need to design a living Eden on earth," said Menteeth.
The march ended with Skosana thanking everyone who participated. "I'd like to extend my deepest gratitude to everyone who participated in this march," he said. "Today we've seen something that binds us together."
© 2016 GroundUp.
This article is licensed under a
Creative Commons Attribution-NoDerivatives 4.0 International License
.