Our lives are worth more than R500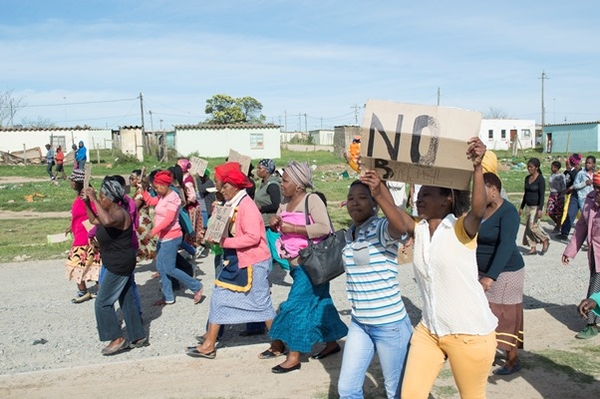 "Crime is touching me; it's eating me," said Patricia May, standing on a stretch of vacant land between Extension 9 and Transit Camp, two neighbourhoods in the larger Grahamstown township.
An active member of the local Community Police Forum (CPF) in the area, May with the help of a number of concerned women convened a march on Tuesday to hand over a People's Memorandum Against Crime, Women and Children Abuse to representatives of the Grahamstown High Court and the South African Police Service (SAPS) station commissioner of Joza station.
"We as members of our communities feel that crime is on the rise. What we see is that when the CPF knock-off, say 3am or 4am, as soon as we are off the streets, the criminals are active again," said May.
The group of about 30 individuals were prompted to take action after a recent spate of murders and sexual assault in the area and the horrific nature of the last three murders. There has been a general rise in crime in Extensions 6, 9 and 10 as well as the Transit Camp area.
"We are worried about the levels of sexual violence around us as well as the amount of criminals that are being released on bail straight back into our communities," said May.
Misive Mavis Mbako said, "I sleep alone with my child, a small child. They broke into our home … I'm scared when I go to sleep. Our children are getting murdered, then they get raped, after being raped they get mutilated."
Working with a dedicated team of about 15 individuals, May has been able to patrol the streets of her community with some success. "We carry only little kieries, just to scare them. On weekends when we patrol, it's usually one big guy and then a couple of younger women who walk till about 3am."
During the week, they generally don't need to patrol and spend their time as CPF members seeing to smaller issues in their neighbourhood and making a point of reporting regularly to SAPS.
"As CPF members we can confirm that SAPS are doing a good job here," said May, commenting on the presence of the recently opened and now operational police station in Joza.
"Mostly our problems aren't with the SAPS, they catch the criminals; it's with the justice system who let them go on bail – R500 bail for murder sometimes; to us it feels like our lives are worth R500."
"[Station commissioner Syed] Cassim has been doing a good job here. He works well with us despite the rumours going around that SAPS and the CPF are impimpi," said May.
Joined by Ayanda Kota from the Unemployed People's Movement (UPM) moments before Colonel Cassim arrives, May and Kota went through the list of demands.

A memorandum is signed by officials and the community. Photo by Hancu Louw.
After hearing the demands, Colonel Cassim reaffirmed his dedication to the community and the issues they raised.
"We have a good working relationship and it is unfortunate that currently the substructures that have formed with regard to the CPF have not been seen by all," said Cassim. "From the memorandum, I realise that more forums need to be formed to engage the public."
"As people of Grahamstown, we have a very serious problem, we are not happy as parents because every weekend and especially on Sundays, murdered women's bodies are found. Our kids love to go out, and we can't help that; we can't go to work or clinic early in the morning, because the criminals are waiting for us in the streets. It has escalated now. Women must be inside the house late in the evening. The government should really do something," said Thabisa Rithi.
Reaching the High Court around noon, the group met a couple of officials.
"We have listened and heard the message and we will take that message to the powers that be and the decision makers. We came here to receive a petition and we have done that, thank you" was the rather curt response from Senior Magistrate PJ van Vuuren.
As the crowd dispersed, some in the back of vans provided by the SAPS, May said, "We have come here maybe five, six even ten times before. Sometimes as a community, sometimes with the help of people like Mr Kota, but we always get the same response. So we hope that this time around things will change. We have signed a memorandum of understanding between ourselves and the justice system so hopefully our demands will be met. If nothing changes we will be back here, asking for answers soon."

The marchers arrive at Joza police station. Photo by Hancu Louw.
Dodgy people are suing us. Please support us by contributing to our legal costs and helping us to publish news that matters.
© 2016 GroundUp.
This article is licensed under a
Creative Commons Attribution-NoDerivatives 4.0 International License
.