'One day, people will watch me dance'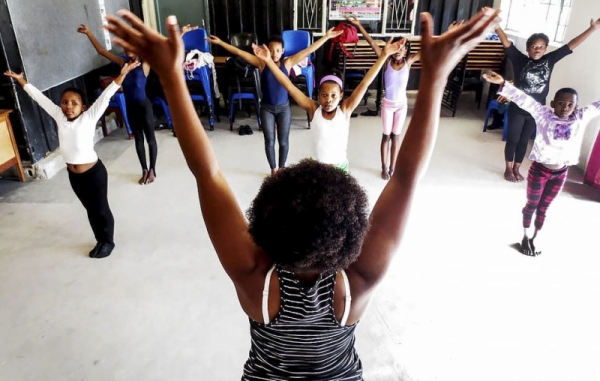 "When I finish school, I want to be in a ballet skirt and do ballet for a big crowd," says six-year-old Anathi Dakuse from Imizamo Yethu.
Anathi is one of the children learning dance through the Amoyo Performing Arts Foundation, which focuses on children between five and 19 years old.
Voiceover artist Kim Worrall joined dancers Mandisa Qwesha and Nandipha Sandlana in 2015 to create the children's project, which aims to make a difference to the lives of children in Imizamo Yethu and Hangberg.
Qwesha has a diploma from La Rosa Spanish Dance Theatre and worked for five years at Jikeleza Dance Project. Sandlana, from Gugulethu, learned dance through Philip Boyd's Dance for All project and worked for Jikeleza for 10 years.
Mandisa Qwesha​ s​hows ​a student the right position. Photo by Masixole Feni.
Amoyo offers an after-school and holiday programme, teaching ballet, African dance, contemporary and Spanish dance and also offers classes in music and rhythm and drama. Children are provided with nutrition during classes.
Worrall says: "At Amoyo, we appreciate every child and encourage self-appreciation, which in turn develops self-esteem and self-respect which are key ingredients to success in life."
She says in the project she sees children who hesitated to make eye contact gain confidence very quickly.
The foundation also tries to expose the students to life outside their community. Earlier this month they were given theatre tickets to a show in the Waterfront. One of the students who watched the show, Busiswa Cuba, 19, said: "It was inspiring. One day people will watch me just like people were watching the dancers in the show. They were fantastic; they encouraged me to be more serious when I practise dancing at Amoyo."
Qwesha, 29, from Khayelitsha, moved to Hout Bay when she was nine and has been dancing since she was 17. She and Sandlana, 36, teach several classes, at schools in Hout Bay and at the community hall.
Students focus on a dance step in ​Nandipha Sandlana​'s after-school class. Photo by Masixole Feni.
Thirteen-year-old Zintle Mlangeni says she has been dancing since she was five. In six years time she wants to be dancing for the world-famous Alvin Ailey dance group, she said. "Last week Wednesday, we went to Artscape Theatre and the Alvin Ailey team gave us some dancing lessons. We went again on Friday to watch them performing live. I was inspired", she says.
She says her parents support her dancing classes and the programme helps her stay busy.
Siphumelele Skiti also hopes to dance in the United States as a professional dancer. The grade seven pupil at Moravian primary school, who comes from Imizamo yethu, started dancing last year and joined Qwesha's class early this year.
Six-year-old Anathi and her sister Athula 7, enjoy the classes and are learning several moves, says their aunt, Siphokazi Ngema, 23, who often brings the children to class. They are committed and punctual.
"I like it when I stand with my legs wide, on my toes, like a frog, during practice," says Anathi. "Dancing keeps me slender. Our teachers said in December we will receive Christmas presents. I come for practice everyday, I do not want to miss out.
"When I finish school, I want to be in a ballet skirt and do ballet for a big crowd. I know it is challenging because big children are always complaining their legs are aching. I think they stretch their legs too much."
Dodgy people are suing us. Please support us by contributing to our legal costs and helping us to publish news that matters.
© 2016 GroundUp.
This article is licensed under a
Creative Commons Attribution-NoDerivatives 4.0 International License
.