Not enough cops here, says head of Ocean View police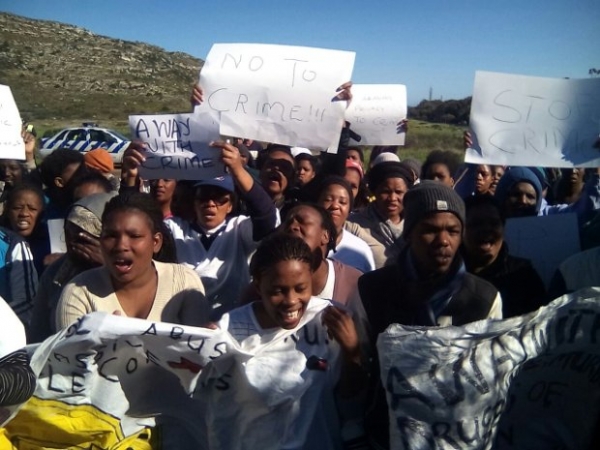 "I was walking at 5am to catch a taxi to go to work. Three people with their faces covered surrounded me and put me in the middle," says Robert Makhoza, a resident of Masiphumelele.
"One had a gun pointed at me and the other a knife while the third was searching me, they took my phone and when they wanted the bag that I carry with my work tools I refused and they stabbed my hand so I could let go of the bag," says Makhoza.
For the residents of Masiphumelele, as for many people in South Africa, this is an everyday occurrence, but they have had enough. On 9 August about 200 residents held a meeting in the township's community hall — at which stories like Makhoza's were told — and then they marched to Ocean View police station to demand better crime prevention in the township.
Lubabalo Vellem, who organised the march, accused the police of not doing their job properly and failing the community. "People get robbed on their way to work, children get raped. [Criminals] enter our houses while we sleep at night. Those people still roam the streets. The police are not doing anything," he told GroundUp. "Everyday there are robberies and murders happening in Masiphumelele. The police live in the community. Some of the people that commit these crimes are their brothers or their friends, they drink with them."
"Many complaints go unattended. They arrest people in front of us [then] let them go the same day," said Vellem
Masiphumelele and Ocean View
These are two poor townships located near each other in the south of Cape Town.

The residents' memorandum asked for regular patrolling, follow up on reported cases, and quicker turn-around time for police to report on complaints, more police to be employed, and a satellite police station to be started in Masiphumelele.

Lieutenant Masiza Ponco from the Ocean View police station accepted the memorandum on behalf of the police.

Ponco who has only been working at the station for a week said, "I am new here. I am not yet familiar with all the problems that the station has but one of the major problems that I have seen is that we are under-staffed."

"At the moment there are 24 police. There are six police per shift, and no police to stand in for those on leave. [There are] only two vans. Masiphumelele and Ocean View are big communities and one van with two police is not enough for any of them," said Ponco

At the day of the march there were only three police officers on duty with one van. Two police were on leave and one was on sick leave.

That left only one officer inside the police station, and two to attend to reports from people in Masiphumelele, Ocean View and Kommetjie.

While GroundUp was interviewing Ponco, reports of a fight in Ocean View came in, while the two on-duty police were out attending another report in Masiphumelele.

"We are hoping for the addition of nine police officers later this month. They are also advertising posts for five constables that will help minimise some of the problems we are faced with," said Ponco.

Residents gave the station seven working days to respond to their requests.
© 2016 GroundUp.
This article is licensed under a
Creative Commons Attribution-NoDerivatives 4.0 International License
.