NEWS
Nomlinganiselo Primary School closed off by angry parents - principal locked in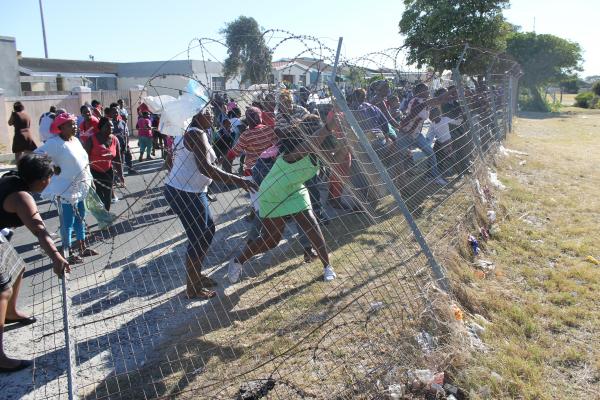 Parents protested outside Nomlinganiselo Primary school in New Crossroads, Nyanga. They also prevented kids from entering the school building on 30 and 31 January.
They were angry at the school's principal Mr BR Mzinda. The parents allege:
Mzinda has stolen money out of the school account.
Mzinda is abusive towards the staff.
Mzinda is an alcoholic and often arrive at school drunk.
We sought a response from Mzinda but he did not want to talk to the media.
On the evening 30 January, Mzinda slept at the school because he had been locked in by the parents who also sealed all the entrances. I heard parents saying they would like to see how Mzinda gets out. In the morning of 31 January, he apparently cut a hole in the school fence to allow a police van to go into the school. After they saw the hole in the fence, parents complained that their children would not be safe in the school, so they angrily began pulling down the entire school fence, although the didn't entirely succeed in this.
Xoliswa Maliwa, an informal spokesperson for the parents, a parent herself and former student said, "I grew up at this school, went from grade 1 to grade 7. I also take my child to this school but now I see that the way this school is being run is not all-right." Maliwa also said, "We had a meeting on 29 January with the department people and they told us the investigation was supposed to have started on 23 January but now it will only start on 15 February."
Bronagh Casey, media liaison officer for the Western Cape Education Department (WCED) said, "Certain community members protested. They are demanding that the principal be barred from the school. The community has given the WCED a list of allegations against the principal. The WCED is investigating these allegations." Casey continued, "The principal will continue to work at the school while the investigation is in process. The children are currently in class. WCED officials were at the school and that they are engaging the protesters. The government will seek to ensure that schooling continues as normal."
Out of 20 teachers at the school only seven were inside the school and 13 were waiting outside of the school yard in support of the parents, none of the teachers were willing to talk to us.
© 2016 GroundUp.
This article is licensed under a
Creative Commons Attribution-NoDerivatives 4.0 International License
.