No tap and one toilet
|
Mary-Anne Gontsana
News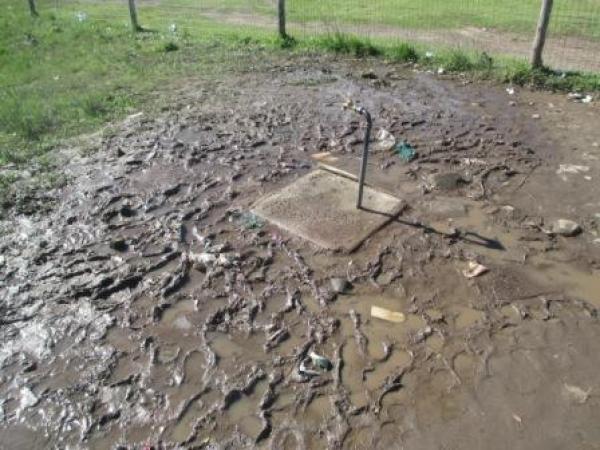 A fed-up Khayelitsha resident is anxious to know why the City of Cape Town is not making any provision for water and sanitation on her street.
Nolulama Jara has been living in Khayelitsha's Nkanini area since 2008. Lindela Road has no tap and only one toilet for the street.
"I don't understand how the City keeps on forgetting us each time they come to Nkanini for sanitation purposes. We have to travel quite a distance to get water from a tap which is in another street, and we only have one toilet to use for about 20 households," she said.
Jara says that they reported the problem to the City in May. Sure enough, inspectors came and took measurements where a tap was to be installed. But since May, they have still not received their own tap.
"It is really difficult to have to walk a distance to get water, especially now it has been raining. You have to wait for the rain to stop, then quickly run to fill your buckets. Sometimes there is already a queue of people, or there is no water in the tap. Then you have to cross Baden Powell to Kuyasa to get water and this is very dangerous especially for the children.
"As for the toilet, there is only one, it is those blue Mshengu chemical toilets. Many times you cannot even use it because it is filthy. Then there is a problem with people who hang around there. You find teenagers standing there. You have no idea whether they will rob or attack you; you end up not going. We do get those portable flush toilets, but even those are not collected at times and you end up having to use the Mshengu toilet," said Jara.
Portable flush toilets (PFTs) have been at the centre of protests in Khayelitsha, where residents are complaining that they are undignified. PFTs are the replacements for what is known as bucket toilets or the bucket system. Portable flush toilets: What are they and why the fuss?
Mayoral committee member for utilities, Ernest Sonnenberg, said Nkanini was a challenging area for their officials to enter due to "some community dynamics". He did not go into detail what the dynamics were, but claimed community leaders "instigated divisions".
"When the water and sanitation project manager for the installation of full flush toilets was working in Nkanini, he was threatened by community members which meant that construction had to be halted on numerous occasions. When the project manager requested the intervention of the community leadership it was discouraging to discover that it was allegedly some of the community leaders who [had] instigated divisions."
"After installing more than 1500 full flush toilets in Nkanini with additional challenges of access roads, very dense areas, difficulty in dealing with greywater, constant sewer blockages and drainage problems, the water and sanitation project manager approached the human settlements department for possible solutions to the engineering problems," said Sonnenberg.
He said the human settlements department had since started with the construction of roads primarily for electrification, but plans would be made by the water and sanitation department with human settlements.
"The installation of services is dependent on space available and other challenges faced. Sometimes it might be that there is a greater level of services in one part of a community than another as a result. It is estimated that the access roads for Nkanini will be completed by November. Once this has been done, water and sanitation will liaise with human settlements on how best to provide additional services whilst facing the prevailing challenges," said Sonnenberg.
This article has been fact-checked by GroundUp
Dodgy people are suing us. Please support us by contributing to our legal costs and helping us to publish news that matters.
© 2016 GroundUp.
This article is licensed under a
Creative Commons Attribution-NoDerivatives 4.0 International License
.