The new racism? A review of Gerhard Mare's Declassified ,¨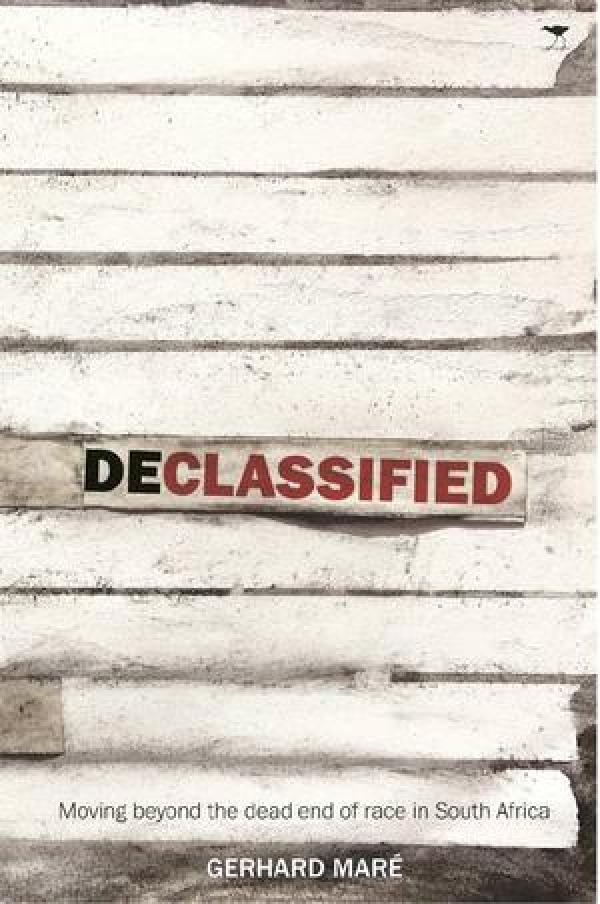 Ideological positions that analyse conflict in South Africa in terms of race are not in the interests of disadvantaged people, argues Jeff Rudin in this review of a new book by Gerhard Mare.

For some people, the removal of the statue of Cecil John Rhodes from the University of Cape Town symbolised the appeal of a rediscovered colonialism. They present a new way of seeing the present: The real enemy is colonialism not the apartheid legacy.

Consider, for instance, a recent long article by Wandile Kassibe in the Cape Times:

Although the statue of Cecil John Rhodes has been removed, his spirit and legacy persists in a racist culture of undermining black people…

UCT's decision to …[suspend a black student] on the basis of a untested allegation from a white lecturer is exactly what colonisation did to black people as a race by privileging power and whiteness. 


Colonialisation functions as a locus of colonial episteme and white domination over 'black subjects'…in which black people were stripped of their human dignity as a race, and … replaced by an intergenerational cycle of servitude.

As a result … black people, wherever they may find themselves … (academia, business etc) remain colonial subjects … to be manipulated at will. In essence this is the 'DNA' of the broader colonial project, which produced and continues to reproduce today a mentality of where whiteness and white supremacy is strangely regarded as the sine qua non of modernity and knowledge production.…

It is the responsibility of the progressive post-colonial Rhodes Must Fallists and 'decolonialists to critically examine colonial legacies ….
'Colonial legacies' rather than apartheid legacies. This is presumably because the perceived persistence of 'whiteness and white supremacy' in the various power structures of untransformed, post-apartheid South Africa is seen to be more characteristic of colonialism than apartheid.  
The problems of this colour-coded "black vs white" view of the world need to be looked at critically.
I'm writing this the day after the black State President released the Commission of Enquiry's report into the Marikana massacre where (mainly) black police killed 34 black miners, 17 of whom were shot in the back. The then National Police Commissioner was black. The Provincial Police Commissioner directly responsible for what happened at Marikana was also black. The Minister of Police was black. The enormously wealthy businessman who used his close political connections with Cabinet Ministers to call for much more decisive action against the striking black miners was black as were the Cabinet Ministers. This black businessman is now Deputy President of South Africa. 
These stark reminders from one single event need to be made if only to highlight the complexities that are entirely lost in a paradigm that sees only white supremacy in colonial, post-apartheid South Africa. 
For those of us outside that particular world view, an immediate challenge is to explain the widespread, grossly over-determined racialised views represented by Kassibe, bearing in mind that 'race' is a social construction, and not something that has any meaningful place in science.
A recent book, Gerhard Mare's Declassified: Moving beyond the dead end of race in South Africa, is a must-read in terms of how and why race classifications have been kept alive 24 years after the hated Population Regulation Act was repealed. Declassified helps us understand how we have sustained a binary race-coded country ready for plucking by the Kassibes of today.
Race, despite our Constitution's declaration of a non-racial South Africa, has, in Mare's words,
been thoroughly naturalised, it is so 'obvious'…that it seems to invite no questions. … It is the banality of race that closes us off from even noticing its insidious sedimentation in everyday life (p.33) 

The accepted fact that 'race' is a scientific nonsense makes not the slightest difference to the


prior acceptance that there are race groups, that they can be recognised…and that their existence makes (common) sense to all (p.88)

These realities – and, I might add, the fear of being called racist (or a white liberal or both) if one dares challenge 'race' from a Marxian left position – is why Mare writes that he would be pleased if his book succeeds simply in getting recognition that there are urgent questions to be asked about 'the insidious and invidious ways in which notions of race remain the unquestioned bedrock of our thinking' (p.12).
What he does is to trace in detail how, with absolutely no statutory basis and often in conflict with the Constitution and other legislation, the classifications of the Population Regulation Act have not only been reproduced but – like under apartheid – permeate all aspects of our lives. Worse still, unlike apartheid, none of the classifications – African, Coloured, Indian and White – are defined in law; yet an army of classifiers daily decide which 'race' to assign to each and every one of us. Race boxes must be ticked. If we choose not to be classified, someone else will choose for us and will do so on the basis of their own criteria.


No one wants to define what each of the four races is, and how they are to be recognised. … So the [classification]… remains hidden, locked into the race thinking of those engaged in classification. And here lies the rub. We all participate in keeping this system of classification operational, we are all expected to be its minions, because we can draw on the 'standards'…already familiar to us – in this case, the very criteria set by apartheid. Without compulsory race classification we all become classifiers, simply by not questioning the existence of these categories. (p.101)
Worse still, we collaborate in the perpetuation of apartheid amongst those born in post-apartheid South Africa. The Born Frees, the inheritors of the struggle against apartheid and for the non-racial society affirmed by the Freedom Charter and our Constitution, are instead unavoidably classified at birth into one of apartheid's four 'races'.


For them, like everyone else
race belonging cannot be avoided. The individual is trapped in the already classified body, burdened with the allocated attributes of his or her category (p.89)

All this is a 'state-driven project' (p.58). The Census of 1996
offered an opportunity to imagine a world beyond the one South Africans were leaving behind (p.108)
Instead, ignoring the evidence from elsewhere that census categories 'create rather than describe' (p.108) what is, the Census effectively re-created apartheid's Population Registration Act that had been repealed in June 1991.
Prior to 1997, 'race classification, as a necessary and deliberate state project' (p.74), was not part of the ANC's public policy debates. In 1997, the government introduced the explicitly race-based Employment Equity Act, followed in 2003 by the Broad-Based Black Economic Empowerment Act.

Noting that both Acts require 'a veritable army of race classifiers and verifiers' (p106), Mare writes:

To build an enormous, albeit largely invisible, system of classificatory practices, agents and monitors, and yet expect the already existing racialism and racism not to continue, seems incomprehensively naïve, if not cynically manipulative (p.64)

Breathing fire into this manipulation has been the 'black bourgeoisie' whose creation and rapid growth were proclaimed priorities of the Mbeki presidency. This implicit class project, however, was explicitly and entirely predicated on the basis of colour. The use of colour to allocate resources as statutorily required by BEE and the Employment Equity Act – including promotion (via representivity) and, indeed, the mere fact of employment – guarantees both the perpetuation of race thinking and the enthusiastic promotion of such race thinking by the powerful elite formed and advantaged by such colour coding.


Such a colour-determined distribution of jobs and wealth, however, also guarantees divisiveness, discontent and conflict amongst those disadvantaged by being of the wrong colour in an economy that itself guarantees the perpetuation of poverty and inequality. Given this hierarchy of disadvantage, in which 'race trumps all' (p.91)
It is an irony…that under an ANC government an exactly inverse deconstruction of 'blackness' should be occurring, such that groups of formerly oppressed individuals are now pitted against each other in a competition for access to 'a better life for all' (p.114)


It is but a small step from being 'pitted against each other' to being pitted against 'foreigners'.
…we are playing with the fire that race classification keeps alive. …What awful dangers are being incubated in the continuing maintenance and re-creation of 'minorities'? (p.102)


Xenophobia is one answer to Mare's question.
 Making it considerably easy for the fire to rage is the failure by COSATU, the SACP and all the other groups on the Left to provide a class-based critique to counter the 'race trumping all' ideology. If nothing else, without ignoring the deep injuries endured during apartheid, this would mean the dethroning of race as part of the necessary critique of capitalism.


Until that happens, South Africa will continue to be seen in variations of white supremacy. This will enable the exponents of 'decolonisation' to get away with, for instance, demanding that all universities, in Wandile Kassibe's words, 

Adopt an admissions policy that explicitly uses race as a proxy for disadvantaged black applicants.


The ideology of race is worsening racial tensions, swiftly, to the benefit of a few and the detriment of most people in South Africa. 


Rudin is with the AIDC (Alternative Information and Development Centre). This article is being published in the next issue of Amandla, and has been published ahead of time in GroundUp with Amandla's permission. Permission to republish must be requested from Amandla. Views expressed are not necessarily those of GroundUp or the AIDC.
© 2016 GroundUp.
This article is licensed under a
Creative Commons Attribution-NoDerivatives 4.0 International License
.