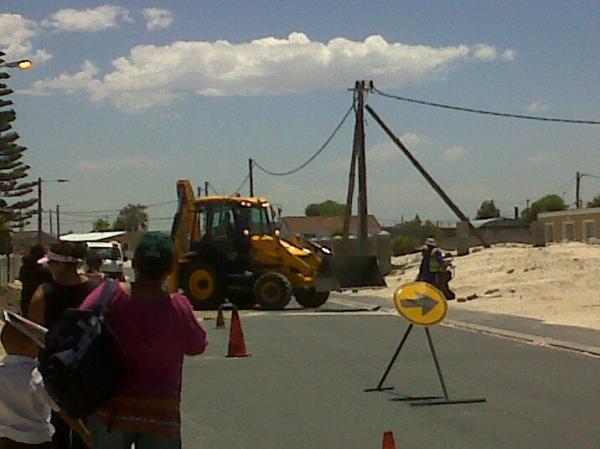 Janine Fortuin
The City has started a new low-cost "RDP" housing project called Breaking New Ground in Roosendal in Delft. But some Delft community members oppose it.
The development will build over 2,400 units is its foundation phase. The new project is on a piece of ground used to play soccer in Roosendal, an area of Delft that is over 20 years old.
Councillor Ernest Sonnenberg, Mayoral Committee Member for Human Settlements, said that Roosendaal will have 288 housing units. He says that other vacant pieces of land around Delft will also be used for the new project. "The City has identified land in Roosendaal, Eindhoven and The Hague for the 2,407 housing units," he explained. Umzali Civils obtained the contract for the civil services of the entire project with a budget of R37 million.
Should the project succeed many families will soon have a home to call their own. Resident Amelia Jones is excited about the project. "I am very happy that so many people will get houses. Many have waited for too long."
There has been much conflict over housing in Delft and as in the past, this development is not universally welcomed.
Because the area is 20 years old, many residents believed land development in this area was complete, until recently when the bulldozers and construction workers arrived on the "soccer field". Lauren Patience is a resident of Delft who lives next to the field and she is unhappy with the project. "We were not informed about anything. I went to the site and asked a construction worker what they were doing and he said he couldn't tell me, because he could lose his job."
However, Sonnenberg responded that residents were well informed before construction commenced, "The community was informed of the project through public meetings. The last of these were held on 30, 31 Oct and 1 Nov 2012." Sonnenberg further explained that meeting minutes are available on request and that a Project Steering Committee that represents the Delft community was set up in 2010 when the project started.
© 2016 GroundUp.
This article is licensed under a
Creative Commons Attribution-NoDerivatives 4.0 International License
.