MyCiTi buses phase out taxi services on West Coast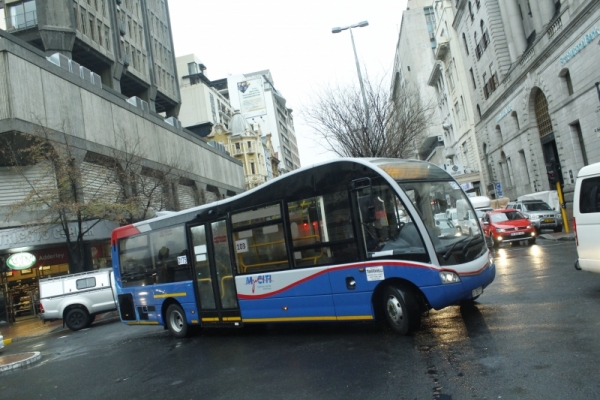 Minibus taxi services along the west coast are being displaced by the MyCiTi bus system. According to the City, 229 taxis have already been removed. By the end of August, no taxi services will be licensed to operate on MyCiTi bus routes in the Tableview and Dunoon area with the exception of the Ysterplaat Taxi Association which will operate until its licences expire. These are set to expire between 2016 and 2018.
Taxi operators will not be allowed to renew their licences for routes where MyCiTi operates nor will new taxi associations be allowed to operate in these areas. The MyCiTi buses will be the only mode of legal public transport available.
"Licenses may be renewed only on routes that are not affected by MyCiTi. New owners will not be able to operate along these routes," said Brett Herron, Mayoral Committee Member for Transport for Cape Town.
Taxis illegally operating alongside the MyCiTi will be impounded.
Some Dunoon residents on their way to the Dunoon health clinic in Killarney gardens said they would rather walk the 2.2 km from Dunoon to Killarney than take the MyCiTi bus.
For Pnuthunywa Mnuni, who lives in the informal settlement of Dunoon, it is about the costs. "You must upload the money [for MyCiTi]. I don't have that money to buy the card and upload the money, so I have to use a taxi," she said.
A MyCiti bus card is R30 and a 2.5% loading fee is charged when uploading money (minimum charge is R1.50). The route between Killarney station at the Dunoon Health Clinic and the Dunoon station will cost between R5.50 and R11.50 depending on travel time and whether commuters use Movers or Standard fare. Both fares are charged for 0 to 5km according to the MyCiTi fare calculator on the website.
According to Siyabulela Tati who works for the Ysterplaat Taxi Association, it costs R7,60 to travel from Dunoon to Killarney Gardens with one of its taxis.
Resident Siziwe Bantshi, however, says she pays R12 for the trip.
A taxi to town costs R10, says Tati, but Bantshi pays R22; MyCiTi charges a maximum of R17,80 (for 10 to 20km) depending on the time of day.
Minibus taxi services offer flexibility in drop-off and pick-up locations drawing residents like Bantshi. She started a small stall outside the Dunoon Health Clinic in February when she was struggling to find work. The taxi drops her off in front of the clinic where she manages her stall.
"The problem is the station is too far," says Bantshi. It is 400 metres from the bus station to the clinic – too far to walk with all her goods.
Tati said the waiting time for a taxi is around five minutes and Bantshi agreed. According to the MyCiTi timetable, the waiting period for buses is at most ten minutes outside of peak times and five minutes or less during peak times.

A MyCiTi bus. Picture by Masixole Feni
Some residents complain about the frequent stops a MyCiTi bus makes en route. Dunoon resident Nomboniso Tokwe said, "I take a taxi, because a taxi is very fast to drop me in Big Bay. MyCiTi takes time. It is very cheap, but it takes too much time."
Residents who can afford the MyCiTi bus fare are happy to make the transition. Wendy Thafeni, who works in Sunset Beach, prefers the MyCiTi bus because of the silence and the short queues.
"[Taxis] take a long time. [You stand for] two hours in a line in the taxi rank, so it's better with the MyCiTi. The bus is cheaper," says Thafeni.
She had been taking taxis since 2006. Now she takes the bus.
Precious Bigone also prefers the bus. Bigone, aged just 10, helps her father with his stall outside the Dunoon Health Clinic during her school vacation. She only takes the MyCiTi bus during the semester, walking to the health centre to help her father.
"I like [the MyCiTi bus] very much, because it's cheap and it is easy for me to travel. My mom took a taxi before MyCiTi was here. She did not like it, because the taxi drivers did not respect people," Bigone says.
Negotiations
Negotiations between the City and taxi associations along the west coast have been going on since 2009 with the City's attempts to buy vehicles and operating licences from taxi associations. The City offered taxi owners the opportunity to buy shares in Kidrogen – the MyCiTi vehicle operating system – and also offered taxi drivers positions as employees in the MyCiTi bus system.
Andile Peter, CEO of Kidrogen, said 300 employees had been sourced from the taxi industry. "Workers are happy but there are issues that we are currently addressing; issues of adapting from informal sector to formal sector," he said.
Herron claims that 83% of Kidrogen employees were formerly employed in the taxi industry. "We are closely monitoring the progress," he said.
Ysterplaat Taxi Association employee Patrick Mbamgula and his fellow members are not planning to join the MyCiTi system.
"We won't just blindly be part of [Kidrogen].Those that are part of Kidrogen are telling us tales of sad stories. So, at the moment, MyCiTi is not an option for us," he said.
Chairperson of the Retreat Taxi Association (RTA) Basil Nagel is vocal in his opposition to the MyCiTi buses phasing out taxis.
"The MyCiTi bus market was established by the minibus industry," Nagel said.
He argues that taxi owners are "unsubsidised and disadvantaged" and the MyCiTi system is "removing ownership and offering operation management" as a substitute. He feels that competition is important for a public transport system.
"Competition is healthy. Competition needs to be fair. The City is impounding vehicles and not allowing competition," he said.
But the City says it is concerned about the financial viability of running the MyCiTi buses and allowing taxis to operate.
"Given demand in the area [Tableview and Dunoon], it is not feasible to have the two services operating alongside one another as this would, in effect, saturate the market. This would limit revenue for both entities to the point where neither is financially capable of operating an efficient and reliable service," said Herron.
MyCiTi only
The launch of MyCiTi in the Atlantis area ended alternative bus services and taxi services. Early morning Golden Arrow buses still run from the City to Atlantis, and Sibanye buses operate on routes not serviced by MyCiTi buses, but alternative means of public transport on MyCiTi routes has ended.
Sixteen minibus taxis were removed after the launch of the final MyCiTi buses last weekend.
Operating licences for minibus taxis will not be renewed, making MyCiTi buses the only choice for residents.
"The City made a reckless statement saying that they will not renew the licences," said Mbamgula. "They cannot deny a taxi driver a licence to operate when he wants to operate."
When asked whether taxi operators in the Dunoon area are operating peacfully alongside MyCiTi, Mbamgula alleged, "You have a lot of illegal operators that have returned from Kidrogen, against the clause that was set for them for compensation. They have re-entered our roads. That is very soon going to cause problems and you might very soon hear that there is violence."
"Our country is a nice country because you will always have people that will travel by bus, those that travel by train and those that take a taxi," he said.
The Atlantis Taxi Association refused to comment at the time of publication.
Dodgy people are suing us. Please support us by contributing to our legal costs and helping us to publish news that matters.
© 2016 GroundUp.
This article is licensed under a
Creative Commons Attribution-NoDerivatives 4.0 International License
.