Mother and daughter: alive, productive and healthy on antiretrovirals
|
Mary-Anne Gontsana
News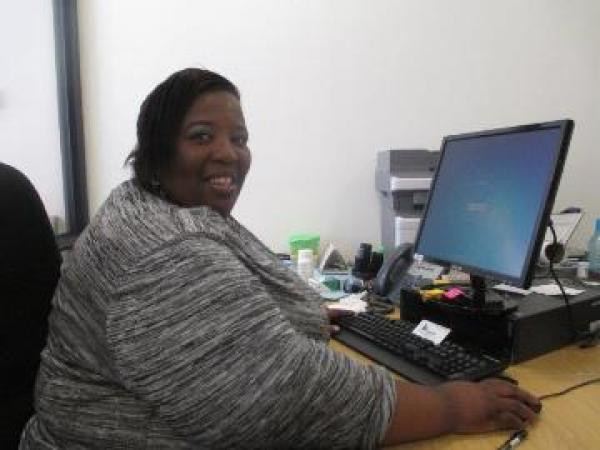 Nandipha Madolo, from Khayelitsha's Litha Park, has experienced much in her life, with HIV playing a major part. She watched her brother die from meningitis due to HIV. Her HIV-positive husband abused her. Her youngest daughter contracted HIV, and Madolo found out that she too was HIV-positive. But today Madolo has a healthy daughter, a steady job, and she is a public speaker.
Madolo found out she was HIV positive in 1999 when she took her ill daughter to the doctor. "My child was about eight or nine months old when she started getting sick. She had pneumonia and after sometime was also diagnosed with TB. When she first got sick, I took her to the Site B clinic, and I was referred to Red Cross Children's Hospital where she went into ICU."
"We were then taken to Somerset Hospital where I asked the doctor to test my child. The doctor asked me what kind of test, and I said any test including HIV. As I was sitting in the waiting room with other mothers who had brought their children in, the doctor called me and said the results were ready. In front of everybody, the doctor told me that my child was HIV positive. Because I didn't really understand what being HIV meant at the time, I thought my child being "positive" meant she was okay, so I smiled. Then the doctor said, "Mrs Madolo, I don't think you understand, your daughter has AIDS".
Madolo is on antiretrovirals (ARVs) together with her daughter who is now a healthy 15-year-old.
Madolo had suspected something because of her husband's affairs. When she told her husband about herself and her daughter's HIV status, he was not surprised. She later found out, before he died in 2005, that he had known he was HIV-positive since 1990.
Since finding out about her HIV status, Madolo told herself that she would keep up her positive attitude for the sake of her children. She joined a support group and this is where she found the confidence to become a public speaker and educate people about the virus.
She only disclosed her status to her family after five years.
Madolo is on antiretrovirals (ARVs) together with her daughter who is now a healthy 15-year-old.
"I take five pills a day, two in the morning and three in the evening. My daughter takes four. My CD4 count is standing at 1004 and the virus is undetectable in my body. Even now, when I disclose my status, it still raises eyebrows and you can see from the reaction of some people that if they had their way, they would avoid any contact with me. But being well informed of what my rights are when it comes to HIV, I feel at ease a little. I made it my business to read a lot about our constitution when it comes to human rights and HIV/AIDS," said Madolo.
Dodgy people are suing us. Please support us by contributing to our legal costs and helping us to publish news that matters.
© 2016 GroundUp.
This article is licensed under a
Creative Commons Attribution-NoDerivatives 4.0 International License
.