NEWS
Mixed reaction to Malema's parliamentary performance
Pharie Sefali and Johnnie Isaac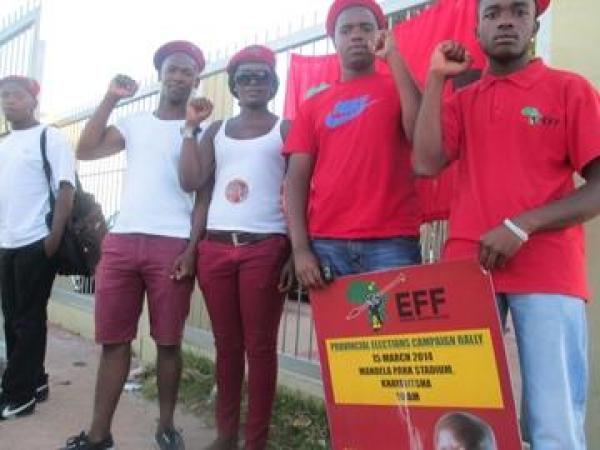 Pharie Sefali and Johnnie Isaac
Capetonians who voted for the Economic Freedom Fighters have mixed feelings about the performance of Julius Malema during his first week in parliament.
EFF members of parliament walked out of the National Assembly during the debate on President Jacob Zuma's State of the Nation address after Malema was booted out of parliament for his refusal to withdraw a comment. Malema had blamed the ANC for the massacre of 34 miners in Marikana in 2012.The speaker of the National Council of Provinces, Thandi Modise, ordered him to withdraw the remark, but Malema refused, stating that if the ANC took credit for the good work police did, it should also take the blame when police killed people.
Voter Phama Sigwayi said it was not in order for Malema to accuse the ANC of the Marikana massacre.
"All our leaders should take responsibility.
"Malema will do anything to embarrass the ANC even if he has to stoop low and use poor people's emotions. The people in Marikana are hurting and they want answers, and Malema is pointing to the ANC so that he can be seen as a hero."
"I swear if EFF has more votes than the DA in the next election, I will leave this country. If you follow someone like Malema that says a lot about you as a person," he said.
Olwethu Kayayi said she did not regret voting for the EFF and Malema set a good example.
"Those who are educated think that Malema is dumb just because he did not go to university. They are the ones who are dumber. People have different skills and his skill is to lead people. At parliament he is judged by what he says, which is good. In that constitutional parliament people do not know how to speak their mind and how to voice their concerns. Malema tells them what they do not want to hear and they feel threatened".
Zanele Qingeni did not vote for the EFF and doesn't regret it. "Look at Julius, he wears flashy clothes, his child is in a private school and stays in a beautiful house, but he calls himself a leader for the poor. The guy is making money out of poor people".
"In parliament he is seen as a cartoon and he can't see that people are actually laughing at him because he is ridiculous. How can he speak ill of white people and yet when it's elections he will want their votes?" asked Qingeni.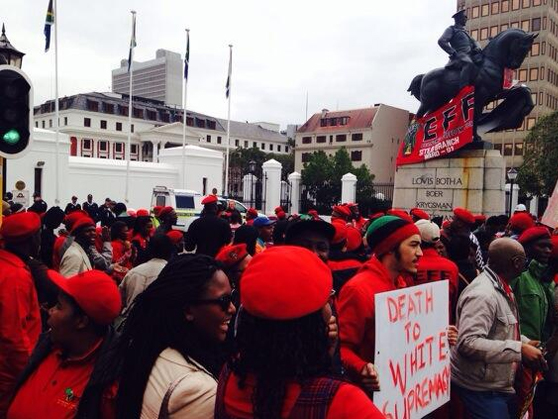 EFF supporters protest outside parliament after their leader was kicked out of the National Assembly. Photo by Johnnie Isaac.
Akhona Qxalaba said she did not always agree with what Malema said. "I voted for EFF for one reason, which is to see change.
"Yes, I agree that my leader can be a hypocrite at times, but that doesn't mean he is always like that. I believe he stands up to the ANC better than the DA. But when he said that all white people should know at least one African language, I think that was a bit unfair because its not easy to learn another language in your late 20s."
After Malema was told to leave, hundreds of EFF supporters demonstrated outside Parliament calling for his reinstatement.
Police had to intervene when EFF supporters threatened a motorist who had hit a supporter with his car mirror. The supporter was not injured and police escorted the driver to the police station to make a statement.
© 2016 GroundUp.
This article is licensed under a
Creative Commons Attribution-NoDerivatives 4.0 International License
.