Mfuleni backyarders protest over housing list dispute
|
Bernard Chiguvare
Brief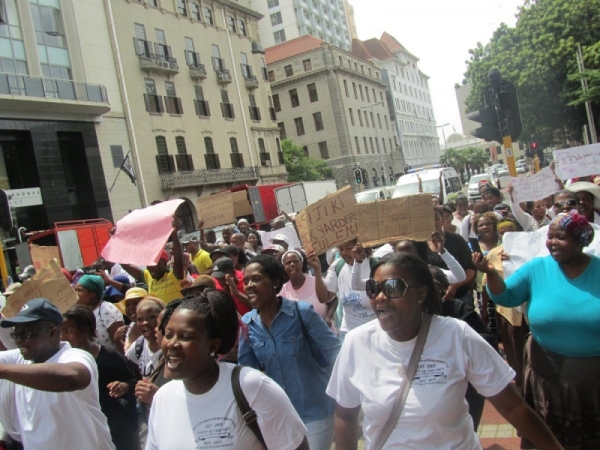 About 300 Mfuleni backyarders marched yesterday to the office of the Western Cape MEC for Human Settlements, Bonginkosi Madikizela, to hand over a memorandum about housing in the area.
Madikizela accepted the memorandum and acknowledged the backyarders' concerns.
A backyarder is someone who lives in a wendy house or shack in someone else's property.
The protesters assembled on the Grand Parade in town. From there they marched along Darling Street and Adderley street to the provincial legislature in Wale Street.
Before handing over the memorandum, Bulelani Bota, secretary of the Mfuleni Backyarders Association, addressed the marchers. "We are not here to fight the Provincial Minister of Human Settlements but to request that he should take centre stage in resolving the Mfuleni backyarders' plight," he said.
In the memorandum the backyarders demanded that the list of housing beneficiaries which they had drawn up should be accepted. They expressed complaints about the local councillor, Themba Honono, who they said wanted his housing list with a different set of beneficiaries to be used. The protesters asked for Benedicta Van Minnen, Mayco Member for Human Settlements, and a representative of the provincial Human Settlements department to be part of further meetings on housing in the area.
Bota expressed concern about school-age children living in backyards for whom study was difficult.
He also asked for an independent housing project manager to be appointed.
After receiving and signing the memorandum, Madikizela said some of the concerns raised were valid. He said he would convene a meeting soon and wanted to find solutions before the beginning of the festive season.
Thembani Thaka, chair of the Mfuleni Development Forum, asked the provincial minister to "attend to the matter urgently and exercise your authority" to resolve corrupt activities.
Protester Doris Kamana, 59, who has lived as a backyarder in Mfuleni for nearly ten years, said people voted for councillors to serve the interests of the people but some chose to be corrupt.
"We are prepared to fight till we root out corruption in our ward," she said.
However Councillor Honono denied the basis of the complaints against him. He told GroundUp that the housing beneficiary list is dealt with by the City. He says he has nothing to do with the list.
Letters
Dear Editor
We are being frustrated on purpose by the City of Cape Town and we are prepared to come across them at any point regarding modified resolutions to suit what they need to what we all agreed on.
Andre Van Niekerk is our current response person who is not in line of what was agreed on. He had a meeting with his director Ryan Rugubar regarding complaint logged after the meeting of the 23/10/2016 excluding us as concerned members and expected us to accept any time he requested to meet with us and we didn't meet. As a result he emailed his so called resolutions/minutes of their meeting.
Before the 2016 elections, it came to light that when MEC Madikizela and Mayor De Lille came to Bongani Tyembile structure promises were made on this development and after that meeting, we were also invited to town where the printout of the minutes was not what was presented in the minutes. Instead it was a document that we utilised when we demonstrated to town in June 2016 that had our Committee signatures. We queried that to MEC Madikizela and until today, there has been no feedback and the mayor was chairing the meeting. She left when we were given a platform to question her.
The list that has been submitted to the City which is in line with the City Database is not being utilized as promised.
We stand in a position of what we agreed and fought for all these years and we are prepared to engage with a robust and arrogant approach of the City that is willing to drive this project excluding targeted beneficiaries.
Dear Editor
We are on the first week of February 2017 and we haven't received any solid feedback from Mr Andre Van Niekerk. Response of the provincial office (Mr Gubhuza) following our Memorandum submitted to them on 2 Dec 2016 was on the 31 Jan 2017 at Sandra Creche in Mfuleni.
The matter has been forwarded to sub council 21 again although it has been signed for 200 Backyarders to benefit before. We will be dealing with a new chairperson and we are not going to start from the beginning again as we already did many times when the city changes city officials.
Currently there are people occupying plots in phase 5A and nothing has been done about that. Mr Quintus failed to tell us how many plots are left in this project. Same as Mr Andre & Mr Rayan.
Only those who don't follow the process get assisted by the City of Cape Town and those who follow the process are being frustrated and abused. That's what we learnt in the past 5 years and we wont change our behavior because of that.
© 2016 GroundUp.
This article is licensed under a
Creative Commons Attribution-NoDerivatives 4.0 International License
.