Meet the Hanover Park woman who drives a taxi
| Siphesihle Matyila
News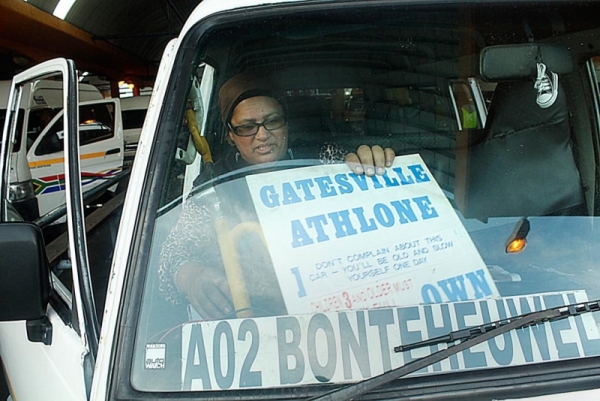 What's it like to be a woman taxi driver? It's OK, says 52 year old Amina Stevens from Hanover Park - though some of her women passengers took a while to feel safe with her.
Stevens has been a taxi driver for more than ten years. She used to work at a shoe company and in a flea market, and saved money to buy her own van.
"I got married to somebody who was already in the business. I never thought I'd do it, I just ended up doing it," she says.
Stevens said being a taxi driver was 'OK'. "They say what a man can do, women can do better. But you have to know who to associate with and who to talk to," she says.
On weekdays Stevens gets up at six in the morning, for her first trip at 7:45. She finishes at six in the evening. "I don't start earlier than six o'clock anymore. When my kids were younger I would start very early. But as you can see now I'm not that young anymore."
She says when she started the men passengers treated her "fine" but she had problems with some of the women. "They were not very eager at the very beginning, driving with me. I don't know why. Probably because I'm a woman and they didn't feel safe. Until they got to know me and then I found it easier to drive," says Stevens.
Stevens does five or six trips a day, from Cape Town taxi rank to Bonteheuwel, for R10 a passenger. "Today I don't worry. If you want to go with me, you go with me. if you don't want to go with me, take another taxi."
"The way the taxi business is going today… it's not going up anymore; it's going down."
"Some days are better than others. Business is good at month end and when schools are open, but on school holidays business is not that great. But we survive, considering the fact that I also have to take the van to the repairs, from the money I make here,"
Stevens says she wouldn't really advise other women to do the job. "The way the taxi business is going today… it's not going up anymore; it's going down. If you want to be a driver, you are going to be a driver for the rest of your life," she says. She says she would not want her 16-year-old daughter to become a taxi driver. "It's not a safe environment and also you find these gangsters along the road. They don't really worry with us because they already know our faces because we have been in this business longer. I must thank the Lord I did not have any of those dangers."
On weekends Stevens attends computer courses, and sometimes drives her taxi in the afternoons.
"I'm taking computer classes because I want to know what is going on with these computers, just to know. A lot of us see them but we don't know how to use them".
Photo by Masixole Feni.
© 2016 GroundUp.
This article is licensed under a
Creative Commons Attribution-NoDerivatives 4.0 International License
.