Meet female soccer ref Insaaf Baatjies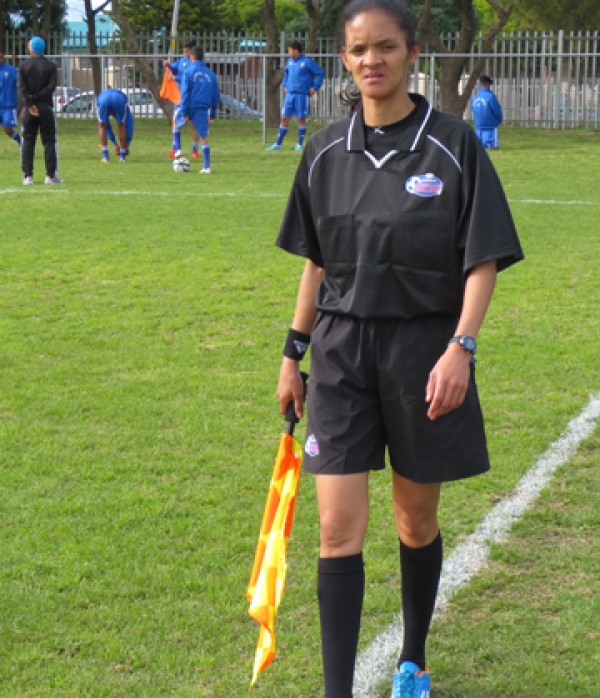 Most women's dreams of playing sports comes to an end when they get married and have children. Insaaf Baatjies of Silversands, Kuilsriver, who used to play soccer, decided to take up refereeing when she couldn't play anymore.
GroundUp: How did you start refereeing soccer?
Insaaf: I've always loved soccer and I had to stop when I got married and had children, I decided go back to the sport, but the only way I could go back was as a referee.
GroundUp: So you were a player before refereeing?
Insaaf: Yes, I started playing in school and continued after finishing school until I played for the Santos Ladies in what was called Halala Cup.
GroundUp: What do people say in your community about what you do?
Insaaf: Well I get a lot of respect from my community because I'm in a male dominated sport, and because there is male and female soccer but I do both. They also motivate me to go on.
GroundUp: How do players treat you on the field when you are officiating games?
Insaaf: At times male players complain when I make decisions and try to correct me because I'm a female. But because I know the rules and the laws of the game, I stick to what I know. I feel I have to always explain my decisions as a result.
GroundUp: What difficulties do female referees face?
Insaaf: Firstly, there are not many female referees out there, and there isn't much development of female refs. Even when you do make it as a female ref, you don't get that much help in terms of your fitness and to grow.
GroundUp: What are you hoping to achieve as a referee?
Insaaf: I want to be on the Premier Soccer League panel of referees because from there I can go to the Confederation of African Football.
GroundUp: What kind of support do you get and from where?
Insaaf: I get the most support from my husband. My club does support me wherever they can and of course my community.
GroundUp: What message do you have for young girls who would like to be referees one day?
Insaaf: If you want to be a female referee you need to go out there and make it for yourself because there isn't much help for female refs. And at the end of the day, it's not about male or female, it's about whether you can do the job.
© 2016 GroundUp.
This article is licensed under a
Creative Commons Attribution-NoDerivatives 4.0 International License
.