Marikana: reminders of a massacre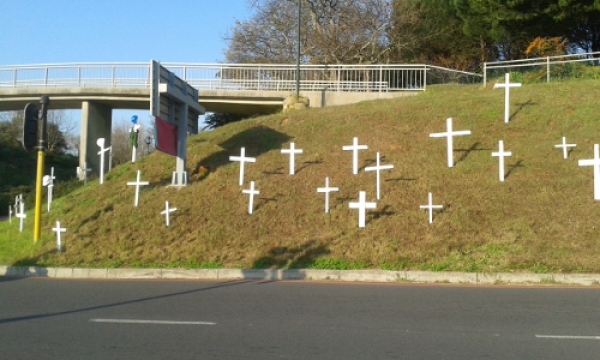 Three years ago on this day, the police shot dead 34 miners at Marikana. Here are some of the articles we've published since then that, sadly, remain current and relevant.
In total, 47 miners and police lost their lives in the violence at Marikana.
There is no sign of compensation for survivors and the families of the dead, following the findings of the Farlam Commission. Moreover, Judge Ian Farlam's recommendations differed substantially on this point from the evidence leaders.
Housing is not a side issue in the events surrounding Marikana: the abject living conditions of the miners is at the root of discontent.
The evidence leaders found that Lonmin had broken its promises to build housing for its employees. Lonmin executives told the Marikana Commission hearings that the company had not been able to afford to keep its promise because of the 2008 financial crisis. Yet in 2007, finance of US$150 million had been made available to Lonmin by the International Finance Corporation and the company had apparently promised to use some of it to build houses. Housing is not a side issue in the events surrounding Marikana: the abject living conditions of the miners is at the root of discontent.

Photo by A. Benya taken from the evidence leaders' heads of argument.
The evidence leaders gave an extremely critical account of how the police constructed their story, and found that Commissioner Riah Phiyega is not fit for office. She remains in office today.
Photojournalist Greg Marinovich broke the story in the Daily Maverick of how the police probably sought and executed miners. Here's GroundUp's interview with him.
Here are the names of the 47 people killed in the Marikana violence (via the Guardian website):
Tembelakhe Mati
Hendrick Tsietsi Monene
Sello Ronnie Lepaaku
Hassan Fundi
Frans Mabelane
Thapelo Eric Mabebe
Semi Jokanisi
Phumzile Sokanyile
Isaiah Twala
Julius Langa
Molefi Osiel Ntsoele
Modisaotsile Van Wyk Sagalala
Nkosiyabo Xalabile
Babalo Mtshazi
John Kutlwano Ledingoane
Bongani Nqongophele
Cebisile Yawa
Mongezeleli Ntenetya
Henry Mvuyisi Pato
Ntandazo Nokamba
Bongani Mdze
Bonginkosi Yona
Makhosandile Mkhonjwa
Stelega Gadlela
Telang Vitalis Mohai
Janeveke Raphael Liau
Fezile David Saphendu
Anele Mdizeni
Mzukisi Sompeta
Thabiso Johannes Thelejane
Mphangeli Thukuza
Thobile Mpumza
Mgcineni Noki
Thobisile Zimbambele
Thabiso Mosebetsane
Andries Motlapula Ntsenyeho
Patrick Akhona Jijase
Julius Tokoti Mancotywa
Michael Ngweyi
Jackson Lehupa
Khanare Elias Monesa
Mpumzeni Ngxande
Thembinkosi Gwelani
Dumisani Mthinti
Paulina Masuhlo
Daluvuyo Bongo
Mafolisi Mabiya
Dodgy people are suing us. Please support us by contributing to our legal costs and helping us to publish news that matters.
© 2016 GroundUp.
This article is licensed under a
Creative Commons Attribution-NoDerivatives 4.0 International License
.