Manenberg community taking back their streets
|
Mary-Anne Gontsana
News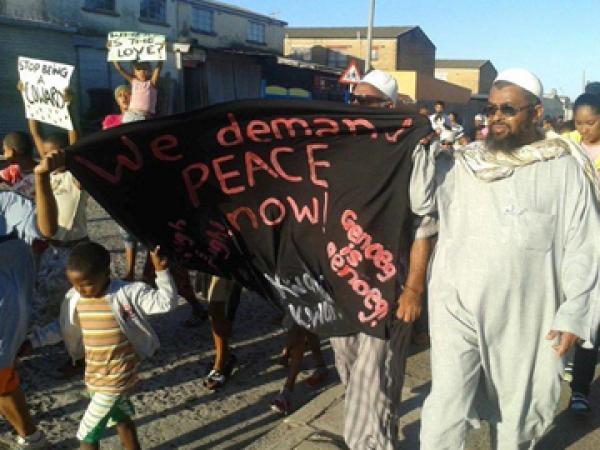 Manenberg is a township in the Cape Flats outside Gugulethu. The apartheid government originally created it to relocate Coloured families who had been forcibly removed from their homes. Today it often makes the news because of gang violence.
At 19:03 on Wednesday night last week, I received this SMS: "Mary-Anne, they are shooting without stopping here. One Jester has been shot." (The Jesters is the name of one of the Manenberg gangs.)
The woman who sent the message, Roegchanda Pascoe, is the same one whose daughter was shot during a shooting between gangs last year. "The wound has healed, but mentally she has a long way to go," she said after being asked how her daughter was currently doing.
Pascoe, together with people from the community, different organisations, and the Community Policing Forum (CPF) have started a campaign called Taking Back Our Streets, where they come in solidarity and march through the streets of Manenberg, with placards demanding an end to gang violence.
Manenberg CPF spokesman Kader Jacobs said the campaign was doing well but they were struggling because people feared for their lives. "At the moment the campaign is only between 5 and 6pm. We want to increase our time on the road, but people are scared of what might happen to them if they stay out late."
He described some of the violence that broke out this week. Speaking to GroundUp on 25 February, he said: "It is hectic right now. Just yesterday morning, at about 6.30am, gangs started shooting. It was an absolute war."
Jacobs says, "Gangs started shooting because they knew that children were on their way to school; they were basically using the school kids as human shields from police. They know that if they shoot while the children are around, the police will not retaliate for fear of hurting the innocent children. Last night, the shooting happened again and it was non-stop for like 20 minutes. This is happening constantly no matter what time of the day."
One of the Taking Back Our Streets campaign organisers, Larenzo Morris, said they started the campaign on 5 February this year. Its aim is to take back their streets from gangs because police did not know how to do it.
Jacobs was also critical of the police but he hopes things will change. "The police haven't beefed up their services but there have been talks of bringing in more city police and the police doing foot patrols around the area."
Jacobs said, "This campaign is the combined efforts of many people. It is now up to the community to ask the gangs to stop shooting. This involves everyone, young and old. Since we started the campaign we have seen a bit of a difference but it is at minimum level and that is not good enough. You will find that if the gangs were planning on a shootout, they will stop once we come through the area, but that is minimum respect."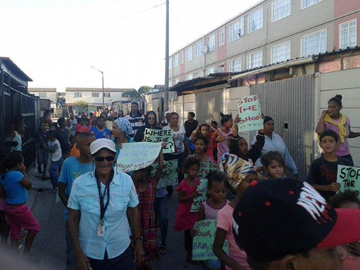 Manenberg community members marching against gang violence. Photo by Glenda Gain.
There are still many challenges, Jacobs said. "What the campaign needs is resources so we can become bigger and stronger. Right now we are asking the gangs to stop shooting but we will reach the point where we will demand the shooting to stop. The community is fed up. There are many underlying reasons for this ongoing gang violence. One is that there is no clear sense of direction of leadership in Manenberg. We are trying our best to cover the whole of Manenberg and at the moment we are rotating our routes, and trying to march through different streets every day. We meet every evening at 5pm in Manenberg Avenue at the traffic circle which we call Freedom Square," said Morris.
Earlier this week, five Manenberg schools went to court to try to force the Western Cape Education Department to provide adequate security for teachers and learners. The temporary order was later overturned.
Dodgy people are suing us. Please support us by contributing to our legal costs and helping us to publish news that matters.
© 2016 GroundUp.
This article is licensed under a
Creative Commons Attribution-NoDerivatives 4.0 International License
.