Malawian man paralysed after brutal assault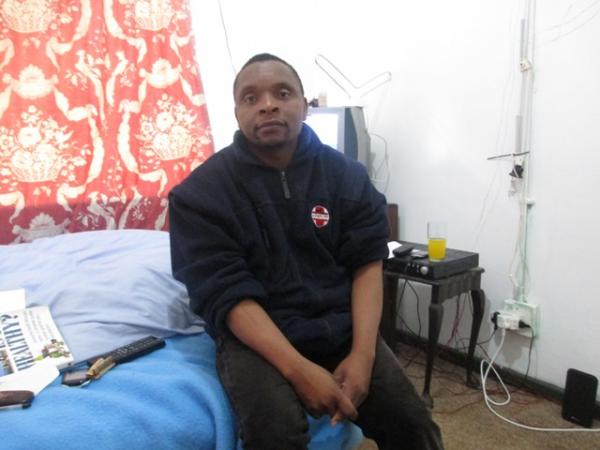 A Malawian man, Simon Phiri, 44, was attacked by three robbers in Masiphumelele, Fish Hoek in April 2013, on his way home from the shopping mall. The robbers searched his pockets, took his phone and money, then struck him with a golf stick on the head.
His brother, Edward Phiri, told GroundUp that on the day he was attacked he was left lying for a long time because passers-by thought he was drunk. A neighbour identified him and called the paramedics. He was taken to False Bay Hospital, then sent to Groote Schuur Hospital. He was in a coma on life support for a week.
Edward Phiri said, "The doctors told me his spinal cord was broken."
"The surgery was successful. He came out of the coma and told me what had happened. Simon can no longer stand or walk. He cannot control his urine. His digestive system is not functioning properly. Sometimes after eating his tummy gets swollen."
Phiri was moved to Lentegeur Hospital in Mitchells Plain for rehabilitation and physiotherapy. His right hand moves but cannot hold anything. His left hand muscles are dead..
Simon wishes to go back to Malawi so that he can be close to his family. The hospital wanted to discharge him on 26 July, but a social worker told Edward she would contact a medical facility in Malawi to give training to the family first before his return.
But retuning is a challenge for the family. He needs air transport and a doctor must accompany him. Buying a return ticket for the doctor and a ticket for Phiri is beyond their means. Also his passport was destroyed in a fire during a spate of xenophobic violence.
Edward works at Alphen Veterinary Hospital in Constantia as a kennel man. He is supporting his brother in his medical condition, as well as his brother's wife and three children. He also has a wife, two children and his mother to support. Simon had worked only a few months. He was attacked soon after he arrived in South Africa.
Dodgy people are suing us. Please support us by contributing to our legal costs and helping us to publish news that matters.
© 2016 GroundUp.
This article is licensed under a
Creative Commons Attribution-NoDerivatives 4.0 International License
.