NEWS
Long day's journey to school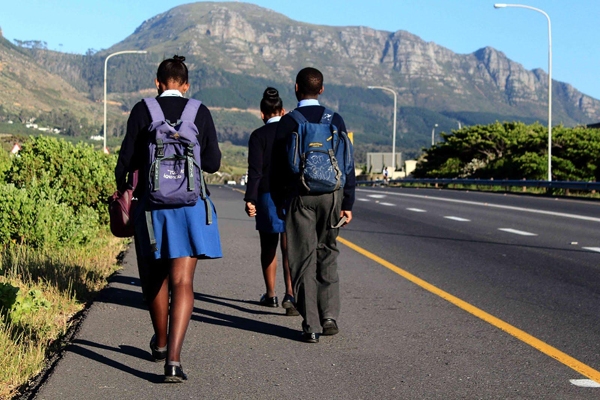 The journey to school is long and tough for many pupils. Some have to travel for hours on foot to get to school. The Equal Education Law Centre (EELC) recently collected affidavits in rural KwaZulu-Natal (KZN) which were "truly incredible and devastating".
The affidavits show a pattern of pupils walking two to three hours every morning to school, over mountains and across rivers, arriving late, exhausted and hungry; pupils walking under a blazing sun or caught in the rain, sitting in class soaking wet; pupils drowning in rivers; school kids raped and robbed on their way to school.
GroundUp recently wrote about high school students from the townships of Westlake and Capricorn who trek 15 kilometres to Masiphumelele High School. They walk about 20 minutes to hitchhike over Ou Kaapse Weg.
Tholakele, a 16-year-old grade 10 learner in KZN, became an Equaliser (a high school member of Equal Education) earlier this year. She is responsible for two of her younger siblings as well as her niece.
"Every school morning, I must wake up very early. After I get up, I first have to bath and dress my sister's child. I then help my sister and brother get ready for school. Sometimes, if there is food, I make us all breakfast. I then leave my house at about 6:40 in the morning and start my walk to school. Most of the time I am walking by myself.
"My school starts at 7:30 but sometimes when I arrive, the gate is already locked. Sometimes I go back home if the gates are locked. The most difficult part of walking to school is the mountain that I have to climb. It is difficult to go up the mountains. When I get to school I am tired, but I have to push through because I want to succeed and change the circumstances at home. I want to be a chemical engineer," said Tholakele.
She said that when it rains it becomes hard to concentrate at school in wet clothes. When it is hot, the walk gets hard and she sometimes returns home tired and with a headache which affects her homework.
"I am very afraid of walking in the lightning and thunder. It is also harder for me to write exams if I am walking long, and then there is no food in my stomach when I am writing. But I never considered giving up because I know that education is the key to my success. If I drop out we will be struggling forever. I want to finish school and go to university to change my life situation at home.
"I think government must help us and give us transport — a bus, not a bicycle … If it is raining and there is a thunderstorm, it is not safe to be on a bicycle," she said.
Solminic Joseph, from EELC said the issue had not been investigated in the Western Cape and they had not received reports about pupils walking long distances to school.
"We took up the KZN matter after GroundUp published the article by Sandile Ndlovu, where he wrote about the long travel of pupils to school. We were in KZN for about eight days and it took us five of those eight days to collect affidavits."
"Some people were hesitant to talk to us, but because nothing has been done about the this problem by the education department, they needed to speak," said Joseph.
Joseph said that even though the National Scholar Transport Policy was drafted in 2009, it has never been active. He said from here on, the law centre would be focusing strongly on advocating for the implementation of the policy because learner transport was a major problem.
© 2016 GroundUp.
This article is licensed under a
Creative Commons Attribution-NoDerivatives 4.0 International License
.