Lindela accused of poor handling of meningitis case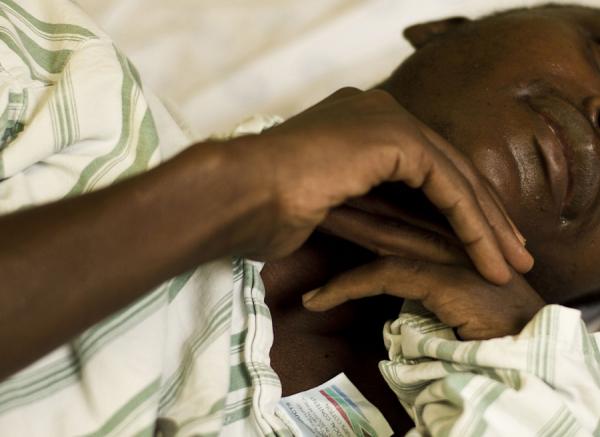 A Zimbabwean man became extremely ill after contracting meningitis at Lindela Repatriation Centre. His family has accused the Department of Home Affairs of infringing their rights by failing to inform them timeously.
According to his family, which is based in Cape Town, Danai (not his real name) was detained at Lindela on 16 November last year after having spent six months in Goodwood Prison for assault. He was then, according to hospital records, admitted to Leratong Hospital in Johannesburg on 25 November. But the family says Home Affairs only informed them of Danai's condition on 2 February this year.
Fred (not his real name), Danai's brother, says that they called Lindela every week for several months in an attempt to contact him but were put on hold until their airtime ran out. Fred says their family's contact details were easily accessible amongst Danai's belongings when he was detained at the centre.
"Month after month passed by without hearing from either him or Lindela. My elderly and fragile mother also phoned me from Zimbabwe insisting that I should find out from Lindela what was happening after she saw on the news that Lindela has deported Zimbabweans and was almost empty," commented Fred. "We still need answers as to what caused his illness and why he was not deported for the three months since he was released from Goodwood Prison. Right now we cannot establish anything since he is very sick and Lindela officials are not saying anything meaningful."
Lindela official Con Buys said that her colleague, Joe Swartland, was dealing with this case but was off sick. She did not know why Danai was not deported to Zimbabwe or how he ended up in hospital, but said that they plan to visit him there and that his family was informed promptly of his illness. The family disputes this.
Danai's sudden need for treatment is putting financial strain on his family. He is bed-ridden and doctors say that he will never fully recover. He will need special care, including a wheelchair and medication until at least the end of the year. Family members say that the Home Affairs official who dropped him at the hospital did not take any responsibility for his care and want to know what steps Home Affairs will take to remedy the situation. "When I arrived at the hospital, one of the Home Affairs officials quickly gave me papers to sign that my brother is no longer in their hands. He kept on pestering me to sign and did not even give me a chance to read the documents or liaise with the hospital staff," said Fred.
The family say that their brother never complained of any health problems when they saw him briefly after his release from Goodwood Prison. The prison hospital confirmed that he was in good health for the six months he was an inmate with them. "It is difficult to get hold of his file since the files for former inmates are kept in archives, but if he looked healthy to his family and us and did not complain about poor health after his release that proves he was not sick," said one of the prison hospital section employees who wished to remain anonymous.
After his visit to the centre, Fred commented, "The centre is far too crowded and there is very limited medical attention. When people are sick it usually takes a long time for them to be treated, especially if they become ill during the night. Detained immigrants are also held there for a long time and sometimes up to nine months before being deported."
According to the Lawyers for Human Rights website, more than 70 detainees of Nigerian and Ethiopian descent recently protested against being kept at the facility for over nine months. They were fired at with rubber bullets and tear gas was released in the yard in an attempt to disperse them. It was reported that several detainees were injured and one of them was hospitalised following the incident.
The head of the Refugee and Migrant Rights Programme at Lawyers for Human Rights, Kaajal Ramjathan-Keogh, explained, "There is no duty on Lindela to inform family members when detainees are sick. In our experience there appears to be no mechanism for Lindela to be able to inform family members because they do not record next of kin information as part of the intake process. There is however a duty on Lindela and Home Affairs to ensure that all detainees have access to medical treatment and care. If they have been negligent in this duty there may be repercussions for this failure to provide access to proper medical treatment."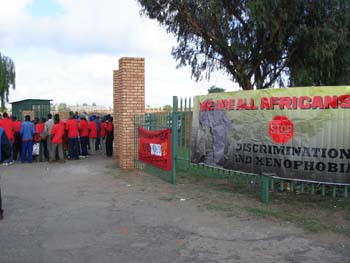 A protest outside Lindela Repatriation Centre. Photo courtesy of the Anti-Privatisation Forum.
After visiting Lindela, Douglas Leresche, project coordinator from People Against Suffering Oppression and Poverty (PASSOP), said, "The situation at Lindela is far from constitutionally sound or humane. The facility is shrouded in secrecy, unwilling to provide any outside body access to monitor the treatment and processing of deportees. This lack of transparency gives BOSASA, a private security company contracted to run the centre, free reign to act without any accountability or protection for the human beings in their custody."
When asked for a response, BOSASA explained that all media comments about Lindela must come from Home Affairs. GroundUp has been trying to get comment from Home Affairs on the family's allegations since late April. Despite sending an email and making several telephone calls, the department has not given comment.
The Department of Home Affairs sent GroundUp a response after we published this article. You can read it here.
© 2016 GroundUp.
This article is licensed under a
Creative Commons Attribution-NoDerivatives 4.0 International License
.