Land conference hears stories of hope and despair
| Barbara Maregele and Ashleigh Furlong
News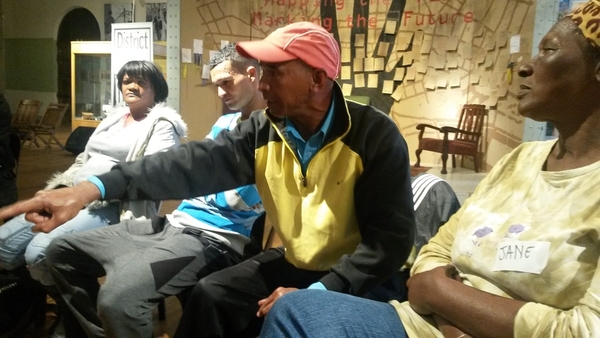 Communities struggling for adequate housing should do their own surveys of what they need, members of various communities told the land justice conference in Cape Town on 13 October.
The 2nd Annual Urban Land Justice Colloquium is hosted by Ndifuna Ukwazi and the Socio-Economic Rights Institute (SERI).
In one panel discussion the upgrading of informal settlements in Cape Town was discussed by residents directly affected.
In 2012, the City of Cape Town partnered with the Informal Settlement Network (ISN) to improve living conditions and services in informal settlements and backyards across the city. Residents of different communities briefly shared their experiences of the upgrading process.
Maria Matthews of Flamingo Heights informal settlement near Lansdowne said: "We were moved there about 11 years ago. They [the City] said it would only be temporary. We had nothing because we didn't know what our rights were. We always had flooding in winter."
Matthews said the community partnered with ISN in 2009 and began collecting and saving money to fund the upgrade process.
"We started in 2011 and it took us three years to get where we are today, but we wanted it done right. It was a hard road. There were times when we were all wet because we had to move. I felt so sorry for the mothers with young children. But now we have electricity, two taps and 14 toilets," she said.
Matthews said it was important for communities to do their own surveys. "We could tell them exactly what we needed and how we wanted things done," she said.
Langrug resident Trevor Masiy said residents had signed a memorandum with the Stellenbosch municipality in 2011 to improve services at the informal settlement.
"In 2009 we did our own profiling and found that for the 2,300 families, there were not enough toilets. We had a situation of one toilet to 47 families. The acceptable ratio is one to five families," he said.
"We have had a number of engagements with the municipality. We, as the community, have our own five-year projects. We are in the process of planning for roads to be built, which will make access easier. There are a lot of things we can do in our own communities," he said.
Residents of Wolwerivier and Blikkiesdorp took part in the discussion on land occupation, but their stories were less positive.
Both communities consist of people who have been uprooted from other areas and placed in temporary housing, or permanent housing that resembles temporary housing, on the periphery of the city.
Angeline September had lived for ten years in Skandaalkamp before she was relocated to Wolwerivier. She lives with eleven people in one small open plan structure.
Members of the community in Wolwerivier have consistently complained about the City's lack of communication with them.
"They only told us the night before [we were relocated] that the trucks were coming the next morning," said September.
There has also recently been conflict in Wolwerivier as issues of overcrowding, crime and hunger begin to become more urgent.
The arrival of residents from areas such as Blikkiesdorp has also sparked tensions in a community where many large families are living together in the small units.
Magdalene Minnaar, who is a community leader in Wolwerivier, said within the first week after the move people had come knocking on her door asking for food.
She also complained about crime. The previous day she had left her home for ten minutes and during that time it had been burgled.
"This is the third time in three weeks, said Minnaar, "People don't feel safe anymore."
Residents of Blikkiesdorp, which is a temporary relocation area, also emphasised high levels of crime in their community. Jane Roberts, who was moved to Blikkiesdorp in 2007 after being evicted from Symphony Way, referred to Blikkiesdorp as "hell".
"If you stay for six years in a place, it means it is not temporary," said Roberts, referring to questions to the City about the supposedly temporary nature of Blikiesdorp, "There is no plan; people don't know where they are going."
Resident Andrew Badenhorst became emotional when he told the audience that people were dying every month in Blikkiesdorp from diseases such as TB.
"We don't have money to take them to the Constitutional Court. So the City can do what they want to us. The City is to be blamed for all the people who die in Blikkiesdorp. For all the crime. We don't get any help from the City."
Badenhorst said that the families who moved from Blikkiesdorp to Wolwerivier had moved because of the crime, but the same problems would plague Wolwerivier, he said.
"Crime and health are the biggest problems. Nobody cares about the poor people. The government says that it is your right to get a decent house over your head. What happened?"
© 2016 GroundUp.
This article is licensed under a
Creative Commons Attribution-NoDerivatives 4.0 International License
.