Khayelitsha's young BMXers off to the championships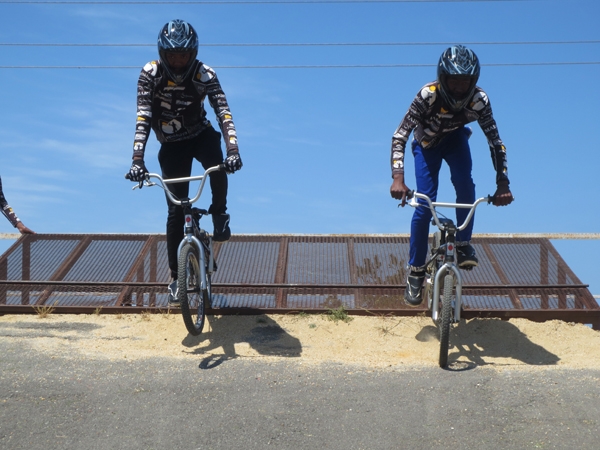 Four of Khayelitsha's finest up and coming BMXers have been hard at work on the track for the past two weeks preparing for the South African championships this weekend in Durban.
Thanks to Velokhaya Cycling Club, Khayelitsha youths are riding hard at the Khayelitsha BMX oval.
Four members from the club leave on Friday to attend the South African championships on Saturday 24 October and the African championships on Sunday 24 October in Durban.
Captain of the team,16 year old Wanga Moshani, who started the sport when he was 10 years old, is confident of bringing something back from the championships.
"I'm going to do well in this year's national champs", Moshani says. "With the continental champs, if I make it to the finals I will be happy."
For many people the name which comes first to mind when they think of BMXing as a sport is that of Sfiso Nhlapho, who was the first black BMX rider to represent the country in the Olympics.
Nhlapho is Moshani's biggest inspiration.
"I want to be like Sfiso one day and represent my country in the Olympics. He now lives in the United States, because of BMXing."
Bayanda Ganyaza, 16, who is in the same division as his captain, says he wants to go far in the sport.
"I'm confident I will bring back something from the championships."
"At first my mother was not happy with me doing this because one time I came home with a broken arm, but now that I bring trophies from competitions she is okay with it."
Anele Magadla, 17, who will be competing in the under-17 division, is in it for the dangers.
"I've always loved dangerous sports and when I saw how people were falling from the bikes I decided to join as well.
I've since fallen in love with BMXing, and I want to make it my career and live off it."
BMXing coach Thembinkosi Sosiba, affectionately known as "Coach Mabra", is upbeat about the team's chances.
"Even though we are travelling very late and we won't get used to the track we'll be racing on, I'm confident we will bring something back," he says. "We are going there to kill it."
© 2016 GroundUp.
This article is licensed under a
Creative Commons Attribution-NoDerivatives 4.0 International License
.