Khayelitsha school's growing success
|
Janine Fortuin and Neo Sithole
News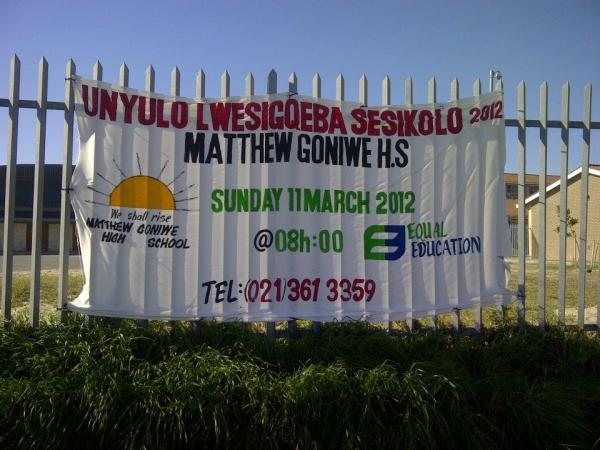 Through hard work and dedication, the Matthew Goniwe Memorial High School in Khayelitsha is setting an example.
The school puts emphasis on mathematics and physics, subjects that most learners struggle with. Yet it achieved a pass rate of 91% in 2011, up from 87% in the previous year. This has attracted sponsorships from companies like Transnet and Airports Company South Africa (ACSA). This has helped the school improve classrooms and bathrooms, as well as buy computers, calculators and intercoms. The education activist organisation, Equal Education, sponsors the school's two well stocked libraries and a full-time librarian.
The Deputy Principal, Stanley Tyandela, says he owes the school\xe2\x80\x99s success to committed educators and good leadership. He also describes the teacher and learner relationship as "very good". He says that they have no discipline problems at the school, \xe2\x80\x9cif anything arises we deal with it quickly and effectively.\xe2\x80\x9d He does however feel that there is a lack of parent involvement, "I would like to see the learners\xe2\x80\x99 parents becoming more active in their education\xe2\x80\x9d.
A matric learner, Zanele Dyantyia, says that the school has really impressed her with the changes she has seen since she enrolled in 2008, "What can I say? I\xe2\x80\x99m really loving my school. I am grateful to the companies that helped the school get where it is." Zanele applauded her principal and the other educators for their dedication. She says she has seen an increase in the support from the community since the school is now among the top in Khayelitsha, "Everyone is eager to enroll their children at Matthew Goniwe."
Brad Brockman, Deputy Head of Youth and Community at Equal Education, says that the school is outstanding and very well managed, "In my experience Matthew Goniwe is a school that is goal-orientated and focused on what it is that they want to achieve and that is quality education for their learners." He also applauded the staff and principal for accepting help from organisations like Equal Education.
Dodgy people are suing us. Please support us by contributing to our legal costs and helping us to publish news that matters.
© 2016 GroundUp.
This article is licensed under a
Creative Commons Attribution-NoDerivatives 4.0 International License
.